Missionaries rejected by International Missions Board over their pastor's sex
Don and Esther Gardner, members of Baptist Church of the Covenant in Birmingham, Alabama, were rejected as short-term missionaries by the Southern Baptist International Mission Board because their church's new pastor is a woman.
"They have to be consistent with the Baptist Faith and Message statement," IMB president Jerry Rankin told The Birmingham News. "They made it very clear that they supported women pastors. It was discussed with them, and they did endorse their pastor and there was disagreement."
"It sort of hurt," Esther Gardner told the paper. "We've been Southern Baptist all of our lives. It just hurt down deep in our gut . …They have the best missions organization in the world. I just disagree with their stand on the role of women."
But that view of women is enshrined in the denomination's revised Baptist Faith and Message, adopted in 2000. Earlier this year, some Baptist missionaries were outraged at Rankin's request that all IMB missionaries affirm the statement of faith. The Gardners told the News that he signed it—with lengthy addenda about what they disagreed with. Still, they said, they were willing to abide by the whole thing. "Every employer has the right to say, 'These are the guidelines, work within that,'" Don Gardner said. "If they want to force their theology on their people that work for them, I can live with that. I just stated that was not my personal belief."
The Gardners, retirees who have gone on several volunteer missions to Africa, will return to Swaziland anyway—albeit without the financial benefits of going with IMB.
"The people starving in Swaziland don't care that they have a woman pastor," says Sarah Shelton, who preached her first sermon as Baptist Church of the Covenant's pastor Sunday. "They just want someone to come help them."
Evangelical, charismatic church attendance grew considerably in 1990s
Many media outlets are covering the Glenmary Research Center's 2000 Religious Congregations & Membership study—a kind of religious census of the country that depends on denominational self-reporting. But most of those articles don't get it right.
"The Church of Jesus Christ of Latter-day Saints grew at the fastest rate, with the Pentecostal denomination Assemblies of God following closely behind, the 2000 Religious Congregations & Membership study found," says the Associated Press report, which most papers carry today.
Likewise, The New York Times reports, "The study … found that the fastest-growing religious denomination in the last 10 years was the Church of Jesus Christ of Latter-day Saints . …The denominations that recorded the next highest growth were the conservative Christian Churches and Churches of Christ … the Assemblies of God. … and the Roman Catholic Church."
Indeed, the new study shows that Mormons experienced huge expansion in the 1990s, growing 19.3 percent over the 1990s to 4.2 million adherents.
But other evangelical denominations grew more percentage-wise, according to the survey. The Salvation Army is reportedly up 225.3 percent, the "Old" Missionary Baptist Associations 206.2 percent, the Evangelical Presbyterian Church 76.4 percent, the Evangelical Free Church of America 57.2 percent, International Pentecostal Holiness Church 53.3 percent, Wesleyan Church 46.9 percent, Baptist General Conference 42.3 percent, and the Church of God (Cleveland, Tennessee) 40.2 percent. Granted, none of these have the millions of adherents that the Mormons or Catholics do, but it seems odd to dismiss these groups as irrelevant.
The Washington Post does better, saying "Catholics, Mormons, the charismatic Assemblies of God, and several small evangelical denominations were among the fastest-growing in the Washington region and nationwide," but still says the Mormons have "the fastest-growing church in the nation"
More articles
American foreign policy:
Faith after 9/11:
Politics and law:
Persecution:
Related Elsewhere
See our past Weblog updates:
September 17 | 16
September 13 | 12 | 11 | 10 | 9
September 6 | 5 | 4 | 3
August 30 | 29 | 28 | 27 | 26
August 23 | 22 | 21 | 20 | 19
August 16 | 15 | 14 | 13 | 12
August 9 | 8 | 7 | 6 | 5
August 2 | 1 | July 31 | 30 | 29
July 26 | 25 | 24 | 23 | 22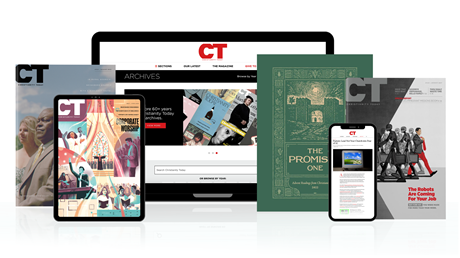 Annual & Monthly subscriptions available.
Print & Digital Issues of CT magazine
Complete access to every article on ChristianityToday.com
Unlimited access to 65+ years of CT's online archives
Member-only special issues
Subscribe
Southern Baptist Convention Won't Accept Missionaries with Female Pastors
Southern Baptist Convention Won't Accept ...