Franklin Graham preaches at the Defense Department
As criticism continues of plans by Samaritan's Purse and the Southern Baptist Convention to meet both physical and spiritual needs in post-war Iraq, a new controversy has developed over Franklin Graham's invitation to deliver the Good Friday homily at the Defense Department.
The Pentagon chaplain's office has received protest letters and held meetings with a small group of Muslim Defense Department staffers who hope to stop the Samaritan's Purse president's visit. Controversy over Graham's public comments about Islam has led Pentagon Muslims to ask he be replaced with "a more inclusive and honorable Christian clergyman." Other Muslim leaders have said that this move by the U.S. government sends the wrong message to the Muslim community worldwide.
Pentagon spokeswoman Martha Rudd said this week that the invitation would stand. "The chaplain's office here, just like at any Army installation, regularly assists groups of various faiths to hold their services," Rudd told The Washington Post. "If a Jewish group wants to invite a particular speaker, they'll do that. Muslims hold services here, too. The Army chaplains are absolutely nonjudgmental of any faith that soldiers want to follow."
Samaritan's Purse told reporters that Graham's appearance will go on but has not formally responded to the issue online.
Evanescence interview leads to removal from Christian radio
In the wake of having a hit song on the Daredevil movie soundtrack, Arkansas goth-rock band Evanescence quickly gained national attention. The sudden popularity of the single drove the group's first full-length album, Fallen, to debut seventh on the Billboard 200 album chart. In its fourth week, it's still in the top ten. In addition to wide mainstream radio play, the band also found a growing audience in Christian radio and bookstores.
The dark hard rock group is signed to Wind-up Records along with Creed and 12 Stones, bands that, like Evanescence, explore spiritual questions in their lyrics. The label works with major Christian music distributor Provident. According to Rolling Stone, the group grew up through the underground Christian rock circuit. On Fallen's thank you list, guitarist Ben Moody lists Jesus Christ first, saying, "All the life left in me is you."
It is surprising, then, that in a recent Entertainment Weekly interview (available online only with subscription), Moody says, "We're actually high on the Christian charts, and I'm like, 'What the f--- are we even doing there?'" The interview with Moody and lead singer Amy Lee is strewn with obscene language and taking of the Lord's name in vain.
Because of the interview, Wind-up records is pulling Fallen from Christian radio and retail. In a statement dated April 10, label chairman Alan Meltzer wrote, "Despite having roots within the Christian community prior to the release of Fallen, recent statements by band members have made it abundantly clear that Evanescence is a secular band, and as such view their music as entertainment. No more, no less. As such we strongly feel that they no longer belong in Christian retail outlets."
But did they belong there in the first place? Moody says no: "I guarantee that if the Christian bookstore owners listened to some of those songs, they wouldn't sell the CD." Several Christian music reviewers however have listened to the album and reviewed it favorably. Weblog owns the album and while it asks hard spiritual questions about wrestling with sin and confronting despair, it contains little that would make Christian booksellers squirm. It is an honest, thought-provoking, and seeking album. An sample of the lyrics: "I'm dying, praying, bleeding, and screaming/Am I too lost to be saved?/Am I too lost?/My God, my tourniquet/Return me to salvation."
Nevertheless, singer Lee says that religious perceptions of the band are not accurate. "There are people hell-bent on the idea that we're a Christian band in disguise, and that we have some secret message," she says. "We have no spiritual affiliation with this music."
Moody also says: "I'm not ashamed of my spiritual beliefs, but I in no way incorporate them into this band."
Hmmm. That's odd, considering Moody's statement in a 2000 interview with Stranger Things Magazine: "The message we as a band want to convey more than anything is simple—God is Love. He is a just God, but a gracious God."
He added in that interview: "We hope to express in our music that Christianity is not a rigid list of rules to follow only out of fear of an unseen deity who will strike you down at any given moment if you fail. I am a Christian. I still have fears. I still have pain. I still have sorrow. I wouldn't be alive if I didn't. The beautiful thing about my relationship with God is that he understands all that and he has shown me what life is really for. We write songs about things that happen in life. All of our songs are not about rainbows and sunshine. Sometimes it rains. Who can we help if we won't even talk about it?"
Wind-up's Meltzer also notices a change in Evanescence's rhetoric. He says the band once wanted the album in the Christian market, despite Moody's apparent surprise that it is there. "The decision to release Fallen into the Christian market was made subsequent to discussions with and approval by the artist," Meltzer wrote in his statement. "Obviously the band has had a change in their perspective, as well as changes within the band itself as it relates to new band members. Wind-up deeply regrets this situation."
More Articles:
Clergy sex abuse:
Politics and law:
Related Elsewhere
Suggest links and stories by sending e-mail to weblog@christianitytoday.com
See our past Weblog updates:
April 15 | 14
April 11 | 10 | 9 | 8 | 7
April 4 | 3 | 2 | 1 | March 31
March 28 | 27 | 26 | 25 | 24
March 21 | 20 | 19 | 18 | 17
March 14 | 13 | 12 | 11 | 10
March 7 | 6 | 5 | 4 | 3
and more, back to November 1999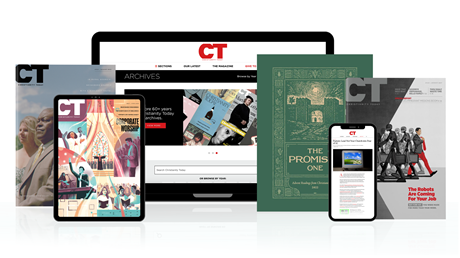 Subscribe to Christianity Today and get access to this article plus 65+ years of archives.
Home delivery of CT magazine
Complete access to articles on ChristianityToday.com
Over 120 years of magazine archives plus full access to all of CT's online archives
Subscribe Now
Muslims Protest Franklin Graham's Pentagon Invite
Muslims Protest Franklin Graham's Pentagon Invite