Will the Bible change Alabama's tax code?
The front page of today's Wall Street Journal reports, "An unlikely force is setting off a tax revolt in Alabama: religious fervor."
An Alabama Law Review article by University of Alabama tax-law professor Susan Hamill has the attention of the state's churches and politicians, and now she's preaching tax reform in pulpits around the state, the Journal reports.
"The injustices perpetuated by Alabama's tax structure are immoral and cannot be defended under any reasonable interpretation of Judeo-Christian ethics, and therefore individuals claiming to be part of the People of God can no longer complacently tolerate Alabama's tax structure as it currently operates," says Hamill's Fall 2002 law review article, titled "An Argument for Tax Reform Based on Judeo-Christian Ethics." (A more readable four-page summary is available here, but a condensed brochure called "The Least of These" doesn't seem to be available online.)
"How could we, in a free society of a bunch of Christians, have the worst, most unjust tax structure that you could ever have dreamed up?" Hamill, a Methodist and former IRS worker, asks the Journal.
And the Journal seems to be on her side. It calls Alabama's tax structure antiquated and lists its injustices: "The Alabama code requires families of four earning as little as $4,600 to pay income tax, the nation's lowest threshold. It charges a higher sales tax on baby formula than on cattle feed and permits timber interests to pay relatively meager property taxes compared with homeowners."
Republican Gov. Bob Riley endorsed Hamill's article on television, and churches have endorsed it too. The state's Baptists, Methodists, Presbyterians, and Episcopalians joined together to call for tax reform, and the Roman Catholic and Jewish officials have called for code changes too. (The Journal makes it seem like all this came only after Hamill's article was published, but the ecumenical "Faith and Fairness: A unified call for tax reform" rally happened more than a year ago.)
Still, other Christians are resisting. The Christian Coalition of Alabama opposes the reforms, saying it would likely lead to higher taxes and legalized gambling. And some pastors say their congregations aren't on board. Some black churchgoers are skeptical that reform will really mean lower taxes, and some wealthier white churchgoers are fine with things are they are.
But in Sunday's The Tuscaloosa News, Hamill says it's not just a rich/poor/black/white thing. "There's a lot of guilt to go around, and I'm the first to say I'm a part of that," she says.
"As a traditional Methodist, Ms. Hamill at first felt like an outsider among Alabama's large evangelical Christian population," the Journal's Shailagh Murray writes. "She decided to immerse herself in the study of evangelical Christianity during a sabbatical at Samford University's Beeson Divinity School in Birmingham." It was during her studies there that she first heard about several of the tax iniquitous inequities, and she began work on her article. She now has an M.Div. from the school.
Is Africa's Christianity the key to its development?
While we're on the subject of Christian-Judeo concepts of finances, it's worth noting this piece of investment advice from Archie Richards in the Amarillo, Texas, Globe-News:
From an investment point of view, Africa is a comer. Here's why:

The Wall Street Journal

reported recently that 46 percent of Africans are now Christians, up from only 9 percent in 1900. The fastest growing sects are radical evangelical faiths, such as prevailed in America in the 18th century.
This is great news. Evangelical Christianity is a precursor to capitalism. … When a person believes that he can improve the status of his afterlife, he has the self-confidence to feel that he can improve his status right here on earth. He comes to believe that, through his own efforts, he can become rich. … When a broad-scaled index fund of African stocks becomes available, put 5 percent of your portfolio into it. It'll be a bumpy ride. But in the long run, it will be highly profitable.
Richards needs to brush up on his Weber. It's Protestant virtues, not the fear of hell, that made the "work ethic" so famous. And evangelicals don't believe that you can do anything improve the status of your afterlife. But, hey, invest in Africa anyway.
More articles
War with Iraq:
Church and state:
Church life:
Missions and ministry:
South Korea:
Related Elsewhere
Suggest links and stories by sending e-mail to weblog@christianitytoday.com
See our past Weblog updates:
February 11 | 10
February 7 | 6 | 5 | 4 | 3
January 31 | 30 | 29 | 28 | 27
January 24 | 23 | 22 | 21 | 20
January 17 | 16 | 15 | 14 | 13
January 10 | 9 | 8 | 7 | 6
January 3 | 2 | December 31 | 30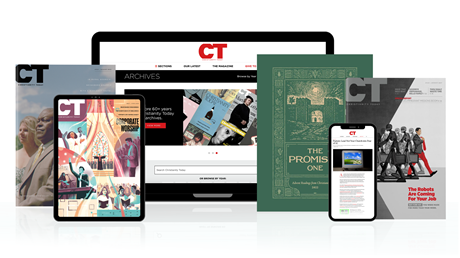 Annual & Monthly subscriptions available.
Print & Digital Issues of CT magazine
Complete access to every article on ChristianityToday.com
Unlimited access to 65+ years of CT's online archives
Member-only special issues
Subscribe
Raising Taxes God's Way
Raising Taxes God's Way