David Brooks outlines recovery from secularism for Atlantic readers
"It's now clear that the secularization theory is untrue," David Brooks writes in a must-read piece for The Atlantic Monthly.
The human race does not necessarily get less religious as it grows richer and better educated. We are living through one of the great periods of scientific progress and the creation of wealth. At the same time, we are in the midst of a religious boom. … Moreover, it is the denominations that refuse to adapt to secularism that are growing the fastest, while those that try to be "modern" and "relevant" are withering. … Secularism is not the future; it is yesterday's incorrect vision of the future. This realization sends us recovering secularists to the bookstore or the library in a desperate attempt to figure out what is going on in the world.
With this in mind, Brooks outlines a six-step recovery process for secularists (apparently it's easier to recover from secularism than from alcoholism. Secularists don't do well with the whole "coming to believe that a Power greater than ourselves could restore us to sanity" part anyway.)
First, Brooks writes, "You have to accept the fact that you are not the norm." Rather than researchers and academics trying to figure out why folks are so religious, "religious groups should be sending out researchers to try to understand why there are pockets of people in the world who do not feel the constant presence of God in their lives, who do not fill their days with rituals and prayers and garments that bring them into contact with the divine, and who do not believe that God's will should shape their public lives."
Step two is confronting fear—the fear of rampant religious conflict. It's a truly possible scenario, he says. Step three is getting angry (at secular fundamentalists).
Fourth, recovering secularists must "resist the impulse to find a materialistic explanation for everything." It's on this point that Brooks really hits his stride. "Human beings yearn for righteous rule, for a just world or a world that reflects God's will—in many cases at least as strongly as they yearn for money or success," he writes. "Thinking about that yearning means moving away from scientific analysis and into the realm of moral judgment. The crucial question is not What incentives does this yearning respond to? but Do individuals pursue a moral vision of righteous rule? And do they do so in virtuous ways, or are they, like Saddam Hussein and Osama bin Laden, evil in their vision and methods?"
He continues this theme in step five: "the recovering secularist must acknowledge that he has been too easy on religion."  It's no longer acceptable just to think of "religion," as secularists usually do, blending, merging, and confusing beliefs. It's not just patronizing, Brooks says. It's dangerous. "One has to try to separate right from wrong," he says.
The sixth step is Brooks's weakest: "Understand that this country was never very secular anyway." But that's not the same as saying we're similarly dogmatic, he says. America's sense of transcendent mission is not a theological one. "We are inescapably caught in a world of conflicting visions of historical destiny," he concludes. "This is not the same as saying that we are caught in a world of conflicting religions."
Pope speaks on sticks and stones
Speaking of secularism, here's an interesting quote from Pope John Paul II yesterday: "We know that the persecutor does not always assume the violent and macabre countenance of the oppressor, but often is pleased to isolate the righteous with mockery and irony." He was preaching on the story of Shadrach, Meshach, and Abednego in Nebuchadnezzar's fiery furnace.
Methodist panel clears bishop of heresy charges. Again.
C. Joseph Sprague doesn't believe in the virgin birth, the divinity of Christ, or the resurrection. But according to a panel of United Methodist bishops, he's not a heretic. In fact, he's one of their fellow bishops.
"It became apparent … in our review of this case, that Bishop Sprague knows Jesus Christ as the Lord and Savior, has faith in Christ's savings, and transforming power and is obedient to Christ's teachings," the panel said.
What's more, the panel attacked the 28 clergy and lay Methodists who brought the complaint against Sprague. "It is the humble, but considered, opinion of the supervisory response team that the real threat may well be our arrogance and parochial attitudes," the panel said. "Let us cast out our penchant to power and control."
"What is dysfunctional is that we even have to make complaints," Thomas Lambrecht, a Methodist pastor in Greenville, Wisconsin, who brought the charges, told The Washington Times. To the Chicago Tribune, he said the problem lies with the church leadership. "If you ask clergy, especially at the upper levels, I think you'd find about 40 percent subscribe to Sprague's approach and 20 percent support our view. With the folks in the pews, my guess is the proportions are just the reverse."
It's the fourth time Sprague has been tried and acquitted in the church on heresy charges. The Institute on Religion and Democracy's United Methodist Action group has much more on the controversy from a more orthodox perspective. The United Methodist News Service also has a lengthy report that will be of particular interest to Methodists.
More articles
Genocide:
Christians split on war in Iraq:
Reflection on war and faith:
Pope speaks about war, meets with Iraq:
Pope will meet with Tony Blair:
Texas church bus accident:
Life ethics:
Church and state:
Politics and law:
Holy Land:
Missions and ministry:
Church life:
Clergy sex abuse:
Books:
Radio Free Europe on "Fundamentalism":
Related Elsewhere
Suggest links and stories by sending e-mail to weblog@christianitytoday.com
See our past Weblog updates:
February 19 | 18 | 17
February 14 | 13 | 12 | 11 | 10
February 7 | 6 | 5 | 4 | 3
January 31 | 30 | 29 | 28 | 27
January 24 | 23 | 22 | 21 | 20
January 17 | 16 | 15 | 14 | 13
January 10 | 9 | 8 | 7 | 6
and more, back to November 1999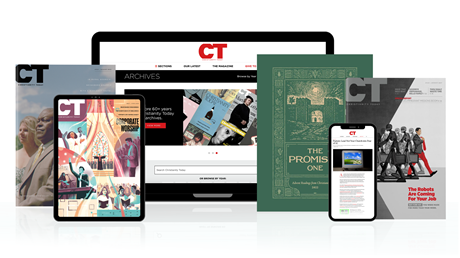 Subscribe to Christianity Today and get access to this article plus 65+ years of archives.
Home delivery of CT magazine
Complete access to articles on ChristianityToday.com
Over 120 years of magazine archives plus full access to all of CT's online archives
Subscribe Now
Religion Matters, Says David Brooks
Religion Matters, Says David Brooks