Roe v. Wade at 30: Is there anything new to say?
There are enough articles, editorials, and op-ed pieces today on the 30th anniversary of the Supreme Court's Roe v. Wade decision that it might take another 30 years to read them all. We're linking to several of the better pieces—and to those simply published by the largest-circulation publications—today, as well as posting some of Christianity Today's own articles on Roe v. Wade.
Most articles seem to suggest that prolife and prochoice activists have nothing in common. "In the 30 years since the court announced one of the most contentious opinions in American life, the battle lines remain firmly entrenched, to the point that opponents and supporters of Roe find virtually no room for agreement, even on interpreting [court] decisions," the Chicago Tribune reported yesterday.
Well, the two sides do have a few things in common, note a few papers. Both the National Right to Life Committee and NARAL Pro-Choice America "have become multimillion-dollar operations," says another Tribune article. "Each camp splits its time among lobbying Capitol Hill, arguing in court, publishing educational material, and participating in elections with campaign contributions, advertising, direct mail, door-knocking and phone banks. The organizations are divided into multiple components able to accept tax-deductible, non-tax-deductible and political action contributions."
And as a result, says a USA Today editorial, the actions of such combatants has only marginalized both sides from mainstream America. "Thirty years of experience show that the most progress in ensuring that abortion is legal, safe, and increasingly rare comes from pursuing compromises, rather than defending extreme positions at all costs," the paper says today.
Many are quick to point out that in a recent poll 24 percent of Americans said abortion should be legal in all circumstances while 18 percent believe it should be legal under no circumstances. Similar polls show an America that opposes abortion but also opposes banning it. (Barbara Neff of Religion News Service had an insightful article January 15 that noted that polls on abortion are often contradictory. Sadly, the article isn't available for free anywhere online.)
But activists on both sides of the abortion debate do have real issues they agree on, as noted in a New York Times op-ed piece today by Cristina Page of New York's NARAL chapter and Amanda Peterman of Right to Life of Michigan, both of whom grew up afterRoe v. Wade. "While we are both committed to carrying on the work of our predecessors, we also recognize the need to re-examine their tactics," they write. "The slogans are old, the battle is tired."
But it's not just a tactical issue. "We all believe we should work to reduce unintended pregnancy and abortion. We should recognize, too, that our efforts are succeeding. … Whether that has come through better education on contraception or through programs that discourage premarital sex, prolife and prochoice advocates should celebrate such an achievement together and acknowledge each other's role in it."
The two women regret that the two sides didn't unite to fight the Florida Adoption Act (actually, they did, but perhaps they weren't unified enough), and say they should unite now to expand "health insurance coverage for the most effective contraception methods," make "the workplace more accommodating to the demands of parenthood."
"The language we use to argue our positions must change, too," the women argue.
We can no longer tolerate inflammatory terms that serve only to divide us further and create conflict. Doctors who offer safe abortion services are not murderers or butchers. People who engage in peaceful protests against abortion are not fanatics. … We accept that we will never find a solution to the most fundamental disagreements we hold on abortion. And we should never compromise our strongly held beliefs. Outside of them, though, we can find a path to escape this endless cycle of division.
Roe v. Wade and the post-Roe generation:
Roe v. Wade 30th Anniversary—News:
Roe v. Wade 30th Anniversary—Opinion:
Other abortion articles:
Related Elsewhere
Suggest links and stories by sending e-mail to weblog@christianitytoday.com
See our past Weblog updates:
January 21 | 20
January 17 | 16 | 15 | 14 | 13
January 10 | 9 | 8 | 7 | 6
January 3 | 2 | December 31 | 30
December 27 | 26
December 19 | 18 | 17 | 16
December 13 | 12 | 11 | 10 | 9
December 6 | 5 | 4 | 3 | 2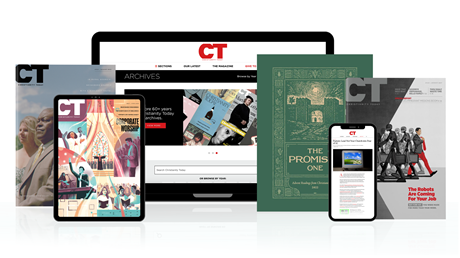 Annual & Monthly subscriptions available.
Print & Digital Issues of CT magazine
Complete access to every article on ChristianityToday.com
Unlimited access to 65+ years of CT's online archives
Member-only special issues
Subscribe
What Both Sides in the Abortion War Can Agree On
What Both Sides in the Abortion War Can Agree On