Jerry Thacker withdraws from presidential AIDS advisory council after White House criticism
"Do not refer to people afflicted with Acquired Immune Disease Syndrome as victims. They are simply people with AIDS or AIDS patients," says our magazine's stylebook, Christianity Today Style. But it just might be fair to call Christian AIDS activist Jerry Thacker a victim—not of AIDS (though he has the disease), but of AIDS activism.
Nearly everywhere you look today, Thacker, who had been nominated to the Presidential Advisory Council on HIV and AIDS, is being referred to as the man who called AIDS "the gay plague." Here's how various papers begin today's stories:
But The Washington Times actually bothers to quote what Thacker actually said. Yes, he used the term "gay plague." But it's clear from the context that he's condemning those who see AIDS as such. "Before 1986, Jerry Thacker was probably a lot like you," Thacker's online biography said.
He had a beautiful family, a good church and a rewarding ministry. He knew vaguely about the 'gay plague' known as AIDS, but it seemed a distant threat. AIDS was something that bad people had to worry about. Not Christians. Not the church. But one Saturday morning in 1986, AIDS came home to the Thackers. … For many years, the Thackers kept their condition secret. HIV was something shameful—God's judgment on immoral behavior. Who in the church would understand? But slowly, through years of private anguish and exhaustive research, Jerry came to realize that the church had to understand. If AIDS could come home to the Thackers, it could come home to anyone. The vast majority of infected persons don't even realize they have the virus. Who would minister to them when they got the bad news? Who would counsel broken-hearted parents? Who would reach out to sinners in need of God's love and grace? Who would warn Christian teens of the very real danger of AIDS? With concerns such as these, Jerry started speaking out on the unspeakable. His books and videos are dispelling the myths about AIDS and helping Christians to think "christianly" about the subject.
The online biography has since been changed, but the damage was already done. "His brand of reactionary gay-bashing has no place in public policy and government," said Sen. John Kerry of Massachusetts (who is running for president).
"His offensive public statements about homosexuality indicate a disturbing bias that is completely at odds with the role the advisory commission should play," said Senate Minority Leader Tom Daschle.
"This is like putting a Dixiecrat on the Civil Rights Commission, and you just can't do that," said one of the other seven new nominees to the commission. "For a president who I think has been much better on gay issues than people assumed, it sends a bad signal."
"Those words are as wrong as they are inappropriate. And they are not shared by the President," said White House spokesman Ari Fleisher. "The views that [Thacker] holds are far, far removed from what the President believes."
And so Thacker took his name out of the running. "I feel I must withdraw my name from consideration to serve at this time due to my family's personal concern about my ability to be effective with the council, given the current controversy," he wrote in a letter to Health and Human Services Secretary Tommy G. Thompson. "I do not consider myself anti-gay. I am, however, anti-HIV/AIDS. The three infected people in our family … would not wish this disease on any other human being."
So far, one of the only people sticking up for Thacker is Bill Pierce, a spokesman for the Department of Health and Human Services. He says Thacker "has an extraordinarily powerful, very tragic story, and he has done great outreach on how to prevent AIDS in the conservative and religious communities. That's what he has taken up as his mission, and that's important. That community is no different from any other community that needs to be hearing these messages."
More articles
Education:
InterVarsity:
Archeology:
Music:
Film and television:
Books:
Missions and ministry:
Persecution and violence:
Clergy sex abuse:
Church and state:
War:
Sexual ethics:
Anglican Archbishop Peter Jensen tours England:
Other Anglican stories:
Interfaith relations:
Other religions:
Prayer and spirituality:
Environmentalism:
Church life:
Science and Health:
Politics and law:
Technology:
Other stories of interest:
Related Elsewhere
Suggest links and stories by sending e-mail to weblog@christianitytoday.com
See our past Weblog updates:
January 23 | 22 | 21 | 20
January 17 | 16 | 15 | 14 | 13
January 10 | 9 | 8 | 7 | 6
January 3 | 2 | December 31 | 30
December 27 | 26
December 19 | 18 | 17 | 16
December 13 | 12 | 11 | 10 | 9
December 6 | 5 | 4 | 3 | 2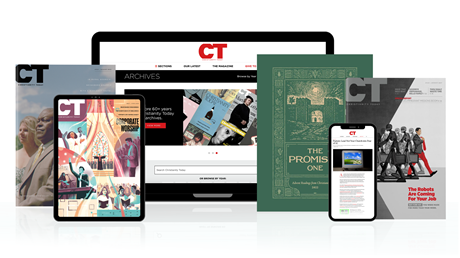 Subscribe to Christianity Today and get access to this article plus 65+ years of archives.
Home delivery of CT magazine
Complete access to articles on ChristianityToday.com
Over 120 years of magazine archives plus full access to all of CT's online archives
Subscribe Now
Did AIDS Council Nominee Really Call Disease the 'Gay Plague'?
Did AIDS Council Nominee Really Call Disease the 'Gay Plague'?