Traditional Values Coalition, accused of lying and bribery, is banned from Capitol Hill for a year
Is Lou Sheldon's Traditional Values Coalition (TVC) involved in bribery and extortion? Those are just some of the accusations being leveled against it this week. What's more, those accusations are coming from prolife conservatives, furious over the organization's campaign to stop a bill allowing the importation of prescription drugs from Canada and Europe.
The TVC says the bill "would open the floodgates for RU-486 and other harmful drugs to enter America." In fact, says a direct mail campaign from Sheldon, the bill might make the abortion drug "as easy to get as aspirin…Any 14-year-old with her Dad's or Mom's credit card is in business when it comes to buying RU-486." The letter targets several prolife members of Congress (which have received 100 percent ratings from the National Right to Life Committee), suggesting they are "forget[ting] the sanctity of life."
One problem, notes National Review Online's Ramesh Ponnuru, who has been watching this story closely:
The TVC's claims aren't true. The importation bill does not make it legal, or likely, that people are going to be able to get RU-486 along with aspirin at a 7-11. As a matter of law, the importation bill does not appear to override all other regulations. … With the exception of the Rev. Jerry Falwell, no pro-life organization or spokesman agrees with TVC's analysis. Even opponents of the bill disagree with the TVC.
One such opponent not mentioned by Ponnuru is the Family Research Council. Policy analyst Richard Lessner says the group opposes the bill because it essentially means importing other countries' price controls. However, Lessner told The Washington Times, "The bill will not make RU-486 any more available than it is now."
So why is the TVC so adamant? "Some social conservatives are suggesting that the TVC was paid off by the pharmaceutical lobby. Mike Schwartz, a vice president of Concerned Women for America, says that several social-conservative organizations were offered money in return for making the RU-486 arguments," says Ponnuru. Schwartz told him, "I am ashamed to be in the same business with these people [Sheldon and Falwell]. It is lying to the grassroots by people whom they believe are sincerely interested in the cause, not in payoffs to tell lies."
Sound angry? Oh yeah. But the prolife representatives are even more so, and have banned TVC from meetings of the Values Action Team for a year, both because of its "recent actions" and "overall reputation."
(Ponnuru explains the background for that overall reputation: "In 1998, the TVC defended prochoice Republican Senate candidate Matt Fong from the attacks of primary opponent Darrell Issa, who was running as a prolife conservative—after Fong donated $50,000 to the group. In 1999, the Orange County Register reported that the gambling interests had given money both to TVC founder Lou Sheldon and his son in return for their lobbying support.")
"As you are now well aware, your recent conduct has infuriated the prolife community in Washington," says a letter to Sheldon and his daughter, Andrea Lafferty, from Rep. Joe Pitts (R-Pa.), who opposes the bill—but not for the RU-486 canard. (Excerpts from the letter were published in The Washington Post and The Washington Times.) "Your willingness to attack Members of Congress whom you should regard as friends without so much a warning is offensive. The spurious nature of the claims…shows a lack of regard for the truth. Your unwillingness to return calls or accept an invitation to discuss this matter betrays a lack of forthrightness or good will."
But suppose for a moment that this has nothing to do with money. Perhaps TVC is truly upset about the possibility—however remote, or however dismissed by other prolife organizations—that the bill could make RU-486 more accessible, and came to that conclusion without selling its soul to the American pharmaceutical lobby. The problem with believing that, says Ponnuru, is that the lobbying group Pharmaceutical Research and Manufacturers of America has its fingerprints all over TVC's actions. "A set of TVC's talking points was written by a PhRMA lawyer, and a TVC letter to congressmen by a PhRMA lobbyist," he reveals. But TVC hasn't ever mentioned its connection with PhRMA in this battle.
TVC has never been on the A-list of prolife and profamily organizations, and has neither the clout nor the constituency of such groups as the Family Research Council, Focus on the Family, or Concerned Women for America, to name a few. But this brewing scandal could mean its utter isolation from that community. Of course, if it's getting loads of money from business lobbies, Sheldon's group will probably survive even with harsh criticism from its supposed allies.
More articles
Mel Gibson's The Passion:
Politics and law:
Church and state:
History and archaeology:
Missions and ministries:
Advertising:
Books:
Clergy sex abuse:
Related Elsewhere
Suggest links and stories by sending e-mail to weblog@christianitytoday.com
Check out Books & Culture's weblog, Content & Context.
See our past Weblog updates:
July 21
July 18 | 17 | 16 | 15 | 14
July 11 | 10 | 9 | 8 | 7
July 3 | 2 | 1 | June 30
June 27 | 26 | 25 | 24 | 23
June 20 | 19 | 18 | 17 | 16
June 13 | 12 | 11 | 9
and more, back to November 1999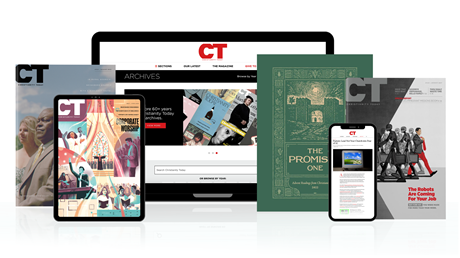 Subscribe to Christianity Today and get access to this article plus 65+ years of archives.
Home delivery of CT magazine
Complete access to articles on ChristianityToday.com
Over 120 years of magazine archives plus full access to all of CT's online archives
Subscribe Now
Drug Importation Bill Ignites War Between Religious Conservatives
Drug Importation Bill Ignites War Between Religious Conservatives