White House to Congress: Let religious organizations use religion in hiring decisions
In a position paper released to members of Congress, the White House says "religious hiring rights" are part of faith-based organizations' civil rights, and should not be restricted even if the organizations receive public money.
"When they receive federal funds, they should retain their right to hire those individuals who are best able to further their organizations' goals and mission" says the nine-page booklet, Protecting the Civil Rights and Religious Liberty of Faith-based Organizations: Why Religious Hiring Rights Must Be Preserved. (Weblog can't find the booklet online, but it might later be posted here.)
Whether federally funded religious organizations can use religious criteria in making hiring decisions has been the sticking point on a number of bills lately, from the faith-based initiative bill to a restructuring of the Head Start education program. Opponents claim allowing such hiring distinctions amounts to government-sponsored bigotry, while supporters say it's bigotry not to give religious organizations the freedom to make such employment decisions.
"A secular group that receives government money is currently free to hire based on its ideology and mission," says the White House booklet (according to a Religion News Service story not available online). "Allowing religious groups to consider faith in hiring when they receive government funds simply levels the playing field—by making sure that, when it comes to serving impoverished Americans, faith-based groups are as welcome at the government's table as nonreligious ones."
In fact, the Civil Rights Act of 1972 already gives religious organizations such hiring rights, but other laws apparently contradict this freedom, ordering all federally funded organizations to hire regardless of "age, gender, race, or religion." (Some local laws add "sexual orientation" to the list.)
Whatever the constitutional questions, many faith-based organizations simply won't take federal funds if it means they'll have to hire employees at odds with their mission. "It's been abundantly clear that the religious hiring issue is a real barrier for a lot of faith-based organizations," Jim Towey, director of the White House Office of Faith-Based and Community Initiatives, said in a telephone press conference yesterday. "And if faith-based organizations are deterred from providing services, the real losers are the poor."
A front-page Washington Post article about the White House's position paper notes that the timing is exquisite: Rep. Robert C. "Bobby" Scott (D-Va.) hopes to "introduce legislation today that would nullify regulatory decisions by the Bush administration that permit employment discrimination by some religious organizations."
Both the Clinton and Bush administrations have supported hiring freedoms for faith-based organizations, but never so explicitly as in this booklet. Ron Sider, president of Evangelicals for Social Action, says it's a good thing. "It indicates that they're serious—and they darn well better be, because it's crucial to a whole lot of us," he told the Post. "I think the administration understands that the very identity of faith-based organizations is at issue in hiring rights."
Department of Justice tells school district to allow Bible club flyers
In 2001, Child Evangelism Fellowship's Good News Club made headlines for winning a Supreme Court decision allowing it to use public school facilities. Now it's back in the news. Schools in Montgomery County, Maryland, are are letting the club meet, but barring the distribution of promotional flyers.
"An integral part of CEF's evangelical mission is to locate children who have not yet accepted Jesus Christ as their Savior," the school district's attorneys say in court documents. "Requiring teachers to force students to accept and distribute CEF's materials would result in the unconstitutional coercion of the students to proselytize on CEF's behalf."
Baloney, says the U.S. Department of Justice. "Through its Good News Clubs, CEF strives to foster self-esteem in youth and to instill morals and character in children while providing a positive recreational experience. … That CEF does these things from a religious viewpoint does not change the fact that its activities meet the [school] board's criteria for inclusion in the take-home folders."
"U.S. courts have generally ruled that if a school district provides an open forum for many different groups, religious organizations must be allowed to use it," notes The Washington Post. It's absolutely right: the only way to bar Good News from sending home flyers is to bar everyone from sending home flyers. Unfortunately, according to the Montgomery County Gazette, the PTA is willing to take that extreme action.
More articles
Church of England debate over gay bishop:
More sexual ethics and marriage issues:
Missions & ministry:
Politics:
Interfaith relations:
Crime and violence:
Persecution:
Religious freedom:
Law and courts:
Evolution:
Sports:
Related Elsewhere
Suggest links and stories by sending e-mail to weblog@christianitytoday.com
Check out Books & Culture's weblog, Content & Context.
See our past Weblog updates:
June 24 | 23
June 20 | 19 | 18 | 17 | 16
June 13 | 12 | 11 | 9
June 6 | 5 | 4 | 3 | 2
May 29 | 28 | 27
May 23 | 22 | 21 | 20 | 19
May 15 | 14 | 13 | 12
and more, back to November 1999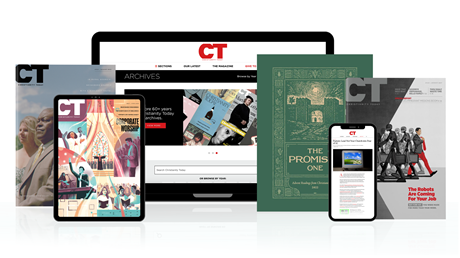 Annual & Monthly subscriptions available.
Print & Digital Issues of CT magazine
Complete access to every article on ChristianityToday.com
Unlimited access to 65+ years of CT's online archives
Member-only special issues
Subscribe
Administration Defends Religious Employment Criteria, Bible Club Ads
Administration Defends Religious Employment ...