The dumped priest who wouldn't go away
According to Qatar News Agency, President George Bush, British Prime Minister Tony Blair, U.S. Defense Secretary Donald Rumsfeld, and British Foreign Secretary Jack Straw have all been forever banned from the Church of the Nativity, which tradition holds is the site of Christ's birth.
The ban is a protest against "the aggressive war these leaders have waged against Iraq," a priest named Father Panaritus told the news agency. "They are war criminals and murderers of children. Therefore, the Church of Nativity decided to ban them access into the holy shrine forever."
Don't be quick to believe the story. For one thing, a Google search for Panaritus turns up absolutely nothing, suggesting that this priest isn't someone with a lot of clout. (Islam Online spells it Banar Teyous, but that comes up empty, too.)
For another, the ban was initially reported as coming from Attallah Hanna, whom Islam Online calls "spokesman of the Orthodox Church in the Holy Lands." Liars. The Greek Orthodox Church has long distanced itself from Hanna, who was famously quoted as supporting Palestinian suicide bombers. He still has supporters in the church, but he's not the spokesman for anything but himself—but that won't stop the Arabic press from calling him the spokesman for Orthodox Christians in the Holy Land.
Islam Online also has a report from Hanna calling for U.S.-led soldiers in Iraq to "defy the orders of their commanders, refrain from striking Iraqi buildings, lay down their weapons, and go home." And he's particularly upset with Congress's call for a national day of humility, prayer and fasting. "The Senators and the Congressmen should better take the decision of pulling the barbaric and invading troops from the Iraqi territories," he said. "No matter how long they pray, God will rebuff their prayers, because they are supporting mass killing and terrorism, particularly in Palestine and Iraq. One should first purify himself/herself from arrogance and haughtiness to make God accept his prayers."
Episcopal bishop says Jesus was a sinner
In an Easter message in the April issue of The Pennsylvania Episcopalian (pdf, see p. 2), the local bishop writes that Jesus was a sinner. "This is what causes fear - Jesus forgives sins," Charles Bennison Jr. writes in "The Challenge of Easter." "He claims the authority of God in doing so. His resurrection vindicates his claim. He acknowledges his own sin. He knows himself to be forgiven. His call is to preach repentance and forgiveness."
For those who have forgotten, the Bible repeatedly teaches that Jesus "committed no sin, neither was deceit found in his mouth."
Conservative Anglican writer David Virtue responds to Bennison in his Virtuosity newsletter. He notes that the bishop isn't orthodox on several points, but that this one is particularly egregious. "The bishop has written a Visigoth Rite of marriage for both heterosexuals and homosexuals; failed to affirm basic doctrines of the Christian Faith such as the bodily resurrection of Jesus, the uniqueness of Jesus Christ as the only way of obtaining salvation, the authority of Scripture and more. … The truth is there is no historic parallel in contemporary ecclesiastical history for the bishop's latest outrage. While a number of bishops publicly repudiate the efficacy of the atonement, deny the bodily resurrection of Jesus from the dead, scoff at the Virgin Birth and much more, no bishop has publicly stepped forward and said that Jesus himself was a sinner."
More articles
Religious response to Iraq war:
Iraq relief efforts:
God and America:
End times speculation:
Historical Iraqi sites:
Fears of religious backlash from war:
Other stories on war or Iraq:
History and artifacts:
Sexual ethics:
Clergy sex abuse:
Life ethics:
Politics and law:
Music:
Pop culture:
Related Elsewhere
Suggest links and stories by sending e-mail to weblog@christianitytoday.com
See our past Weblog updates:
April 1 | March 31
March 28 | 27 | 26 | 25 | 24
March 21 | 20 | 19 | 18 | 17
March 14 | 13 | 12 | 11 | 10
March 7 | 6 | 5 | 4 | 3
February 28 | 27 | 26 | 25 | 24
February 21 | 20 | 19 | 18 | 17
and more, back to November 1999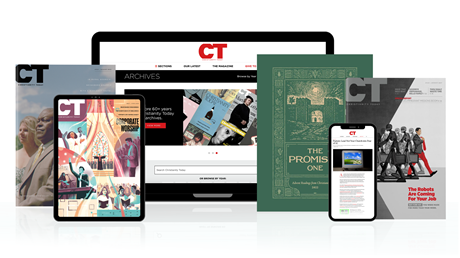 Annual & Monthly subscriptions available.
Print & Digital Issues of CT magazine
Complete access to every article on ChristianityToday.com
Unlimited access to 65+ years of CT's online archives
Member-only special issues
Subscribe
"Weblog: Bush, Blair Reportedly Banned From Church of the Nativity"
"Weblog: Bush, Blair Reportedly Banned From Church ...