Adventist short-term missionary murdered in Solomon Islands
Lance Gersbach, the business manager at the Atoifi Adventist Hospital, was murdered in a surprise machete attack Sunday in the Solomon Islands.
The beheading, which occurred at Oto'ifi on the island of Malaita, is apparently unconnected to the recent kidnappings of missionaries on Guadalcanal.
"It's a one-off incident," said Jackson Ofu, director of the criminal investigation division. "The security assessment from the area is very low. The area used to be dangerous but now it's quiet."
Police haven't released a motive, and they apparently don't have any suspects yet, but there's speculation that the murder was connected to a land dispute.
"I am confident [the murderers] will be caught and handed over to police," said MP Alfred Sasako. "This is an appalling crime and everybody is shocked."
Gersbach leaves behind a wife and two daughters, ages 8 and 11. Weblog will have more details as they emerge.
Conservative religious groups rejoice as Senate passes AIDS bill
Early Friday morning, the U.S. Senate passed the House's Global AIDS Bill, which triples the country's anti-AIDS expenditures to $15 billion. Included in the bill are conditions that one-third of AIDS prevention funds be used to promote sexual abstinence before marriage and that religious groups opposed to condoms would neither be forced to distribute them nor be denied funding.
Conservative profamily groups, which had lobbied hard for those two amendments, rejoiced at the news.
"We now know what works: abstinence and marital fidelity," Sandy Rios, president of Concerned Women for America, told the Associated Press. "The passage of this bill may prove to be one of the greatest events in the history of Africa."
Focus on the Family, which devoted its Friday broadcast to supporting the bill, issued a congratulatory press release within hours of its passage.
"The passage of this bill represents a landmark effort to end this deadly plague by ensuring that the only successful approach—abstinence—will be a priority," said Tom Minnery, Focus's vice president of public policy.
AIDS sufferers in Africa will no longer continue to be offered only condoms—the same faulty approach that has increased sexually transmitted diseases in America. We look forward to seeing more successes like the ones we've seen in Uganda. … Just a couple of weeks ago the Senate was headed in the wrong direction, but thanks to the strong leadership of President Bush and Senate Majority Leader Bill Frist, the Senate changed course and passed a bill that will begin to address this global problem. We are grateful for their leadership on this bill and for their sincere efforts to relieve the suffering of so many afflicted by this horrible disease.
Likewise, the organization's Family News in Focus ran a story Friday on the bill's passage, asking supporters to contact the White House and Senate Majority Leader Frist with thanks for their hard work. Focus also asked supporters to "give thanks to God that the Congress has passed a bill for fighting AIDS that honors God's principles." Unlike most press releases and articles from profamily groups, the Family News in Focus article examines the bill beyond the abstinence measure (which, even with the conservatives' amendment, will receive less than 7 percent of the bill's total funds).
Meanwhile, liberal groups are steaming. "Congressional Republican leaders have shown once again that they are more interested in pandering to anti-family-planning extremists than providing real solutions to a real crisis," Susanne Martinez, vice president for public policy at the Planned Parenthood Federation of America, told The Washington Times. The Global AIDS Alliance, meanwhile, described the bill as "a cruel joke."
And Family Research Council President Ken Connor is still criticizing the bill with faint praise: "I am confident that were it not for the leadership of groups like FRC, Focus on the Family, Prison Fellowship, and, in particular, FRC's Government Affairs division led by Vice President Connie Mackey, the AIDS bill the Senate passed yesterday would have been a complete disaster. … The AIDS bill is not perfect, but it is vastly better than what might have passed." Connor earlier said the bill's amendments made a "bad bill palatable," but in neither case has he said exactly what's still wrong with the bill.
Weblog doesn't know what Connor doesn't like, but here are a few criticisms floating around: it only authorizes the funds and doesn't actually appropriate them (that comes in later budget bills); it takes money away from other relief programs; and only 20 percent of the funds will go to preventing AIDS and HIV infections.
Still, it's a dramatic step in the right direction. "As history looks back at this day or this year on senators in this body, will we be able to say that we did everything possible to reverse the course of that destruction?" Frist said during Friday's debate. "I think at the end of this day, we will say yes."
Related Elsewhere:
Suggest links and stories by sending e-mail to weblog@christianitytoday.com
Be sure to also check out Books & Culture's weblog, Content & Context.
See our past Weblog updates:
May 15 | 14 | 13 | 12
May 9 | 8 | 7 | 6 | 5
May 2 | 1 | April 30 | 29 | 28
April 25 | 24 | 23 | 22 | 21
April 17 | 16 | 15 | 14
April 11 | 10 | 9 | 8 | 7
April 4 | 3 | 2 | 1 | March 31
and more, back to November 1999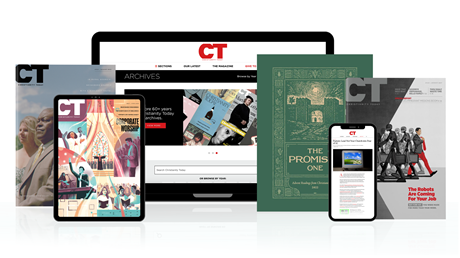 Annual & Monthly subscriptions available.
Print & Digital Issues of CT magazine
Complete access to every article on ChristianityToday.com
Unlimited access to 65+ years of CT's online archives
Member-only special issues
Subscribe
Australian Missionary Beheaded in Solomon Islands
Australian Missionary Beheaded in Solomon Islands