On Sunday night, the sixth season of CBS's reality game show Survivor wrapped up with a jury of seven kicked-off Survivor: Amazon contestants choosing a $1 million winner. Like in years past, there was much discussion about the means with which the final two contestants got there.
On the show, 16 participants are arranged into" tribes." Every three days, the tribes vote out one member. Besides surviving the elements, contestants also compete politically to stay in the game. Sunday night's finale had the traditional allegations that those competing for the top prize lied, manipulated, and backstabbed other players.
In a game with so much deception and maneuvering, it may be surprising that several past survivors have been Christians. In fact, two of the six winners, season two's Tina Wesson and season four's Vecepia Towery-Robinson were regularly shown practicing their Christian faith.
Christianity Today assistant online editor Todd Hertz talked with Towery-Robinson this week about winning Survivor and how the game's tactics correspond with Christian ethics.
Two of the six Survivor winners have been openly Christian. Is that a coincidence?
I consider myself first and foremost a Christian who loves the Lord. I had a great opportunity to go on a game show and to win. You can do anything with faith. I think Tina and I both went out there believing that.
I needed my faith out there. There were times when I got down, but I went to pray and I knew the Lord didn't bring me onto Survivor to falter. A strong faith and belief in myself and in the power of God was definitely something that helped. A lot of people won't buy it, but I stand true to that.
How did you decide to be on Survivor?
At first, both my husband and I wanted to go on Survivor, but we knew they would never take a husband and wife team. He told me I should try it, so I searched for information on applying. I called CBS in New York, I searched the Internet, I looked everywhere, but I couldn't find anything. Then the Holy Spirit told me to stop looking.
About a month later, I was at work and the Holy Spirit moved me to look up Habakkuk 2:2-4:
Then the Lord said to me, "Write my answer on large, clear tablets so that a runner may read it and tell everyone else. But these things I plan will not happen right away. Slowly, steadily, surely, the time approaches when the vision will be fulfilled. If it seems slow, wait patiently for it will surely take place. It will not be delayed. Look at the proud. They trust in themselves and their lives are crooked. But the righteous live by faith."
I prayed, "Lord, what are you trying to tell me?" I felt him say that it was time to start looking again and to go to www.cbs.com. Lo and behold, there was the application for Survivor 4.
Did you believe from then on that you would make it?
After sending in my audition tape, I put a Post-It Note on my computer that said, "I will be a survivor." Every day, I continued to name and claim that. I said, "Lord, you told me to write my vision down and I am believing in you that I will be a survivor." Eight days later, I got the phone call.
When I knew I'd finally made the show, I took that first sticky note off and put a new one that said, "I will be the ultimate survivor." I would pray, "Lord, you have ordained my steps and set this in place. I am believing it will happen." I even took the sticky note to the island with me. Every day I prayed for God to help me do what I had to do.
How do you feel your faith was portrayed on the show?
It may have looked like [the other Christians on my tribe and I] were walking around every five minutes saying, "Praise the Lord." We were not. I could say "Thank you, Jesus" once in a day and they would use it in several voiceovers or place it in other conversations.
Each time I praised God, I walked away by myself and had my own quiet time because people get intimidated by something they don't understand. When we lost a challenge, I would thank God that no one was injured. But [the show's producers] only made it look like I prayed when we won. That was not the case. They never highlighted the fact that I thanked God that we all stayed healthy and returned from challenges.
There were also times when my words were misconstrued. It is unfortunate, but we sign up that they can use our voice, our image, and anything they want during the show. There was one on-show interview where I was asked, "How do you feel as a Christian having to lie and backstab? Do you feel you can ask for forgiveness afterwards?"
I answered, "As a Christian we have that liberty to go to our Lord and Savior after we have wronged our brother or sister and ask forgiveness. In this game, though, I cannot do that. I can't lie and backstab and then turn around and say, 'Oh Lord, please forgive me.' Nor can I say, 'Lord, I am about to lie to this person, please forgive me after the fact.'"
When it aired on television, my words were flipped around. The minute I heard it I said, "Oh my, that is not what I meant." I got a lot of flak for it. I had preachers e-mail me saying I was not a good role model for Christianity.
How does Christian ethics interact in a game where there's a certain amount of manipulation and deception needed to win?
A lot of people claimed that I was a hypocrite because I lied and backstabbed, but I looked at it as a game. I said, "Lord, the rules of this game are to outwit, outplay, and outlast. You wouldn't allow me to come here and do these things if you felt I was being a hypocrite as a Christian." That was my conviction. I looked it as playing a game of poker. Sometimes you have to embellish your hand. It is part of the game.
As a Christian, it is definitely an opportunity to see how well you can go out and play a non-Christian game. That was what I chose: to take an opportunity to play a game and be someone totally different than who I am. Don't get me wrong: I still had my morals. But because I knew I was playing a game, I could truly put my morals aside and play. It is within the context of a game, so I didn't feel bad about anything I did or anything I said.
It was tough to do what I had to do in order to advance instead of taking the game personally. Some people are not able to do that. There were times that Joanna Ward [from Survivor: Amazon] couldn't do that. She truly brought her Christianity into the game. She didn't want the immunity idol in the camp. I wanted to tell her, "Get past that. Don't look at it like idol worshiping. Look at it as a reward for your team not voting someone off."
She couldn't step out of her Christianity and focus on why she was there. Maybe her reason for being there was to win souls. I don't know what her key objective was. But mine was to solely win the game.
Did you take opportunities in the game to share your faith?
I wanted to be an example [to those in the tribe] more than someone throwing the Bible around. They saw something different in me. When they asked me what it was, I told them that I loved the Lord. There were times that I'd sing and someone would ask me what I was singing. I'd sit them down and tell then that it was a song from my church. It opened a door.
There were times when non-Christians in our tribe would ask us to pray for them or to pray that we'd find dinner. No one ever walked away when we prayed for dinner or for a challenge. Everyone would come and we never forced them. People would tell me why they didn't go to church and I would answer questions for them.
There were definitely opportunities on the island that I did [talk about God], but they always approached me. Since I won, I have given my testimony on television, in churches, and spoken in schools when I can't talk about my faith. Instead, I say that everyone needs to find something deep within you that will help you get where you need to go and that could be a religious belief.
Why do you believe God placed you on Survivor and allowed you to win?
First and foremost, to show that Christians may not be of the world but we live in it. He placed me in there to let people know that Christians are strong people and we can do anything and everything. We don't have to be vocal about who we are—but in the end, we proclaim what got us there. We know our faith is what got us there.
Related Elsewhere:
See Hertz's earlier interview with Survivor contestant John Raymond, the show's first pastor.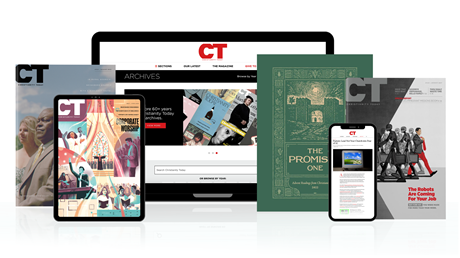 Subscribe to Christianity Today and get access to this article plus 65+ years of archives.
Home delivery of CT magazine
Complete access to articles on ChristianityToday.com
Over 120 years of magazine archives plus full access to all of CT's online archives
Subscribe Now
Christian Survivor s Playing a Non-Christian Game
Christian Survivor s Playing a Non-Christian Game