No commentary today. It will return on Monday.
Religious discrimination:
Politics and law:
Battle over Oregon's suicide law:
Oregon defends assisted suicide law | Says U.S. Justice Department has no right to interfere with doctor-assisted suicide in Oregon because states have historically regulated the practice of medicine (Associated Press)


Also: Oregon, U.S. battle in court over assisted suicide (Reuters)


Also: Clash in court over Oregon's law on suicide | U.S. argues it has the right to stop physicians from letting the terminally ill have lethal doses of controlled drugs (

Los Angeles Times

)
Life ethics:
Laci Peterson's kin back fetal protection | Legislation that would make it a crime to kill or injure a fetus while committing certain federal offenses against the mother received a strong endorsement yesterday from the family of Laci Peterson and her unborn son, Conner (

The Washington Times

)


Conn. Supreme Court: Fetus is body part | Ruling angers both sides of the abortion debate (Associated Press)
Sexual ethics:
Crime:
Iraq:
'Garden of Eden' devastated under Saddam | In the purported Garden of Eden, lifeless trees stand amid trash, patches of dry grass and salt-encrusted mud—the remnants of once-lush marshlands (Associated Press)


Social justice:
Accommodation or abolition? | Solutions to the problem of sexual trafficking and slavery (Donna M. Hughes, National Review Online)


Church answers runway prayers | Bishops join village battle to halt expansion of Heathrow (

The Guardian

, London)
Education:
Three Indiana schools get $13.8m to wage peace | Church colleges have record of promoting alternatives to war (

The Boston Globe

)


Texas heads to daily moment of silence in schools | Texas' more than 4 million public school students could soon start their day with a pledge of allegiance to the U.S. and state flags and a minute of silence where they can exercise their 'Constitutional right to pray.' (Reuters)
Studies:
University of Arizona to test power of prayer to help heal | Patients undergoing open-heart surgery will be the target of special prayers, to see if they will ease their pain and speed their healing. But they won't know if anyone is praying for them (

Arizona Daily Star

)


Poll: 'Secularists' are mostly young | Most live on West Coast and are liberal, according to Gallup research (Religion News Service)
Pop culture:
Two rappers tell a positive message | Lee Prince and Kevin Warr have proven themselves as the group 4th Soil. They're a part of a larger group called Southern Christian Klique (KPOM, Arkansas)


Sinead plans to teach religion | "As well as being a religion teacher my plan is to work as a 'visiting' church singer" (News.com.au)
Missions and ministry:
Church life:
History and artifacts:
Preserving Samaritan speech | The Samaritans, arguably the people with the best press in the New Testament, have a big problem: not only have they shrunk to a miniscule community, but their language is threatened with extinction (UPI)
Books:
How to find a church 101 | Carmen Renee Berry's new book, "The Unauthorized Guide to Choosing a Church," will be read. But will it help? (Kristen Campbell,

The Mobile Register

, Ala.)


The Word of God, written by committee | Adam Nicolson's book takes on the daunting task of explaining the process behind the creation of the King James Bible (

The New York Times

)
Faith in the newsroom:
The faith connection | The news events of the last 18 months have shown us that religion reporting is important, and it's becoming even more so (Diane Connolly, Poynter Institute)


Past as prologue? | Many religion-beat veterans are proud of their work but feel like Rodney Dangerfield in their newsrooms. Editors say they know religion is news, but religion-beat stories seemed too boring, or too controversial, to warrant dedicated coverage (Terry Mattingly, Poynter Institute)


Confessions (and counsel) of a religion writer | I looked like a big, fat loser to all the people whose zoning decisions, elections, sit-ins, and scandals I'd covered (Deborah Caldwell, Poynter Institute)
Britain's saint:
Which saint is best for England? | St George should be replaced as England's patron saint by St Alban, according to a poll of BBC radio listeners released on Monday (BBC)


St Alban slays St George to be our favorite saint (

The Daily Telegraph

, London)
Advertising:
PETA removes pro-vegetarian billboard that upset some Christians | Had a picture of a squint-eyed pig next to the words: "He Died For Your Sins. Go Vegetarian." (Associated Press)


Earlier: PETA sign equates pig with Lamb (

News & Observer

, Raleigh, N.C.)
Theology:
Stirring the pot | Despite mounting criticism, Carlton Pearson says everyone—even the devil—may be saved (

The Dallas Morning News

)


Earlier: Called to Account | Tulsa Pentecostal pastor defends his universalism before bishops (

Christianity Today

, Apr. 30, 2003)
Tony Blair:
Unease as Blair lays soul bare | Kamal Ahmed assesses the political fallout of Blair's declaration of faith in 'his Maker' (

The Observer

, London)


Thank God for politicians who take their cue from above | Faith will have taught Blair and Bush humility, conscience and responsibility (Michael Gove,

The Times

, London)
Other stories of interest:
Related Elsewhere:
Suggest links and stories by sending e-mail to weblog@christianitytoday.com
See our past Weblog updates:
May 8 | 7 | 6 | 5
May 2 | 1 | April 30 | 29 | 28
April 25 | 24 | 23 | 22 | 21
April 17 | 16 | 15 | 14
April 11 | 10 | 9 | 8 | 7
April 4 | 3 | 2 | 1 | March 31
March 28 | 27 | 26 | 25 | 24
and more, back to November 1999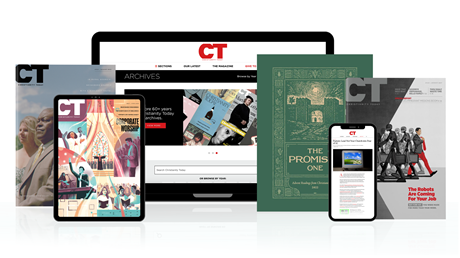 Annual & Monthly subscriptions available.
Print & Digital Issues of CT magazine
Complete access to every article on ChristianityToday.com
Unlimited access to 65+ years of CT's online archives
Member-only special issues
Subscribe
House Bill Gives Hiring Protections to Federally Funded Religious Groups
House Bill Gives Hiring Protections to Federally ...