In 1990 Bill McCartney, head football coach at the University of Colorado, launched Promise Keepers, a stadium-based ministry encouraging men to commit to God, their families, and "Christlike masculinity." Central to its focus were the "Seven Promises of a Promise Keeper." In 1996, PK held 22 stadium rallies with a cumulative attendance of nearly 1.2 million men. However, in 1997, the Denver-based organization had to cut its staff by 20 percent, even as it prepared for the heavily publicized "Stand in the Gap" rally in Washington, D.C., that October. The PK board that fall also removed the $60 entrance fee to stadium events, calling for donations instead. In 1998, McCartney laid off 345 paid staffers, citing financial woes.
McCartney resigned on October 1. McCartney had been on a board-approved leave of absence since March 1 to care for his wife, Lyndi, who has a severe respiratory illness. The PK board then announced Thomas S. Fortson, Jr., 55, as the new president and CEO. Fortson, executive vice president of administration and operations at PK since 1996, received his doctorate in administration and higher education from Michigan State University and worked previously for General Motors. PK, now with 70 full-time and 15 seasonal staff members, expects that about 170,000 men will attend its 17 conferences this year.
CT associate news editor Stan Guthrie interviewed Fortson.
How does Promise Keepers compare now with its early years, and where do you want it to be in five years?
When it first started, we were very entrepreneurial, we were creative in our process, we were exploratory. Some things worked and some things didn't. I think we touched a need. And that was the fact that men wanted to connect.
We tapped on a nerve there where a guy, in an event, surrounded by other men, could be more expressive with his feelings and with his emotions. Thirteen years ago, probably men were confused over masculinity, about what it means to be a man. What does a man look like, especially what does a godly man look like? So through the process of Promise Keepers, we tried to develop a profile for what a godly man looks like.
You saw a quick rise in Promise Keepers where there was just a tremendous surge in the stadium events, and then you saw a quick drop. Well, there are probably a number of reasons. We might have made some mistakes in terms of our format. We stopped charging. We said we would counter that by the donation in the arena/stadium, and that didn't quite meet our expenses. And so we reinstated the registration fee in 1999, and it did hit us hard. I think we recovered. And so now we've changed our strategy, we've moved from stadiums to basketball arenas [that hold] between 16,000 and 18,000. We find that even more conducive. We don't have to worry about weather, and we can go into smaller cities and do more.
In the next decade, under a transition in leadership, we're probably [going to be] more strategic in our approach—not that we weren't strategic in the past, but I think times have changed. The constituency or the age level of men has changed. Whereas a guy who attended the event 13 years ago was 22, well, he's 35 now. His needs are different. He might have just gotten married at 22 and now he has three or four children and even some teenagers. So our constituency has changed.
We're [also] moving more globally. Our vision is men transformed worldwide. We've never fully done that. We've had some starts and stops. But I think as we look at our vision, we need to develop strategies to attain our vision. The Bible truly says, "God so loved the world." It's not just the United States that he loves or men in the United States. It's men around the world. And I think we've always had a heart for that, but we just have been unable to do that, and we see ourselves doing that over the next decade.
How are you going to adapt the PK message for international contexts?
We have to contextualize the message. I don't, and we don't, believe that the needs of men in the United States … [differ from those of] men throughout the world. The need to be a father. The need to be a husband. The need to have vital relationships with other men. Certainly the whole area of worship. The need to connect with their pastor. The need to be intentional about reaching and connecting with men who worship differently or who are of a different tribe, different language. We encourage men in this whole area of practicing a moral ethic and sexual purity. Why is AIDS spreading? It's because men are not practicing sexual purity.
Are people who are expert in cross-cultural communication going to help you tailor the message?
Yes, not only tailor the message, but we also hope to identify men in these countries who understand their language and their people. So we're not talking about people from the United States or necessarily Americans but indigenous people, pastors, laymen, who are from the various countries.
You mentioned being more strategic. What do you mean?
We certainly have been [focused on the] big picture, and that's good, and it has served us well. I think that as we move globally, for example, we just won't go and hit the world all at once. We will target certain countries. We will target certain cities in the United States. It just won't be that we'll just explode and go in numerous places. But, through prayer, we'll be very strategic about what cities we need to hit and how we need to minister to the men.
This year we will reach about 170,000 men in the 17 conferences. As we grow, we certainly have a plan in the next three years to do about 200,000 per year. There are probably few ministries that are doing that. Certainly our approach will be again, more strategic, less catalytic as we saw in the past years, but no less effective. We had men coming … [to what] some people described as just a big cheerleading event. Well, I think we're going to be going deeper with men. We will be doing more teaching. We will be doing more and smaller seminars that will teach life skills, how to be a good husband, how to be a father, how to handle finances. These are skills that men are saying they need to live their life as leaders of their homes.
Your professional and academic experience differs from that of Bill McCartney. How might this experience change Promise Keepers?
I'm not sure whether it's going to change Promise Keepers. Our vision has not changed. Our mission statement has not changed, and our message has not changed. Will [we] have a different type of leadership? Certainly. My name is Tom Fortson and not Bill McCartney. And along with Tom Fortson come different life experiences. Coach has taught us well. Having worked directly for him for the last eight years, I've learned a lot from him. For example, team building—moving forward as a team and you win or lose as a team. So teamwork is part of our DNA. Mac was a visionary, a great visionary, and he can certainly see the completion of an idea that he had. My giftedness is certainly getting the picture and working through the details.
What will be the biggest difference between your leadership and Mr. McCartney's?
I would say determining the details of the direction—certainly not only seeing where we're going, but assisting in the details. If I can use a metaphor, when Mac was at the helm, he could see where we were going and he would call down to Tom and say, "Tom, figure out how we're going to get there." I understand how the "good ship Promise Keepers" works. I understand its capability, how much you can take on and how much you can't take on. I think we need to streamline this ship, but I fully know what it's capable of doing, and I think we can even exceed its capability from the past. It will be different. It will be more targeted, but I feel that it's God's ministry. He birthed it. It's not about man. It's not about Bill McCartney or Tom Fortson. It's about what God wants to do in Promise Keepers.
What do you think Promise Keeper's greatest weakness in its first phase, and what do you think was its greatest strength?
I think it was a movement of God. That was its strength. We were facilitating what God was doing, not managing what God was doing. We saw some things during that process that we couldn't maintain. The slope of the rise of PK was so tremendous, you couldn't maintain that rise. At some point, something had to happen. Well, I think that we're learning now … that it's for the long term. We didn't know how long PK was going to last. It might have been short term. It might have been for four or five years, or ten years and then God may want to do something new.
We have a sense through the board or directors, through the current leadership staff, that God has a lot more work for us to do. During the process we have discovered a lot more about the needs of men and that we're in it for the long term. We have limited resources, and so we want to be able to use wisely the human resources and the financial resources that God has given us and to move accordingly.
Where is Promise Keepers headed in racial reconciliation?
Let me use the term unity. Everybody has a stereotype when you say racial reconciliation. Too often people will hear the term reconciliation and react to that. We encourage men to reach out beyond denominational and racial barriers. Jesus prayed in John 17 that we would be one as He and the Father are one. [We are] … encouraging men to be one. And what keeps us from being one are denominations and racial lines. We tend to stay in our own networks, with [those with whom] we feel comfortable.
We need to recognize that the Christian in suburbia is a brother to the guy in the urban setting. The brother in New Zealand who knows Christ as his personal Savior, he is my brother. [One guy] in America is a Republican and another guy is a Democrat. As each comes to the Promise Keepers event, he needs to recognize [about the other], "That's my brother." He may feel differently about an issue politically, but the bottom line is, he's my brother.
When you look at Revelation chapters 5 and 7, you get a picture that there are men from every nation, every tongue, and every people, and every tribe. That's a picture of heaven, and the Bible says we need to do God's will on earth as it is in heaven.
What is Bill McCartney's role going to be in the organization now?
It's being defined now by the board. Mac will always be the founder of Promise Keepers. He will always be associated with Promise Keepers as its founder.
What's your opinion of John Eldredge and some of the newer men's ministries, and what can Promise Keepers learn from them? Are they going to affect the way you do ministry?
The key word I would say with Promise Keepers moving in the future with those men and ministries is collaboration. We're all on the same team. We may do things differently, but the goal is the same, and that is to bring men first into the kingdom of God and then disciplining these men to become more godly men. So, we learn from each other. We are more catalytic and maybe our strength is not discipleship and maybe some other organization's strength is discipleship. God gave us a core of competency, but we're certainly working in all of those areas: discipleship, evangelism, unity.
Are there any concrete plans to reach out to some of these organizations and say, "Hey let's do this together"?
Yes, steps like that have already been taken quietly. And I think a lot of times we don't necessarily have to announce what we're doing. But already plans and meetings have been taking place in anticipation of the next decade to do more collaborations.
Related Elsewhere
Other articles on Promise Keepers include:
Promise Keepers Begins to Evangelize Boys | The youth-orientated Passage draws 14,000 to Ohio rally. (Jan. 22, 2002)
Keeping Their Promises | Despite layoffs and low income, the decade-old men's movement marches on. (April 27, 2000)
Will the Walls Fall Down? | Promise Keepers draws a bead on the 'giants' of racism, family breakdown, and church disunity. (Nov. 17, 1997)
Colorado Summit | Promise Keepers Gathers Black Leaders (April 28, 1997)
Seedbed for Revival? | Stand in the Gap in Washington, D.C., aims to spark national spiritual awakening. (Sept. 1, 1997)
Racial Reconciliation Emphasis Intensified (Jan. 6, 1997)
Promise Keepers Goes Global (June 16, 1997)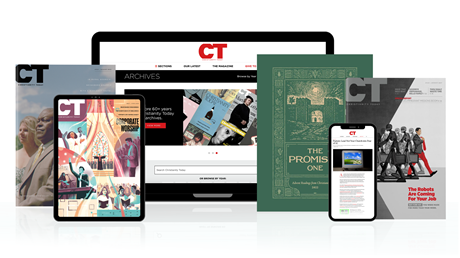 Annual & Monthly subscriptions available.
Print & Digital Issues of CT magazine
Complete access to every article on ChristianityToday.com
Unlimited access to 65+ years of CT's online archives
Member-only special issues
Subscribe
Life after 'Mac'
Life after 'Mac'