Prolife groups are using a new strategy to stop construction of a Planned Parenthood abortion facility in Austin, Texas. Six weeks after construction began the project's general contractor pulled out when it could find no subcontractors willing to provide concrete, plumbing, and other work.
Local concrete contractor Chris Danze organized the boycott, and now Danze says, every concrete supplier within 60 miles of Austin has agreed not to supply materials. Danze sent a letter to 750 executives of construction-related companies asking them not to participate. Calls and more letters followed urging companies not to participate in the construction of the facility, which was scheduled to open next year and provide abortions and other services.
Texas Right to Life got involved by thanking companies for pulling out and offering to share their names with the prolife community. Then churches got involved saying they would not work with any contractor who provided construction services for Planned Parenthood. According to the Yahoo Yellow Pages there are 615 churches in Austin. Planned Parenthood has three other abortion clinics.
"It's brilliant in the sense that most of these guys do large commercial jobs, and a lot of them do churches,'' David Bereit, director of Bryan-based Coalition for Life told reporters. "There are a lot more churches than abortion clinics in Austin.''
"Our organization will be documenting those construction companies that participate in the construction of this compound,'' wrote Danze … in an October letter to would-be suppliers. "We will forward a list of those companies that participated in the construction of this child-killing complex to the business community at large and the Austin and San Antonio church communities in particular.''
Contractors and activists said the threat of losing a piece of Austin's booming church construction business was particularly effective.
Naturally, the boycott is being called an act of "intimidation and harassment" as well as "profoundly threatening to American values."
Several news stories cited Planned Parenthood when it mentioned an unnamed business that received 1,200 phone calls (hard to check the facts on that when PP won't say who—nevertheless reporters are willing to print it), but Wayne Vardell, president of Fort Worth-based Walker Engineering said he only received about 100—along with pictures of aborted fetuses. "They were going into detail about how it was murder and they would appreciate it if we would pull out of the project,'' said Vardell, who lost the job when the general contractor pulled out. "I don't think we should be pressured into making a business decision based on harassment from any organization.''
For now, the project is left unfinished. The foundation has not been poured, and Vardell may get his job back if Planned Parenthood acts as its own general contractor as it says it will. One contractor told NPR that he would be happy for the work.
Fuller Theological Seminary wins LA Times approval
The Los Angles Times Sunday magazine reported on Fuller Seminary's "post-evangelical" attempt to reach beyond conservative/liberal labels and develop Bible-believing Christian leaders with social justice concerns, evolutionary science, pop psychology counseling, and Hollywood influence.
The piece marks a new chapter of the Seminary's history as an institution founded by radio preacher Charles Fuller and minister Harold Ockenga in three stages. First, Edward Carnell, the school's second president, called for tolerance among theological viewpoints, then the acceptance of Karl Barth-style theology in the late 1960s, and finally "Post-Conservatism."
Taking a bow to the Emergent folks, the piece discussed the latest postmodern Christianity craze and said many Fuller grads are adopting the term "Post-Evangelicals."—at least according to the Times.
The article was a tad condescending, as if the Times was patting Fuller on the head for being a good little postmodern seminary. Still, the article made clear that the school has no intention of leaving its Bible-based faith. Seminary president, Richard Mouw is quoted saying he's sticking to the fundamentals he was taught as a child: "That Jesus loves me, that there's a God in charge of history, that there's a book I can turn to for guidance … Now, I've nuanced those. But they're still the things I hold on to for dear life."
The article also played up a tension felt at Fuller since its founding: can Fuller maintain its Bible-believing, Jesus-is-Lord faith, and still be progressive, culturally relevant, and academically respected?
So far, Fuller has, but as the Times noted, the coming decades only promise to make the tension even more taut.
Weblog apologizes for today's weak article list. Come back at 5 p.m. Eastern for more.
More Articles:
Other boycotting:
Struggling churches:
Ministry:
Attacks:
Related Elsewhere
Suggest links and stories by sending e-mail to weblog@christianitytoday.com
Check out Books & Culture's weblog, Content & Context.
See our past Weblog updates:
November 24
November 21 | 20 | 19 | 18 | 17
November 14 | 13 | 12 | 11 | 10
November 7b | 7a | 6 | 5 | 3
October 31 | 30 | 29 | 28 | 27
October 24 | 23 | 22 | 21
October 17 b | 17a | 16 | 15 | 13
and more, back to November 1999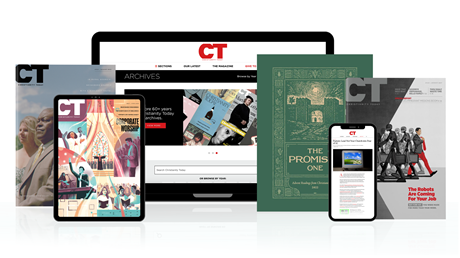 Annual & Monthly subscriptions available.
Print & Digital Issues of CT magazine
Complete access to every article on ChristianityToday.com
Unlimited access to 65+ years of CT's online archives
Member-only special issues
Subscribe
Contractors Refuse to Build Abortion Clinic
Contractors Refuse to Build Abortion Clinic