Admirers have called her one of the country's best and brightest and the President's secret weapon. At a June 4 meeting with Jordanian, Palestinian Authority, and Israeli leaders, President Bush called her "my personal representative" and said she would work closely with the parties to help bring about peace. Her significance in shaping American foreign policy is hard to overstate.
Known affectionately inside the White House as the Warrior Princess, National Security Adviser Condoleezza Rice often speaks for the President on foreign policy and is one of his closest confidants. From her northwest corner office of the West Wing, she is responsible for sharpening and presenting the arguments of the administration's often rambunctious National Security Council.
Before her current stint, she had overseen decisions in corporate boardrooms, managed a multimillion-dollar budget at Stanford University, and negotiated key deals for the first President Bush.
Rice's keen intellect, steely unflappability, and Southern charm have served her well. Those qualities, her family and friends told Christianity Today, arise from something deep within her. "Her faith is absolutely fundamental to who she is," says Randy Bean, executive producer of special television projects at Stanford and a longtime friend. "It's part of her fiber."
"She's very close to the Lord," says Rice's aunt, Genoa Ray McPhatter. "She knows that he guides and directs her. She learned this early as a child, to have that faith, and to believe that the Lord can do all things."
A 'Perfect Little Lady'
Born on November 14, 1954, the year before the civil rights movement began, little Condi entered the brutally racist environment of Birmingham, Alabama, surrounded by her family's strong faith and lavish devotion.
Her father, John W. Rice Jr., was a second-generation minister at Westminster Presbyterian Church and an educator. Her mother, Angelena, was a music teacher and church organist. From the beginning, the Rices resolved that their daughter would have the most nurturing, stimulating environment possible. A full schedule of activities ensued: youth group, piano, ballet, French, flute, violin, speed reading, and church every Sunday.
"I had parents who gave me every conceivable opportunity," Rice told Vogue.
Condi's early religious influences included her maternal grandmother, a piano teacher who was deeply grounded in her Christian faith. The first piece she taught her granddaughter to play was the hymn "What a Friend We Have in Jesus." Her grandmother urged her children and grandchildren to exemplify Jesus. "Whenever we would leave home she always told us to take the name of Jesus with us," says Rice's aunt McPhatter. "It was a constant reminder to keep Christ in our hearts and minds, foremost."
Music was a family affair, and as early as age 3 Condi played piano at family gatherings. At 5 she accompanied her mother at the organ bench during worship services. Her name is from the Italian phrase con dolcezza, which refers to playing music "with sweetness." Unlike other neighborhood children who often played outdoors, she was more likely to be found reading a book or practicing the piano.
"She always was the little lady," says McPhatter. An elegant and fashionable woman herself, Angelena took care to dress Condi stylishly. She took her daughter to the same fine clothing stores frequented by Birmingham's wealthy whites, and on more than a few shopping trips, Condi saw her mother stand up to segregationist store clerks.
In spending so much time around her parents, Rice developed a remarkable maturity. When John Rice received a scholarship for a summer program at New York University, officials told him children could not stay in dorms. "My sister got on the phone and told them Condi was a child but she was not really a child," McPhatter says. "She said that she was very calm and acted just like an adult, and if Condi couldn't go, John wasn't coming either." Condi went along. "She was a perfect little lady and no one even realized she was there."
It might have been an idyllic youth had Birmingham not been a hotbed of racial violence. Theophilus Eugene "Bull" Connor, Birmingham's Commissioner of Public Safety, inflamed racist sentiment and zealously enforced Jim Crow laws, keeping protesting blacks at bay with police dogs and fire hoses.
On September 15, 1963, a Sunday morning, Condi was standing inside her father's church when she felt the floor shake. A bomb had exploded two blocks away at Sixteenth Street Baptist Church, killing four young black girls. One was Rice's schoolmate. That blast, rather than derailing the civil rights movement, energized the crusade to pass the 1964 Civil Rights Act.
Rice would later say the memory of "home-grown terrorism" from 1960s Birmingham flooded back into her mind after the 9/11 attacks. These early childhood memories have become a cornerstone in Rice's political convictions about the importance of human dignity and individual liberty for all people.
Being Twice as Good
Like other middle-class black parents in Birmingham, the Rices were determined that their daughter would overcome racism through hard work, personal achievement, and a God-given sense of self-worth. "My parents had me absolutely convinced that … you may not be able to have a hamburger at Woolworth's but you can be President of the United States," Rice told Newsweek. For Condi this meant being twice as good as whites in order to gain equal footing.
Banned from public restaurants, pools, and the local amusement park, Kiddieland, Birmingham's black youths had limited entertainment outlets. Pastor Rice created a youth fellowship organization.
"It was not just an adjunct to our spiritual lives, but also the center of our social lives," says Mary Kate Bush, president of Bush International, a global finance advisory company, who participated in the fellowship's Bible studies, dances, and cultural field trips. "[Condoleezza] was frequently there with us, being looked after by her father while he was running the youth fellowship."
"Daddy Rice"—as he came to be known by many of Condi's friends—was also a man of intense personal magnetism and confidence. Bush says he "exuded power" and possessed a gentleness that made him "totally approachable and warm." Those whose lives he touched credit him for their success. To John Rice, God and education were the keys to overcoming obstacles, and he made sure all of his "kids" got plenty of both.
"Our world was completely black," says Freeman A. Hrabowski, president of the University of Maryland, Baltimore County. Hrabowski attended Ullman High in Birmingham, where Pastor Rice also served as a guidance counselor. "The challenge was, when we moved beyond that world, we were going to be told we're second class. Rev. Rice was there preparing us for that. He was telling us we're children of God. How could we be second class? What he was doing was teaching us to live examined lives. He was pushing us to examine everything we did and how we did it."
Condi's father took academic positions at Stillman College and then the University of Denver, so Rice spent her teenage years in Tuscaloosa, Alabama, and in Denver. There she enrolled in the prestigious St. Mary's Academy, an independent Catholic school and the first integrated school she attended. It was also where a school counselor advised her parents that their daughter was not college material.
That assessment—which her parents rejected as flat-out false—seemed to bounce off the confident young woman not accustomed to accepting society's limitations. "Our parents and our community in many ways sheltered us from the very negative things," says Bush. "Many of us never thought about limitations. We never expected there would be limitations on our ambitions."
That counselor's words seemed only to invigorate her. Rice thrived at St. Mary's with a full schedule of ice-skating, tennis, and piano, graduating early with a slew of honors. At 15, she enrolled in the University of Denver.
But difficult days were not far off. That same year, 1969, her mother was diagnosed with breast cancer. Recalling the experience years later, Rice said when the results of her mother's first surgery came back, her father "got down on his knees and he prayed: 'Lord, how am I going to raise a 15-year-old girl alone?' " Angelena would live another 15 years, but during this time, Rice said she feared her mother's death "in the abstract every waking day."
At the University of Denver's Lamont School of Music, Rice pursued a degree in piano performance, practicing on the $13,000 Steinway grand piano her parents bought her. Rice encountered, perhaps for the first time, world-class competition. Years later during a radio interview, Rice recalled meeting "11-year-olds who could play from sight what had taken [her] all year to learn." That made her think twice about a career as a performer.
"I went to my parents, who had spent a fortune and all of their time turning me into a pianist, and said, 'Mom and Dad, I'm changing my major,' " Rice told Oprah Winfrey. Her parents were initially shocked and resistant.
"Her daddy looked at her and said, 'Condoleezza! Black people don't make money in political science,' " McPhatter said in a recent newspaper interview.
Rice replied: "Music, either."
Studying Geopolitics
Rice enrolled in a course on international politics. The instructor was Josef Korbel. The former Czech diplomat and political refugee fascinated Rice. She would later describe Korbel as "one of the most central figures in my life, next to my parents." Korbel and his family, whose Jewish background came to light much later, escaped both Nazis and communists. The U.S. government granted Korbel political asylum, and the University of Denver hired him to start an international politics program.
Rice and Korbel's daughter, former Secretary of State Madeleine Albright, are probably that program's most famous alumni. Both Rice and Albright, despite their differences, acquired Korbel's unshakable commitment to the American ideals of freedom and democracy. Rice, like many foreign policy experts of the Cold War era, was attracted to the views of scholar Hans Morgenthau, a leading advocate of balance-of-power realism in relations between nations.
But in time, Rice's own view would shift toward the values-driven model that the Bush White House embraces. "Power matters," Rice told National Review in 1999. "But there can be no absence of moral content in American foreign policy, and, furthermore, the American people wouldn't accept such an absence. Europeans giggle at this and say we're naïve and so on, but we're not Europeans, we're Americans—and we have different principles."
Rice graduated cum laude with multiple honors and a degree in political science. The 19-year-old then headed to Notre Dame University to earn a master's degree in government. "She was already on her way to being a Soviet specialist," says Jane Robinett, a fellow student at Notre Dame and now a professor of rhetoric at San Diego State University. "She was really interested in all things Russian." Rice had even named her car Boris.
Rice returned to Denver to earn a Ph.D. in international studies, but even then she found it difficult to leave her music behind. Her year-long independent project was on "Music and Politics in the Soviet Union." Capping a successful ten-year transformation from pianist to professor of political science, Rice accepted a fellowship at Stanford University's Center for International Security and Arms Control. At 26, she was an assistant professor at one of the most prestigious universities in the land.
Drawn Back to Church
Rice sparkled at Stanford, impressing everyone. She was young, stunningly attractive, and had a razor-sharp mind. But something even more important was happening. During these years, Rice says, God drew her back to the church.
It began when the nearby Jerusalem Baptist Church started looking for some help. "We needed a piano player very badly," says longtime church member Dale Hamel, then president of the choir. Hamel charged his choir with finding a musician. He was pushing his shopping cart down the canned food lane at Lucky Supermarket when he ran into Rice.
"We practically bumped into each other," says Hamel. "We stopped and started laughing, and I looked down at her fingers and saw that they were long and skinny. I said, 'Are you a musician?' And she said, 'Hey, how'd you know?' " Rice played for the church for six months, refusing to take any money.
"That got me regularly back into churchgoing," she said in an August 2002 address to a Sunday school class at her home church, National Presbyterian in Washington, D.C. "I thought to myself, 'My goodness, God has a long reach.' I mean, in the Lucky Supermarket on a Sunday morning."
But Rice yearned to return to her Presbyterian roots. One Sunday she visited Menlo Park Presbyterian Church in Palo Alto. "The minister that Sunday morning gave a sermon I will never quite forget," Rice said. "It was about the Prodigal Son from the point of view of the elder son. It set the elder son up not as somebody who had done all the right things but as somebody who had become so self-satisfied… . I started to think of myself as that elder son, who had never doubted the existence of the heavenly Father, but wasn't really walking in faith in an active way anymore. I started to become more active with the church, to go to Bible study, and to have a more active prayer life. It was a very important turning point in my life."
During these years, she grieved her mother's death, helped her father work through his grief, talked him into moving to California, watched him remarry, and continued to stay involved in church and community activities—like raising money for an after-school center for underprivileged children in East Palo Alto.
Bonding With the Bushes
In 1987 Stanford sponsored a conference on arms control, and over dinner one night, Rice met Brent Scowcroft, who served in President Gerald Ford's administration. He recalls meeting a very confident young woman "who looked more like an undergrad." Scowcroft was so impressed with Rice that he resolved to help her advance. When the newly elected President George H. W. Bush asked Scowcroft to serve as National Security Adviser, Rice was one of the first people Scowcroft invited onto his staff. She served as his Soviet expert.
"She has a very steely inner soul, but with a very genteel exterior," Scowcroft says. Rice was so considerate when she first arrived at the White House, people thought they could run right over her. "They only tried that once." Rice quickly bonded with President Bush, advising him during the collapse of the Soviet Union.
Philip Zelikow, executive director of the National Commission on Terrorist Attacks, served with Rice on the senior Bush's national security staff and wrote a book with her. Zelikow says Rice's commitments became evident during her service with Scowcroft.
"She believes in empowering people," Zelikow says. "In international affairs, that means real commitment to liberty and freedom. She sees the message of her life as a message of how to realize a person's potential. No one should ever become the prisoner of other people's expectations."
Zelikow says that was evident back in 1990, when Rice helped develop U.S. policy on the reunion of East and West Germany. "Her instincts all along, from the very beginning, were: We need to allow the German people to pursue their own destiny, and we need to have the Soviets accept that," says Zelikow. "That's what she recommended to President Bush."
Rice grew close to the Bush family, spending vacations at their estate in Kennebunkport, Maine. "Bush Senior was very fond of her, which is why she is where she is," Scowcroft says. Rice and George W. Bush have a similar bond, enhanced by their faith, mutual intellectual respect, and obsession with sports.
Rice returned to Stanford in 1991 to continue teaching. But a month after being promoted to full professor in 1993, she was tapped for provost. At 38, Rice was the youngest, the first nonwhite, and the first woman to assume the university's second most powerful position. The big leap from faculty member to provost had a steep learning curve. The university's $20 million budget deficit didn't help matters.
Rice resolved to balance the budget in two years—and succeeded. She approached tough decisions with her mother's no-nonsense directness, slashing costs and cutting staff, but always making clear where she stood. Angry critics accused her of compromising the school's commitment to diversity. Unpopular with students, Rice was seen as "cold and uninclusive."
"She was coming from a political environment, where many decisions were made unilaterally, to an academic environment driven by collegiality," says Lori White, who was at Stanford at that time and is now dean of students at San Diego State University. "It was a tough transition."
Rice worked on her public image, becoming more visible at student functions. At her last address to the undergraduate class of 1999, students gave her a standing ovation.
"She learned how to soften her approach, and how to let people, particularly students, know that while she certainly had to make tough decisions, she wasn't a tyrant," White says. "It's a great testament to her ability to respond to criticism."
During her tenure at Stanford, Rice spent her weekends with family and friends. Holidays were particularly known for their eclectic makeup of people and "ecumenical nature," Bean says. Rice and her stepmother, Clara Bailey Rice, would take turns cooking. Condi's Thanksgiving turkeys, cranberry salad, and Cornish hens received rave reviews.
Bean recalls one Easter dinner that included about 20 people, including Jews and Muslims. "Her religious beliefs never excluded anyone," Bean says. "It was perfectly normal to have Jews around at Easter. It was an indication of how comfortable she was with her Christianity." No holiday gathering was complete without hymns. No matter who was present, Bean says, "We'd power through the hymnal."
Rice and her father enjoyed a renewed closeness, traveling together to games and other functions. They also looked out for each other. Several recall the gentle ribbing Rice gave her tall, heavy-set father about his rich diet, and the times John Rice would camp out outside his daughter's condo some nights until she returned home.
"She wasn't too happy about it because she was independent and strong," says Bailey Rice, recalling the occasional nights John would drag her out of bed to wait up with him. "She would just say, 'Daddy! What are you doing?' She wasn't angry. You could tell it made her feel good that he loved her so much."
Rice was on the road with George W. Bush's presidential campaign in February 2000, serving as Bush's chief foreign policy tutor, when her father suffered a severe attack of arrhythmia. The attack left him bedridden with stroke-like symptoms. During her father's 10-month illness, it became clear that Rice would be offered a senior position in the Bush White House. Fearing for his daughter's safety in far-off Washington and eager for her to continue enjoying a prestigious career in academia, John Rice was less than enthusiastic. As with her other pivotal decisions, however, Rice knew what she had to do.
"She prays and makes her own decisions," Bailey Rice says. "Her father said that she has always followed her own heart and mind. And usually her decisions are the right ones." President-elect Bush announced his selection of Rice as his National Security Adviser at a December 2000 press conference. Six days later, on Christmas Eve, John Rice died.
"We all believe Daddy Rice gave his daughter a wonderful gift by going on to the other side when he did, because he was very conflicted about her being National Security Adviser," White says. "She was going to have to be going back and forth [to visit him] and had she been in Washington when he died, it would have devastated her."
Instead, Rice was with her father when he died. Friends marveled afterward at how at peace she seemed about his death. "He knew that she had reached this level," Bean says. "It was probably a moment when he felt that he could let her go."
Her Eye is on the World
Rice's role as National Security Adviser has been even more crucial since the September 11 attacks. She's had a hand in the war effort abroad and the security effort at home, Middle East peace initiatives, negotiations on North Korea, and relations with Europe. Bush has tapped Rice to defend the administration against charges of failing to act on intelligence data that critics said could have prevented the 9/11 tragedy. On Iraq, Rice again became a key advocate, invoking just-war doctrine and arguing the administration's case to skeptics abroad and at home. As early as August 2002, Rice spoke to the bbc about a "very powerful moral case for regime change" in Iraq.
Her views, like those of President Bush, are grounded in Christian ethics. "It shows in both of them a deeply religious foundation that seems to infiltrate nonreligious issues," Scowcroft says. "That is the milieu in which they tend to make decisions."
Rice has not limited her role to traditional national security matters. Zelikow and others say Rice was crucial, along with Secretary of State Colin Powell, in convincing Bush to set aside $200 million for the Global Fund to Fight AIDS, Tuberculosis, and Malaria. That money is part of a $15 billion package designed to fight AIDS in the most devastated areas, especially southern Africa.
Rice is neither a theologian nor an ethicist. She has never publicly articulated how her biblical faith informs her foreign policy—other than her concern for international justice and peace. What she better articulates and lives is a personal faith that strengthens her in her demanding and controversy-laden calling. That faith flows naturally, even spontaneously.
On New Year's Eve 2002, Rice and some friends traveled to Florida to watch Notre Dame play in the Gator Bowl. After a New Year's Eve dinner, the group had an impromptu prayer meeting in Rice's hotel room.
"It was a totally ecumenical thing," Robinett says. "It didn't matter what your denomination is, your gender or your race or politics. We just laid aside our differences."
They sang "His Eye Is on the Sparrow," White said. Then the group stood, formed a circle, held hands, and "prayed for each other and for the world."
Sheryl Henderson Blunt is a senior news writer for Christianity Today.
Related Elsewhere
Also appearing on our site today:
'The Privilege of Struggle' | How Rice understands suffering and prayer.
Hard Line on the Road Map | Can Rice put pressure on the nation she admires?
Christianity Today sister publication Christian Reader profiled Rice last fall:
Condoleezza Rice's Secret Weapon | How our National Security Adviser finds the strength to defend the free world. (September/October 2002)
Bios on Condi Rice are available at the Hoover Institute at Stanford University, The White House, and The State Department.
More related coverage includes:
Walking in faith—The Washington Times (August 27, 2002)
Condoleezza Rice: A Talk with the National Security Adviser—NPR (March 1, 2002)
Profile: Condoleezza Rice—BBC (September 25, 2001)
The quiet power of Condi Rice—Newsweek
Previous Christianity Today articles on the faith of the Bush White House include:
The Bush Doctrine | The moral vision that launched the Iraq war has been quietly growing in the President's inner circle. (April 25, 2003)
Texas Pastor James Robison on the Life-Changing Faith of George W. Bush | The president of Life Outreach International talks about his friend's faith, the moral need of America, and his own conversion. (March 11, 2003)
Scrutiny of Bush's Faith Continues with Newsweek Cover Story (March 3, 2003)
Christian Leaders Respond to Bush's National Security Strategy | The White House outlines foreign policy in a changing world. (September 25, 2002)
Bush's Defining Moment | The President, facing a grief-stricken nation under attack, finds his voice and his mission. (November 2, 2001)
The Minister of 'Good Success' | Meet Kirbyjon Caldwell—megachurch pastor, real-estate whiz, community developer, and the President's spiritual confidant. (October 5, 2001)
A Presidential Hopeful's Progress | The spiritual journey of George W. Bush starts in hardscrabble west Texas. Will the White House be his next stop? (September 5, 2000)
Have something to add about this? See something we missed? Share your feedback here.
Our digital archives are a work in progress. Let us know if corrections need to be made.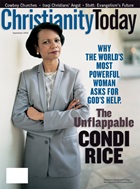 This article is from the September 2003 issue.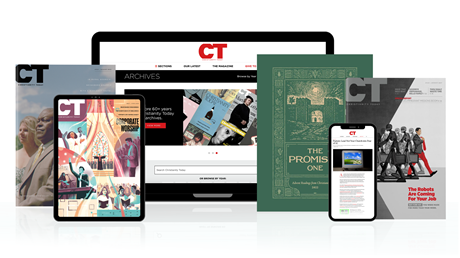 Annual & Monthly subscriptions available.
Print & Digital Issues of CT magazine
Complete access to every article on ChristianityToday.com
Unlimited access to 65+ years of CT's online archives
Member-only special issues
Subscribe
The Unflappable Condi Rice
The Unflappable Condi Rice