As the Olympics gets started this week, we wondered what Christian are competing, and who to look out for. So we asked Dave Branon, managing editor of Sports Spectrum magazine, which athletes in what events we could pay attention to.
Who is Sports Spectrum watching this Olympics?
We have a section on the Olympics in our July/August edition. One of the people in that piece is Hunter Kemper, who is the top American triathlete. He's our best hope for a gold in the triathlon, on the men's side.
All three members of the U.S. Marathon Team are Christians: Allan Culpepper, Meb Keflezighi, and Dan Brown, plus Ruth Riley on the basketball team. The number one triathlete in the world, for the women's side of things, is Barb Lindquist, and she's a strong Christian. And her teammate, Sheila Taormina, was at the last Olympics in the triathlon and eight years ago as a swimmer. They're two of the three on the women's triathelete team.
We had an article on Shane Hamman, who was a weightlifter in the 2000 Olympics as well. Those are the Olympians we had in the magazine.
Could you tell us more about each of those athletes, starting with the marathon team?
Dan Browne, Alan Culpepper, Meb Keflezighi are on the team. Meb was born and grew up in Eritrea. The family immigrated to the United States, so he's an American citizen now. Browne went to West Point and he's an Army guy. He's from Oregon, and I think this is his first Olympics. The interesting thing about Alan Culpepper is that his wife is also on the Olympic team. Her name is Shayne, and she runs in one of the long running events.
They are trying to use this as a platform to talk about their faith. We try to emphasize that athletes aren't using their faith as a crutch. However they perform, whether it's finishing first or last, they seek to glorify God. Meb said, "I have goals, but God has a plan. Whatever plan he has, whether I finish first place, third or twelfth, I do everything I can to satisfy God."
Ruth Riley has a chance to win three major championships in a row.
The interesting thing about Ruth is that she won the NCAA championship at Notre Dame when she was a senior. Last summer she played for the Detroit Shock in the WNBA and they won the WNBA championship. And now this year she has a chance to get a gold medal, so that's a pretty good trifecta. Not many people can win three major championships like that.
She was the last person chosen for the team this year. Actually, they picked the team and one of the players was injured, so Ruth came in as the replacement.
She's deserves it, she's a very good basketball player. She's a center. She's 6' 5". She's a growing Christian and wants to reach out as a basketball player.
Who are the two women on the triathlon team?
Barb Lindquist and Sheila Taormina have become really good friends through running the triathlon. Sheila won a gold medal in the 1996 Olympics in Atlanta as a swimmer. She retired from athletics, but decided one day to go out and compete in a local triathlon because she liked to bike and she was a good swimmer. She did so well that someone there who knew a lot about the sport said she ought to get into this. That was the late '90s, and she ended up being one of the best two or three American triathletes.
Barb has been in it for a long, long time. She also started out as a swimmer in college, picked up the triathlon, and has been one of the best triathletes in the United States. The last two times she failed to make the team at the trials. In 2000 she was overcome by heat and didn't make the team, but she continued after her goal. Over the last two or three years, she has become the number one triathlete in the world, in the Olympic triathlon. There are two. One is the Iron Man Triathlon in Hawaii, it's a longer distance. In the Olympic style, she's a top competitor in the world.
They are really good friends. They consider themselves accountability partners in their faith. And even though they compete against each other have also been able to lift each other up in prayer and Bible study.
Shane Hamman can lift more than 1,000 pounds.
He was in the 2000 Olympics in Sydney. He finished 10th in 2000 in the 105 kg, which is a super-heavy weight class. He's another one who says that weightlifting is a tool to give him an opportunity to speak out for Christ.
Do you know Brian Clay from Azusa Pacific?
He's in the decathlon. Azusa has put several people in the Olympics in the past, including Dave Johnson, who was a big decathlon star. You remember the "Dave and Dan" thing from years ago. During the trials, Brian Clay had three personal bests in the pole vault, the javelin, and the discus, which helped him get his person best in points. He had 660 points, which was enough to get him in.
Editor's note: Another Christian Olympian, Allyson Felix, qualified for the U.S. team by winning the women's 200 at the U.S. Track and Field Trials last month. You can read more about Allyson, the world's fastest teenager, in Today's Christian magazine.
Related Elsewhere:
Books & Culture recently reviewed two books about the ancient Olympic games and its modern counterpart.
More Christian athletes in other sports can be found on Sports Spectrum's website.
More Olympic articles are available on our Olympics page.
The U.S. Olympic Team has information on other athletes and events.
The Athen's 2004 Olympic Games has all sorts of information about this year's events.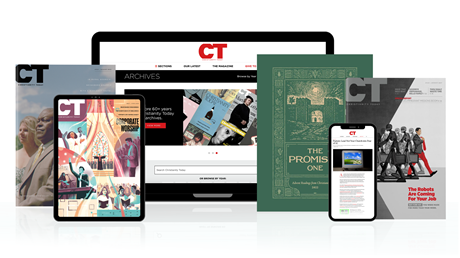 Subscribe to Christianity Today and get access to this article plus 65+ years of archives.
Home delivery of CT magazine
Complete access to articles on ChristianityToday.com
Over 120 years of magazine archives plus full access to all of CT's online archives
Subscribe Now
Christian Athletes to Watch in the Olympics
Christian Athletes to Watch in the Olympics