Too much religion speak at the convention? Too little?
The basic storyline in many media outlets goes like this: The keynote speakers at the Republican National Convention aren't nearly so conservative as the delegates or the party "base" of religious conservatives (or, for that matter, the candidate). Most religious conservative leaders are fine with that, saying that putting them up on the podium would draw few swing voters.
"The Republican Party is already cast as being captive of the Religious Right, so why aggravate it?" explains the National Association of Evangelicals' Rich Cizik in today's Washington Times.
But some delegates and others are frustrated. "I think they're making a mistake," Pastoral Congressional Prayer Conference head Rod McDougal told The Boston Globe. "We didn't realize they were going to eliminate and censor everything about God. … They need some people of faith up there."
"Since Republicans actually love God-talk, it stood to reason that their convention would be a veritable revival meeting," says Beliefnet editor Steven Waldman. "Instead, it's been more like an ACLU retreat, at least in terms of the use of religious rhetoric from the top speakers. None of the marquee acts on the first two nights so much as threw in a Bible passage. Democrats Bill Clinton and Barack Obama were downright Pentecostal compared to John McCain and Arnold Schwarzenegger."
Still, away from the marquee acts, there's been plenty of God talk. Check out, for example, Sen. Elizabeth Dole's remarks, which didn't make prime time:
Two-thousand years ago a man said, "I have come to give life and to give it in full." In America I have the freedom to call that man Lord, and I do. In the United States of America we are free to worship without discrimination, without intervention and even without activist judges trying to strip the name of God from the Pledge of Allegiance; from the money in our pockets; and from the walls of our courthouses. The Constitution guarantees freedom of religion, not freedom from religion. The right to worship God isn't something Republicans invented, but it is something Republicans will defend.
Slate's Chris Suellentrop notes that Mississippi congressional candidate Clinton LeSueur made a significant change from his brief prepared remarks. Instead of saying, "The very foundation of this country is faith," which appeared in the version of the speech given to reporters, LeSueur said, "The very foundation of this country is Christianity and faith in Jesus Christ." (John Kerry, by the way, also changed a remark from the prepared text of his convention speech. Instead of saying, "I don't wear my own faith on my sleeve," he said. "I don't wear my own religion on my sleeve.")
And then there was yesterday's invitation-only "Family, Faith, and Freedom Rally," which included Senator Sam Brownback of Kansas, who promoted the Unborn Child Pain Awareness Act, action in Sudan, and "winning the culture war." Ralph Reed was another speaker, and the Associated Press reports that Jerry Falwell and Tony Perkins attended the meeting but didn't speak. The New York Times focuses on the rally's private nature and no-press-allowed rule, but The Washington Times didn't seem to have any trouble getting in.
Of course, Christian music acts are a staple of this convention, but they're getting little media attention. Weblog has no idea if they're singing songs about faith, whether implicitly or explicitly.
Riverside Church's James Forbes says he sees one area where there's too much religion coming from the platform: He says the design is full of cross imagery. "I believe it is an image of two crosses," he told The Washington Times (second item). "This is an unusual and inappropriate use of religious symbols in a political campaign." Apparently he's talking about the lectern, but convention spokesman Mark Pfeifle said the idea "sounds like a Rorschach test." Hey, we're supposed to see Jesus everywhere, right?
There's lots more on religion and the convention over at Waldman's Beliefnet blog, including a noteworthy exchange with Marvin Olasky about his controversial column about the "once-born Kerry" vs. the "twice-born Bush." Amy Sullivan was an important read during the Democratic convention, but she's abandoned the religion watch this time around.
Preacher and broadcaster Stephen F. Olford dies of massive stroke
Stephen Olford, who pastored New York's influential Calvary Baptist Church from 1959 to 1973 and hosted the Encounter radio and television broadcasts, died Sunday after a massive stroke, Olford Ministries International reports.
"Stephen Olford was indeed a theological giant, a great Christian leader and a preacher without peer," Southern Baptist pastor Adrian Rogers told Baptist Press. "His impact on evangelical preachers is absolutely without dispute. He has left for the church of the Lord Jesus Christ an incalculable treasure of preaching materials."
More articles
More on the Republican Convention | Religion & politics | Homosexuality | Episcopalians & Anglicans | Church life | Church buildings | Catholicism | Pope returns icon | Abuse | Crime | 'Miracle babies' | Camp counselor murders | Abortion | Life ethics | Terri Schiavo | Sudan | War & terrorism | Muslim scholar banned | Education | Books | Music | Theater & film | The Passion | Jews | Missions & ministry | Spirituality | Business | Zimbabwe | More articles
More on playing down religious conservatives at the convention:
Catholics and the convention:
Convention prayer:
Bush's faith:
Republican platform:
Compassionate conservatism:
Other articles on the convention and faith:
More on Republicans and religion:
Religion & politics:
Democrats & religion:
Religion, politics, & homosexuality:
Same-sex marriage:
Episcopal church demands property from breakaway parishes:
Episcopal church & homosexuality:
Archbishop of Canterbury:
Church life:
Church buildings:
Catholicism:
Pope returns icon to Orthodox church:
Catholicism & abuse:
More abuse:
Crime:
'Miracle babies' charges:
Camp counselor murders:
Abortion:
Life ethics:
'Terri's Law' argued in Fl. Supreme Court:
Sudan:
War & terrorism:
French hostages & headscarf ban:
Muslim scholar banned:
Education:
Sex Ed.:
Da Vinci Code:
Books:
Music:
Theater & film:
The Passion on DVD:
Jews:
Jews for Jesus:
Missions & ministry:
Spirituality:
Business:
Zimbabwe:
More articles:
Related Elsewhere:
Suggest links and stories by sending e-mail to weblog@christianitytoday.com
Check out Books & Culture's weekly weblog, Content & Context.
See our past Weblog updates:
August 31 | 30
August 27 | 26 | 24 | 23
August 20 | 19 | 18 | 17 | 16
August 13 | 12 | 11 | 10 | 9
August 6 | 5 | 3 | 2
July 30 | 29 | 28 | 27
and more, back to November 1999
Weblog
Launched in 1999, Christianity Today's Weblog was not just one of the first religion-oriented weblogs, but one of the first published by a media organization. (Hence its rather bland title.) Mostly compiled by then-online editor Ted Olsen, Weblog rounded up religion news and opinion pieces from publications around the world. As Christianity Today's website grew, it launched other blogs. Olsen took on management responsibilities, and the Weblog feature as such was mothballed. But CT's efforts to round up important news and opinion from around the web continues, especially on our Gleanings feature.
Ted Olsen is Christianity Today's executive editor. He wrote the magazine's Weblog—a collection of news and opinion articles from mainstream news sources around the world—from 1999 to 2006. In 2004, the magazine launched Weblog in Print, which looks for unexpected connections and trends in articles appearing in the mainstream press. The column was later renamed "Tidings" and ran until 2007.
Previous Weblog Columns: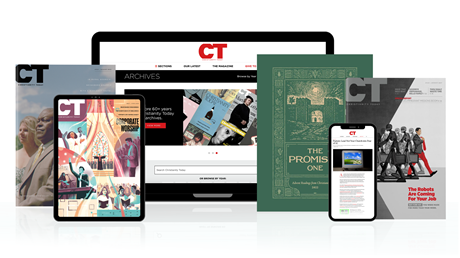 Subscribe to Christianity Today and get access to this article plus 65+ years of archives.
Home delivery of CT magazine
Complete access to articles on ChristianityToday.com
Over 120 years of magazine archives plus full access to all of CT's online archives
Subscribe Now
Is the Republican Convention More Secular Than the Democratic One Was?
Is the Republican Convention More Secular Than the ...