The Washington Post exposes a common Christian parenting tool: hot sauce
The Washington Post exposes a common Christian parenting tool: hot sauce
Some parents use hot sauce "in a different recipe, one they think will yield better-behaved children: They put a drop of the fiery liquid on a child's tongue as punishment for lying, biting, hitting or other offenses," The Washington Post reported on the front page of its health section yesterday. Writer Alison Buckholtz says the technique "has roots in Southern culture," but it quickly becomes clear that the debate is more or less focused in conservative Christian circles.
"Pediatricians, psychologists and experts on child care and family life contacted for this story strongly recommend against the practice," Buckholtz writes, quoting Christian parenting expert Tim Kimmel as one on the "no" side.
On the advocacy side is Lisa Whelchel, parenting columnist for Christianity Today sister publication Today's Christian Woman, who quotes Proverbs 10:31: "The mouth of the righteous brings forth wisdom, but the perverse tongue will be cut off." The magazine itself has also gently supported the activity in an advice column by Susan Alexander Yates: "When our children were young and tried talking back, we simply washed out their mouths with yucky-tasting soap. One friend uses white vinegar, another a drop of Tabasco sauce." (A very similar 2000 article by Yates only included the references to "yucky tasting soap" and white vinegar.) Another one of our sister publications, Christian Parenting Today, apparently hasn't addressed the subject.
Of course, the voice you really want to hear on this subject is evangelical parenting heavyweight Focus on the Family. The organization published Whelchel's book where she supports saucing, but an article on its website seems to support "positive reinforcement" instead.
For the record, Paul McIlhenny, president of the company that makes the Tabasco brand hot sauce, called the practice strange, scary, and abusive. No big surprise there: Who wants their product used for disciplinary purposes? Potentially turns off future customers, doesn't it? Take it from Weblog, who got "sauced" once growing up. Hot mustard? Love it. Wasabi? Delicious. Tabasco? Still not a fan.
Jerry Falwell wins another website battle
Jerry Falwell wins another website battle
Last year, Jerry Falwell lost a court battle for control of JerryFalwell.com, a parody website. Then he won control of the website when his lawyers remembered that they'd trademarked his name. Now the Southern Baptist minister, who turns 71 today, has actually won in court. This time, it's for ownership of fallwell.com (note the misspelling), a gay site that says the Southern Baptist minister's preaching on homosexuality "causes pain, suffering, and the breakup of families." (Google still has a cache of the site; the Internet Archive may also have one but it's blocked by my filter.)
The ruling isn't online, but the Associated Press has a summary:
In a ruling released Tuesday, U.S. District Judge Claude Hilton in Alexandria said the domain name for the site, fallwell.com, was "nearly identical" to the registered trademark "Jerry Falwell" name and was likely to confuse Web surfers.
Hilton said the operator of the site, Christopher Lamparello of New York, intended to "tarnish or disparage" the Lynchburg minister by diverting people from the Jerry Falwell Ministries' Web site, falwell.com. Hilton said it was likely Internet users will believe the two sites "share a common affiliation or sponsorship."
Hilton also ruled that Lamparello sought to make a profit by selling a book on the site via a link to amazon.com.
Lawyers for owner of the site, Christopher Lamparello (who didn't own JerryFalwell.com, but shares the same lawyers), will appeal.
Both sides are quoted in the Associated Press accusing the other of attempting to silence opposition.
Real silencing
Real silencing
Make what you will of the free-speech battles in the Falwell case, but a story out of Lubumbashi, Democratic Republic of Congo, may help to put it in perspective. On Saturday, police raided Christian station Radio Hosanna after it reported on the arrest of owner Albert Lukusa, who is the pastor of the Nouvelle Cité de David (New City of David) church. Lusaka had in a recent sermon accused the government of corruption and mismanagement. He has not been formally charged, but ANR, the National Intelligence Agency, accuses him of insulting President Joseph Kabila and "inciting people to revolt against national authorities."
On Wednesday, the station rebroadcast the sermon to inform listeners why he'd been arrested, then invited listeners to talk about it on the air. During the call-in portion, the Committee to Protect Journalists says, "ANR agents and police stormed the station, confiscated equipment, including the transmitter, and arrested seven station employees. These included four journalists."
The employees were freed on Saturday, but the station is still off the air.
More articles
Olympics:
Faith-based sprinting | At 21, he is one of the fastest men in the world over 100 metres and is a strong prospect for a medal at the forthcoming Olympics, but most important to Asafa Powell is winning for God (Jamaica Gleaner)
An overlooked star | Many experts were surprised when Azusa Pacific's Clay won the decathlon at the Olympic trials (Los Angeles Times)
Gods behind the Games | Athens Olympics will cast spotlight on ancient deities (The Dallas Morning News)
Church prays for Olympic athletes not to be lazy | Athletes and sports fans should spend the days of the Olympic Games abhorring evil, clinging to good led by brotherly love and should not be slothful," Greece's Orthodox Church said in a statement (Reuters)
Religion and the Democratic Party:
Democrats are trying to make a leap of faith | Kerry's campaign is working to connect with churchgoers, who tend to vote Republican (Los Angeles Times)
Kerry seeks to close Democrats' 'religion gap' | Democratic presidential nominee John Kerry has begun speaking more openly about his faith, a move political experts say is crucial to chipping away at President Bush's advantage among churchgoers (Associated Press)
Democrats' religious coordinator resigns | The Democratic National Committee is seeking a replacement for the Rev. Brenda Bartella Peterson (Associated Press)
All quiet on the abortion front? | The president of Planned Parenthood discusses her take on the Democratic National Convention and what the Kerry campaign could be doing better (Newsweek)
Kerry backs Missouri ban on gay marriage | Drawn into a Missouri debate over same-sex marriage, Sen. John F. Kerry said in an interview published Friday that he would've voted for the gay marriage ban passed overwhelmingly this week by state voters (Los Angeles Times)
Kerry's zealotry | Extremism in defense of science is no virtue (Eric Cohen, The Weekly Standard)
The Passion:
'The Passion' premieres in Malaysia, piracy thrives | Mel Gibson's box office smash "The Passion of The Christ" had its Malaysian premiere on Wednesday before a Christians-only audience even as pirated DVD copies flooded the market (Reuters)
New record label launches with 'Passion' | Wind-up Records, the home of rock bands Creed and Evanescence, will launch a new imprint with the Aug. 31 release of "The Passion of the Christ: Songs," an album of original tunes from artists inspired by Mel Gibson's blockbuster movie (Associated Press)
Pop culture:
The gospel according to Spider-Man | Christians have discovered a powerful new teaching tool, and it's playing at a cineplex near you (Time)
Holy-wood or bust | Is there a Christian subtext in all films? Maybe not, but God crops up in some unusual places (Time)
Studios putting faith in religious videos | With 20th Century Fox set to distribute "Passion" on video, other major studios, including Paramount and Columbia, are releasing a spate of titles aimed at the booming market for faith-based entertainment (Reuters)
Beyond Bono | Jars of Clay finds its voice (Mark Joseph, National Review Online)
Pilgrimage of the Da Vinci code-breakers | Tourism to Rosslyn Chapel, which plays a major role in The Da Vinci Code, is up 96 percent (The Telegraph, London)
A word-of-mouth success | Why are people lining up to rubbish The Da Vinci Code? Simple - it's a bestseller that doesn't know its place (Lucy Mangan, The Guardian, London)
God, bands get ample time | Christian music fest closes strong with P.O.D. and MXPX (The Denver Post)
Pop psalmists | The Rev. Beth Maynard preaches from the Psalms in the Bible, but she also likes to quote what she considers to be modern-day Psalms — the songs of U2 (The Washington Times)
Scholar brings it all back home with the poetry in Dylan's songs | Christopher Ricks organizes Dylan's Visions of Sin around human experience, choosing to trace Dylan's work through the seven sins, the four cardinal virtues, and the three heavenly graces (The Boston Globe)
Related Elsewhere:
Suggest links and stories by sending e-mail to weblog@christianitytoday.com
Check out Books & Culture's weekly weblog, Content & Context.
See our past Weblog updates:
August 10 | 9
August 6 | 5 | 3 | 2
July 30 | 29 | 28 | 27
July 23 | 22 | 21 | 20 | 19
July 16 | 15 | 14 | 13 | 12
July 9 | 8 | 7 | 6
and more, back to November 1999
Weblog
Launched in 1999, Christianity Today's Weblog was not just one of the first religion-oriented weblogs, but one of the first published by a media organization. (Hence its rather bland title.) Mostly compiled by then-online editor Ted Olsen, Weblog rounded up religion news and opinion pieces from publications around the world. As Christianity Today's website grew, it launched other blogs. Olsen took on management responsibilities, and the Weblog feature as such was mothballed. But CT's efforts to round up important news and opinion from around the web continues, especially on our Gleanings feature.
Ted Olsen is Christianity Today's executive editor. He wrote the magazine's Weblog—a collection of news and opinion articles from mainstream news sources around the world—from 1999 to 2006. In 2004, the magazine launched Weblog in Print, which looks for unexpected connections and trends in articles appearing in the mainstream press. The column was later renamed "Tidings" and ran until 2007.
Previous Weblog Columns: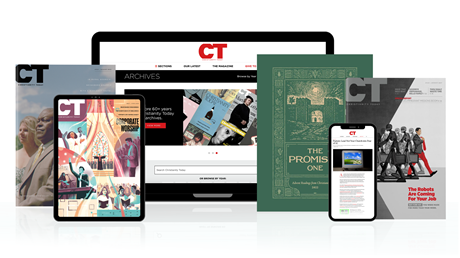 Subscribe to Christianity Today and get access to this article plus 65+ years of archives.
Home delivery of CT magazine
Complete access to articles on ChristianityToday.com
Over 120 years of magazine archives plus full access to all of CT's online archives
Subscribe Now
Using Tabasco God's Way?
Using Tabasco God's Way?