While John Sanders and the Board of Trustees at Huntington College in Indiana disagree on whether God exhaustively knows the future, they agree that his days as a theology professor at the evangelical school are running out. The issue, according to both Sanders and G. Blair Dowden, the college's president, is not Sanders' belief in open theology, but his notoriety in advocating the doctrine. Both acknowledged that others on the faculty hold the same open theology views.
"You can be an open theist," Sanders told CT. "You just can't be a well-known one. That makes this a very interesting case."
After an executive session of the board was held in October, Dowden told members of the faculty that there "was very little support for John's continued employment at Huntington." Neither Sanders nor Dowden expect him back for the 2005-2006 academic year, which begins next fall. Dowden told ct that while the controversy is "directly related" to open theism, there is no requirement for professors on the issue.
"Not at all," Dowden said. "We have some other faculty who are open theists, but they're not teaching theology or Bible. It's not a litmus test."
Sanders, who has taught at the school of about 1,000 students for seven years, has been a focus of controversy over open theism for the past four years, he said. In November 2003, Sanders narrowly avoided being expelled from the Evangelical Theological Society over his beliefs. Some society members believe open theology violates the society's commitment to scriptural inerrancy.
Huntington removed Sanders from the tenure track over the controversy, but school officials attempted to give him some financial security by signing him to three-year rolling contracts, automatically renewable annually, unless the administration or board says No. In the event Sanders were to be dismissed, he would receive payment for the balance of the contract.
Sanders told ct he expects to be relieved of his position shortly, and that Dowden has "made it clear that my contract will not be renewed after the 2004-5 academic year." Sanders said that he is looking into other teaching positions and research grants, but that he has no other options waiting in the wings right now.
Earlier reports in ct and the Chronicle of Higher Education that Sanders had been "fired" were inaccurate. Dowden, who called Sanders a "brilliant scholar" and "excellent teacher," has been a defender of Sanders.
"John has done everything we have asked of him," Dowden said. But Dowden said that the United Brethren in Christ, which sponsors the school, "finds open theism troubling—some [leaders find it] very troubling."
Dowden added that academic freedom, while important, is not absolute. "For all Christian colleges, academic freedom is bounded in some way."
Sanders said the school is not following its own guidelines. "I do believe that the right to publish and academic freedom statements that the professors actually are working under are being violated," Sanders said. "They are being trodden upon."
Some students at the school are upset. Joni Michaud, a senior history major who is a leader in a student group supporting Sanders, said the controversy is "a case study in academic freedom." The group meets weekly to discuss strategy, has sent letters supporting Sanders to the board, and is seeking to raise awareness among other students. Michaud said the treatment of Sanders violates the school's statements lauding the "benefits of controversy" in an academic setting.
"If Dr. Sanders is indeed fired, I will graduate with a much lowered opinion of the institution," said Michaud, a pre-law major. "I will probably not make any financial contribution, and I will discourage people from attending."
Such talk is no doubt troubling to administrators, who have announced a freeze in tuition rates for the 2005-2006 academic year. Huntington College, to be renamed Huntington University in mid-2005, says the annual U.S.News & World Report survey of colleges consistently ranks it as one of the top comprehensive colleges in the Midwest.
Dowden said the board will next meet January 19-23, and the fate of Sanders could be formally decided then.
Stan Guthrie is senior associate news editor for Christianity Today.
Related Elsewhere:
Earlier CT coverage of the open theology debates include:
ETS Leadership Issues Recommendations on Kicking Out Open Theists | Evangelical Theological Society's Executive Committee unanimously recommends Clark Pinnock stay; majority says John Sanders should go. (Oct. 30, 2003)
Sterling Disagreement | Christopher Hall and John Sanders continue their debate over open theism (Oct. 13, 2003)
Scholars Vote: God Knows Future | But supporters of open theism say they'll stay in the Evangelical Theological Society despite resolution. (Jan. 02, 2002)
Closing the Door on Open Theists? | ETS to examine whether Clark Pinnock and John Sanders can remain members. (Dec. 23, 2002)
Article continues below
Foreknowledge Debate Clouded by "Political Agenda" | Evangelical Theologians differ over excluding Open Theists. (Nov. 19, 2001)
Evangelical Theological Society Moves Against Open Theists | Membership of Pinnock and Sanders challenged by due process (Nov. 22, 2002)
Only God Is Free | Many discussions about openness theology assume that human freedom and divine freedom are pretty much the same thing. They're not. (Feb. 12, 2002)
Did Open Debate Help The Openness Debate? | It's been centuries since Luther nailed his theses to a church door, but the Internet is reintroducing theological debate to the public square. (Feb. 16, 2001)
CT Classic: Has God Been Held Hostage by Philosophy? | A forum on free-will theism, a new paradigm for understanding God. (May 11, 2001)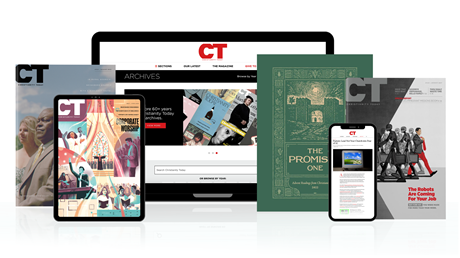 Annual & Monthly subscriptions available.
Print & Digital Issues of CT magazine
Complete access to every article on ChristianityToday.com
Unlimited access to 65+ years of CT's online archives
Member-only special issues
Subscribe
Open or Closed Case?
Open or Closed Case?