As an evangelical preacher, the Rev. Bruce Marcey belongs to a sermon-centered spiritual tradition that took root nearly 500 years ago with the Bible, the pulpit, and the elimination of all distractions—including art.
Imagine how shocked his forebears might be to see what Marcey does with visual images each week at Warehouse 242, the loft-style church in Charlotte, North Carolina, where he serves as lead pastor. In his view, no worship service is complete until the congregation has pondered not just the Word proclaimed but also the Word illustrated through a homegrown photograph, painting, or film clip.
"We believe the Reformers missed something big," says Marcey, a doctoral candidate in visual rhetoric at Regent University in Virginia Beach, Va. "When we limit the gospel message to the written and spoken text, we short-circuit it. We truncate it … The soul is moved by more things than the word."
Marcey's church is not alone. Across the nation, visual images are fast becoming a part of religious life for millions of Reformed Protestant Christians whose tradition has for centuries regarded pictures with great suspicion. Wariness of the image's power to become an idol, or otherwise deceive a lost soul, has largely given way to confidence in the power of images to reach souls for the good.
Claiming lineage in the Reformed tradition means tracing a spiritual ancestry through John Calvin, the 16th century Geneva theologian whose Institutes of the Christian Religion has endured for centuries as a guiding vision for a church purified Protestant-style. Through the centuries, splinter groups have made Reformed Protestantism into a vast tent with such American incarnations as Presbyterians, Baptists, Congregationalists and many non-denominational evangelicals.
Examples of a growing confidence in images span the spectrum of Reformed religious life.
In the seminary: at Andover Newton Theological School, which trains future Reformed pastors in Newton, Mass., enrollment in the Worship, Theology and the Arts specialization track has jumped from five in 1999 to 46 in 2004.
In the overseas mission field: Reformed Protestants and others who once relied on translated Bibles to convert indigenous peoples now routinely introduce Christianity through the "Jesus" film, which has so far seen translation into 858 languages.
In small group ministries: the video-based Alpha Course has attracted more than one million North Americans over the past 10 years and is currently offered in more than 5,000 church and home settings, including some Reformed congregations.
Reformed Christians are examining what it means for them to seek God apart from the spoken and written word of Scripture. Answers vary, especially since the craze has touched both conservative evangelicals and liberal mainliners, who sometimes have different agendas for the use of images. But on at least one point, there is agreement: a longstanding hallmark of Reformed tradition is disappearing.
"Generally speaking, there has been a visual impoverishment of architecture and in terms of design across the Protestant spectrum in North America," said Quentin Schultze, professor of communication at Calvin College and author of High-Tech Worship? Using Presentational Technologies Wisely. "Now we're seeing a widespread acceptance of the visual in worship across the Protestant landscape … and the idea of an austere, pew-lined, wooden-floor sanctuary is disappearing."
In Calvin's day, Reformers invoked the second commandment's prohibition on graven images as they stormed Roman Catholic churches, smashed statues, and whitewashed the fine art on the walls. Among their concerns at the time, according to Schultze, was to thwart a widespread tendency to regard such images as idols or agents of supernatural force.
Though those concerns of the Reformation have faded, others have lingered. Schultze says a number of older Reformed pastors have denounced visuals in worship as "too emotional," "too people-focused rather than God-focused," and a sign that "worship is becoming entertainment."
Others are more hopeful that images might actually enhance the Reformed method. The Rev. Mike Laird, pastor of the North Shore Chapel, which meets in a Danvers, Massachusetts, movie theater, keeps a library of several thousand images for display on the big screen during worship. And he's been known to play film clips from the film When Harry Met Sally or a Winnie the Pooh episode as a means to introduce his sermon.
"It's a channel for speeding up God's Word to get into their hearts," said Laird, an ordained minister in the Christian Reformed Church. "Our idea is to allow different channels to be open to any person at the service."
Mainline churches have seen their share of new images, often in the form of carefully crafted banners that bring vibrant color to white walled sanctuary spaces. At Hope Church in Jamaica Plain, Massachusetts, parishioners use images to tell stories as they create "prayer journals" with their own photographs. In worship, they're apt to soon see such fine art works as Rembrandt's depiction of John the Baptist.
"The sermon is providing commentary on the image, and the image is providing commentary on the sermon," said Matthew Myer Boulton, assistant professor of preaching and worship at Andover Newton and an associate pastor at Hope Church. "It's not that the Reformed tradition is being lost but it's being brought into dialogue with other traditions."
Indeed, Reformed voices across the board have been careful to make sure visuals don't displace the sermon as worship's main event. Schultze takes heart in seeing today's developments occurring in sync with new emphasis on good preaching, which he deems "a resurrection of the visual in the midst of a renewal of presentation of the Word."
In the final analysis, some Reformed preachers argue, what mattered most to Reformers was to make the life-changing Word of God as accessible as possible. In the 16th century, more rigorous analysis and fewer imprecise images might have helped convict the masses that what they believed was true. But in our day, many are willing to bet the opposite approach will be more effective.
"Some folks hear and say, 'OK, that may be true, but I don't care. It doesn't motivate me or encourage me. It's just a block of information,'" Marcey said. "We put up an image (in worship) when it communicates something we're having trouble saying with words … The Reformers ought to be pleased because their idea was to take it out of the hands of the elite and put it in the hands of the people. And that's what we're doing."
Related Elsewhere:
Our sister publication, Books & Culture, said, " Whatever the future shape of Reformed worship, it will emerge in greater conversation with our wider community around the world," in Reformed, Reforming (Sept./Oct. 2003).
Other Christianity Today articles on the power of images and worship include:
Grave Images | The photos from Abu Ghraib have reopened debate on the power of pictures. (June 21, 2004)
Wholly, Wholly, Wholly | Calvinists and conga drums in Grand Rapids: a report from the seventeenth annual Calvin Symposium on Worship and the Arts. (Feb. 02, 2004)
Image Is Everything | The Taliban's destruction of Buddhist statues is only the latest controversy over the Second Commandment. (April 6, 2001)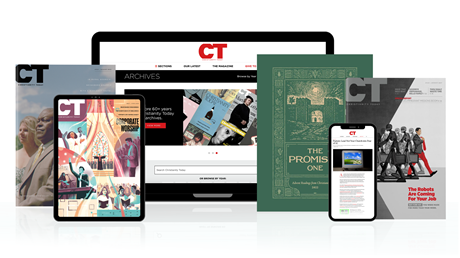 Annual & Monthly subscriptions available.
Print & Digital Issues of CT magazine
Complete access to every article on ChristianityToday.com
Unlimited access to 65+ years of CT's online archives
Member-only special issues
Subscribe
Reformed Protestants No Longer See Images as Idolatrous
Reformed Protestants No Longer See Images as Idolatrous