true
In this final pre-Passion Film Forum, you will find a few links to coverage of Mel Gibson's zero-hour defense of his film and his faith.
But first, take note: Reviews of The Passion of the Christ from religious press film critics (as opposed to church leaders) are finally popping up online. After the hype over the blood, concerns over alleged anti-Semitism, speculation about the film's potential as an evangelistic tool, paranoia over its lack of historical accuracy, and misinformation over its distribution … at last we have some articles that examine the film.
(Actually, such reviews are officially breaking an embargo Gibson's production company has put on official reviews, which is a pretty standard practice in the film industry. In any case, come visit Film Forum next Thursday, and you'll find links to a parade of critical responses.)
In an article appearing soon at Steve Lansingh's The Film Forum, film critic Stef Loy says, "The Passion of the Christ is a visceral, cinematic pulse enabler, raw and bloody, ready to bite into your heart and cause your eyes to well up with tears. Never before has the language of cinema had the potential to challenge the church at large to wake up to the reality of film. It is here to speak and move, to challenge our preconceived notions about life, to affect us in ways that no other medium will ever aspire to."
He acknowledges the film's profound effect on Christian audiences. But what of those unchurched masses who will begin to see the film next week? Loy says, "Perhaps it is too strong. Perhaps the liberties that are taken are too harsh. Perhaps it is exactly what a culture looking for substance will relate to."
"This is definitely not a date movie; it is a think flick," says Steve Beard (Good ...
1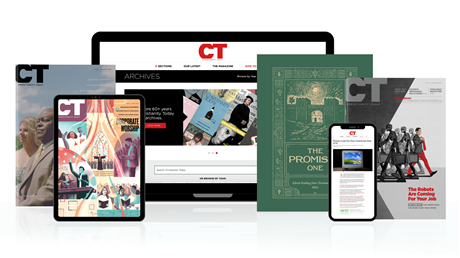 Find hope and historical insight. For a limited time, explore 60+ years of CT archives for free!
Daily devotions from Timothy Dalrymple during this pandemic.
Hundreds of theology and spiritual formation classics from Philip Yancey, Elisabeth Elliot, John Stott, and more.
Thought journalism that inspires you to think more deeply about your faith.
The First Official Passion of the Christ Reviews … and 50 First Dates
The First Official Passion of the Christ Reviews … ...