Walter Wangerin Jr. is widely recognized as one of today's most gifted writers on the issues of faith and spirituality. He won the American Book Award for The Book of the Dun Cow. His other books include The Crying for a Vision, Pablo: Paul, Peter's First Easter, The Book of God, and many more works of fiction and non-fiction. His new book, Saint Julian, published by Zondervan has all the characteristics of a timeless classic, combining an exceptional story with Medieval historical detail and religious metaphor. He has won several Gold Medallion Book Awards, written children's books, practical theology, and devotional books. Wangerin is writer-in-residence at Valparaiso University, in Indiana.
What is it that made you feel like now is the time to tell that story?
It's a story I've told out loud decade after decade. I think so many of the saints that we look for and look toward are people who seem to be beyond our bounds who accomplish miracles that we cannot do ourselves. But Julian, although he began as the son of a lord and lady of great wealth, sins the sins that we all do. When we follow him, we follow someone who is very much like ourselves.
I think most of us feel as if we're not in the height of heroism, but we live at the common level in our suburbs and our cities. This is the same with Julian's self, that his anticipations were kind of a blood lust that he could not talk to other people about.
What is Saint Julian about?
When Julian, as a young 16-year-old, goes hunting and kills all the animals that he can see in a particular forest he finally shoots a deer that does not die when the arrow enters the deer's forehead.
The deer walks to Julian and says, "Julian, Julian, you are cursed, and because you have killed all the animals of this forest you shall kill your mother." It's a terrible, terrible curse. "And because you have shot me you shall kill your father." And then the deer falls over dead. But Julian loves his parents. And twice he almost hurts them, and therefore runs away from them as best he possibly can, just as we run away from our sins as best we possibly can. The trouble is that until we hit our remarkable transformation they follow us.
Even when we enter into Christianity, if we have not done a genuine examination of ourselves, if we have not done a true confession of all we are, these things will follow us. And they did Julian. So in the story he does finally find his parents in his own bed and he assumes that his mother is his wife. He assumes his father is a lover that has come to his wife. He reacts in an angry and sinful way and fulfills the prophecy of the deer. Then he leaves. And this is the part that I think it really touches a lot of us. He leaves in alienation and loneliness that seeks as much as he can the presence of God. Julian does not find it first because he tries to find his own salvation in his craft, in his own person, in his mind, in his hand, and then finally when he recognizes that God will not allow him to take the next step, he becomes just a kind man. He becomes a hospitaller, one who takes care of the strangers, one who ferries over a broad river. To us this may seem the lowest of the work that anyone can do, but in Julian, it's the beginning of his sanctity.
As he serves person after person, he finally comes to a leper who demands that Julian should take him over this river. It's cold, and it's windy, and it's a terrible night, but Julian carries the leper over. The leper then asks to stay in Julian's hut. And Julian allows him in. The leper wants something to drink, Julian gives him water but it smells like wine. He wants something to eat, Julian gives him bread but it smells like meat. The leper wants Julian to lie upon him, Julian does. And then the leper wraps his arms around Julian and begins to rise, explodes through the hut and rises to the stars. And as the novel says and as the legend says, so did our Lord Jesus Christ take Julian home to heaven with him.
You describe Saint Julian as someone who we can relate to, but even in the story of his birth, there's a sense of mystery and magic. There's this sense that God is part of every event of everyday life.
This is so important. Today I think we deliver much of our experiences and our events to the world itself, but Julian was aware—the people of old were aware, and we should be aware—that Jesus is a part and God is a part of absolutely everything that happens. Absolutely every breath we take, every event that takes place, takes its place on this broad stage of the divinity of God. He is the protagonist, we are the antagonists. He is the first actor, we are the second actors. And if you go back to the time of Saint Paul, the air itself was fraught and filled with spirits.
This 20th century/21st century time wants only to define things according to our senses, what we can see, what we can hear and taste and smell. But the world until now has been aware of the fact that spirits fill the entire world and that God imbues everything, God created it with the presence of God.
Related Elsewhere:
Also posted today is an excerpt from Wangerin's This Earthly Pilgrimage.
Saint Julian is available from Christianbook.com and other book retailers.
More information about Saint Julian is available from the publisher.
CT and sister publication Books & Culture reviewed Saint Julian.
Wangerin's articles for CT include:
Small Beneath the Firmament | For my father-in-law, his place in the order of Creation was no diminishment, but the beginning of wisdom. (March 2, 2001)
Maundy Thursday | Part one of "The Great Reversal," a CT Classic article (April 20, 2000)
Recent Dick Staub Interviews include:
Lauren Winner's Faith Still a Bit Jewish | The author of Girl Meets God discusses the Jewish habits that inform her Christianity (Jan. 20, 2004)
Ravi Zacharias's Wonderful World | The author of Jesus Among Other Gods explores God's gift of awe. (Jan. 13, 2004)
Michael Card Discovers St. Peter | In A Fragile Stone: The Emotional Life of St. Peter, Card says sinking is more important than walking on the water. (Dec. 16, 2003)
Mary Poplin Calls Claremont Her "Calcutta" | After seeking God through telepathic spoon bending exercises, this professor found God, and with the help of Mother Teresa, her calling. (Dec. 10, 2003)
Gordon Smith Hears the Voice of Jesus | The author of The Voice of Jesus talks about listening to God with discernment. (Nov. 18, 2003)
John Eldredge Is Wild at Heart | The author of Wild at Heart and The Sacred Romance discusses rediscovering the Gospel through a ransomed heart. (Nov. 11, 2003)
Pursuing God and Community | A self-described nerd says pursuing God and community is possible through commitment (Nov. 4, 2003)
Francis Bok Is Proof that Slavery Still Exists | After spending 10 years in slavery, the young Sudanese man is telling his story to the world. (Oct. 28, 2003)
Philip Yancey, the Rumor-Monger | The author's latest is written not for Christians, but for those on the "borderlands of belief" (Sept. 30, 2003)
Ken Gire's Lord of the Dance | Patch Adams and T. S. Eliot teach us to twirl with Jesus, says the author (Sept. 23, 2003)
Jerry Jenkins's Solo Apocalypse | His new novel, Soon, imagines a world where religion, blamed for war, is banned (Sept. 16, 2003)
Why Frederica Mathewes-Green Loves Icons | Yes, we ask the saints to pray for us, she says. They are still living members of the church after all. (Sept. 9, 2003)
Sheila Walsh Says Stop | The author, singer, and popular speaker talks about learning to put praise above performance (Sept. 2, 2003)
Trusting in a Culturally Relevant Gospel | Os Guinness says that evangelicals have never strived for relevance in society as much as they do now. Ironically, he says, they have never been more irrelevant (Aug. 26, 2003)
The Long War About Science | Larry Witham, the author of Where Darwin Meets the Bible and By Design, talks about faith, science, and how the battle has evolved. (Aug. 19, 2003)
The Dick Staub Interview
Dick Staub was host of a eponymous daily radio show on Seattle's KGNW and is the author of Too Christian, Too Pagan and The Culturally Savvy Christian. He currently runs The Kindlings, an effort to rekindle the creative, intellectual, and spiritual legacy of Christians in culture. His interviews appeared weekly on our site from 2002 to 2004.
Previous The Dick Staub Interview Columns: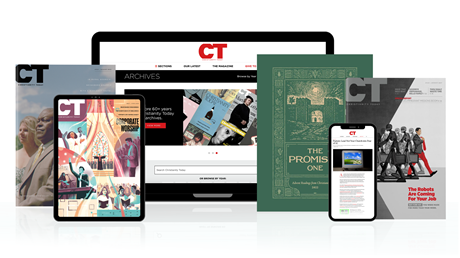 Annual & Monthly subscriptions available.
Print & Digital Issues of CT magazine
Complete access to every article on ChristianityToday.com
Unlimited access to 65+ years of CT's online archives
Member-only special issues
Subscribe
Walter Wangerin Finds God Everywhere
Walter Wangerin Finds God Everywhere