true
Our annual picks for Best New Artists are a high point of the year because it's ultimately about hope and potential for the Christian music genre. With fresh sounds and faith perspectives, it offers a glimpse of good things to come in the years ahead. Presented in the order in which they released over 2004, these are the artists that we can't wait to hear more from and watch how their careers shape up.
Michael Gungor
Bigger Than My Imagination (Vertical/Integrity)
A young rising talent out of Michigan, Michael Gungor didn't break big in 2004, but he's bound to make a name in time with his artful and creative approach to praise. His own "Friend of God," co-written with Israel Houghton, is one of the year's most added contemporary worship songs. As for talent, Gungor has deservedly drawn comparisons to Phil Keaggy and John Mayer with his skillful jazz-inflected guitar licks and smoky voice; his infectious riff on "Meet with Me" readily evokes Mayer's own "Neon." This is a worship leader with a keen sense of pop culture trends, making good music while putting his own stamp on it. Those who enjoy the sixsteps lead worshippers—Chris Tomlin, Charlie Hall, David Crowder Band—will also find a lot appreciate in Gungor and his music.
Click here for the original review.
Sarah Kelly
Take Me Away (Gotee)
burst onto the Christian music scene in early 2004 with a lot of buzz surrounding her national debut. And the primary source of that buzz is this Rockford, Illinois native's powerful rock chick voice—easily one of the best to hit Christian music in recent years. Passionate, dark, and warm with just a little bit of scruff, Kelly's singing has often been compared to Janis Joplin's throaty wails, though it's probably closer to beautifully husky tones of Dolores O'Riordan (The Cranberries), Alanis Morrisette, Rita Springer, and Lori Chaffer (Waterdeep). Regardless of who she personally reminds you of, it's a vocal that lends itself well to her worshipful outpourings, which combine contemporary praise with a clear affinity for retro rock. These heartfelt and prayerful conversations are driven home by a stirring delivery that's sure to make Kelly's a voice that brings people's hearts closer to God.
Click here for the original review.
View the artist page.
Bethany Dillon
Bethany Dillon (Sparrow/EMI)
Every year, it seems like there's a new talent that manages to surprise us all with "a maturity beyond her age." That overused saying has never been truer than for Bethany Dillon, who wrote and recorded her debut at the age of 15. This personable singer/songwriter already has the mature introspection and insight of Jennifer Knapp, Sheryl Crow, Jewel, and even a young Amy Grant (she even covers Grant's "Lead Me On" on her debut). Dillon's smartly crafted album is a seamless blend of acoustic folk and multi-faceted pop/rock, with lyrics that don't just speak to Dillon's peers, but also to adults long past their teenage insecurities. Which only begs the question: if this is only the start for Dillon, what's she going to be like at 25 or 30? It's a journey of growth we're eager to take with her.
Click here for the original review.
View the artist page.
Patrick Andrew
There and Then It's Gone (independent)
No, this album title isn't a reference to PFR's on-again-off-again career over the last eight years. It's Patrick Andrew's powerful solo debut—qualifying him as a "new artist" by our criteria—which finds him spilling his emotions in a personal cry to the Lord. The themes are heavy and heart wrenching, yet also comforting and uplifting as Andrew writes about tragedy both personal and public amid apparent silence from God. It's a superb musical prayer journal that holds a lot of wisdom for anyone willing to listen and reflect. Mostly self-performed and produced by Andrew, There and Then It's Gone is the best PFR-related project since 1996's Them, carrying on with Beatle-esque alternative pop in the tradition of Neil Finn (Crowded House) and Michael Penn. As long as the solo efforts are this good, there's less reason to lament the sporadic retirement of PFR.
Click here for the original review.
Jason Morant
Abandon (Vertical/Integrity)
In a year filled with forgettable attempts at modern worship music, here's one that has consistently been a favorite for many. A young worship leader from New Orleans, Jason Morant is committed to glorifying God through words and music that connect with worshippers without following a stale pattern. It's the difference between writing a repetitive praise chorus and a fully developed song. This sure-footed singer and multi-instrumentalist applies generous helpings of Delirious and Coldplay to his music, but he handles it well with a keen sense of arrangement. He sounds just as strong and dynamic with a full band on the album as he does with only guitar and keyboard accompaniment live (as heard on Bebo Norman's Fall 2004 tour). The fact that Morant's first album rivals the sound and scope of Delirious' latest album in the same year is certainly indicative of his potential.
Click here for the original review.
James Clay
James Clay (Inpop)
Here's a breakthrough talent that isn't getting the attention he deserves. James Clay's self-titled debut is strong enough to make our 2004 list of Best Christian albums. It's the sort of project we'd expect from a seasoned veteran, not an early twenty-something who's been writing and playing for less than ten years. Equipped with a strong testimony about disillusioned faith and misguided love, Clay lets his story seep into his lyricism without overwhelming it. The songs are gritty and real enough to let the message of God's grace and mercy resonate all the more. Producer Phil Madeira matches it with a classic rock feel that will appeal to fans of Counting Crows, Third Day, and Eric Clapton. Clay is a major find and promising new talent in Christian music; it'd be an absolute shame if his music didn't find a wider audience.
Click here for the original review.
View the artist page.
Something Like Silas
Divine Invitation (Sparrow/EMI)
Another outstanding creative entry to the modern worship movement, Something Like Silas has already amassed a strong following through their home church in San Diego. Now they've shared their artistry with the world thanks to this national debut produced by Steve Hindalong and Derri Daugherty of The Choir. The band's progressive approach doesn't readily lend itself to congregational singing, but Divine Invitation is atmospheric, energetic, and reverent in its worship. With prayeful lyricism that's meditative and moving, this is geared particularly to the college audience and those who favor worship pioneers like Delirious, The Violet Burning, David Crowder Band, Matt Redman, and Rock 'n' Roll Worship Circus. Yet Something Like Silas borrows elements from all these (and more) while retaining a unique musical vision of worship. We can only hope their work will continue to transcend the music industry norm and connect hearts to Christ.
Click here for the original review.
View the artist page.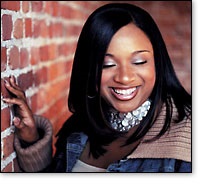 Kierra Kiki Sheard
I Owe You (EMI Gospel)
This third generation gospel artist—the daughter of Karen Clark Sheard from The Clark sisters—first made a splash at the age of 10, when she appeared on her mother's 1997 album Finally Karen. Fans have been craving a debut from Kierra Kiki Sheard ever since, and she finally delivers with the aptly titled I Owe You. Her voice is surprisingly mature and silky for a 17-year-old, capable of great range, and she puts it to great use with a strongly produced and varied album that runs the gamut from R&B, Latin, urban, pop, funk, and of course, gospel both traditional and modern. That last bit is particularly striking, because it shows that Sheard's musical sensibilities span generations as well as genres. I Owe You is a solid first effort, approaching the musical heights of Mary Mary and Kirk Franklin.
Click here for the original review.
View the artist page.
Charity Von
Charity Von (Slanted)
Presenting the third teenage girl and the second big-voiced redhead on our list this year. There's more in common between Charity Von and Sarah Kelly than their throaty singing—both write most of their material, their lyrics are primarily vertical in focus, and they have a retro approach to rock. If anything, Charity's style is a little more varied, embracing more of a bluesy and soulful edge, acknowledging influences of Janis Joplin and Ashley Cleveland. To say she could go the distance on American Idol is an understatement. While Charity's self-titled debut is admittedly a little simplistic at times, it's only the start for her. After a prominent place on Point of Grace's Spring 2005 tour, she's bound to cultivate a larger audience.
Click here for the original review.
View the artist page.
Mute Math
Reset EP (Teleprompt/Word/Warner)
This is a band that many are eager to anoint as the best thing to happen to Christian music in 2004. Started by two members from short-lived and critically acclaimed Earthsuit, this band offers an irresistible combination of old and new—the eclectic and anthemic rock of The Police and U2 with a mesmerizing sheen of programmed elements. It's like a sonic playground the way Mute Math juxtaposes a solid rock trio with vintage electric piano and modern electronic effects. The band remains true to their art and their faith with music and lyrics that are far more accessible than Earthsuit was, which means they could very easily go much further in time. If only Reset wasn't so short, but like any appetizer, this is a sumptuous preparation for the main course in 2005.
Click here for the original review.
View the artist page.
Mat Kearney
Bullet (Inpop)
It's as if Mat Kearney arrived on the scene out of nowhere this fall, and while there are plenty of Christian artists blending hip-hop and pop/rock these days, this burgeoning talent balances the two better than most by not fully committing to either. Who would have thought it possible to balance streetwise credibility with Brit-pop appeal? Bullet isn't as frivolous as Paul Wright's debut or as urban as John Reuben—nor is it as over-the-top eclectic as tobyMac's solo work. Kearney offers solid beats and rhymes with a songwriter's acoustic pop sensibility. And at times, he launches into some piano driven ballads that amazingly resemble Coldplay—Kearney's weary vocal is a dead ringer for Chris Martin. His lyricism is also refreshingly open and catchy without resorting to gimmicks and contrivances. It'll be interesting to see how Kearney evolves from this promising start.
Click here for the original review.
View the artist page.
Adam Watts
The Noise Inside (Interscope)
You may not know his name, but most know his work. This behind-the-scenes session man is the producer responsible for Jeremy Camp's breakthrough Stay, as well as music for the Supertones and Avalon. Sure, he's good, but who knew he was this good? The Noise Inside is sophisticated Brit-influenced pop like Travis and Taylor Sorensen with the hip indie sensibilities of Aaron Sprinkle and Pedro the Lion. And the talented multi-instrumentalist does it by writing, singing, playing, and recording most everything on the album himself, with lyrics that are overtly Christian and easy to relate to without resorting to cliché. Yet in the month since the debut's release, Adam Watts has gone almost completely ignored. Maybe it's too good for Christian radio and too spiritual for mainstream? A shame, because this album is a standout in CCM and certainly worthy of more attention.
Click here for the original review.
Click here to view our second annual Reader's Choice Awards, and see who the masses selected as their favorite new artists.
Interested in seeing other Best New Christian Artist alumni? View our picks from 2003, 2002, 2001, and 2000.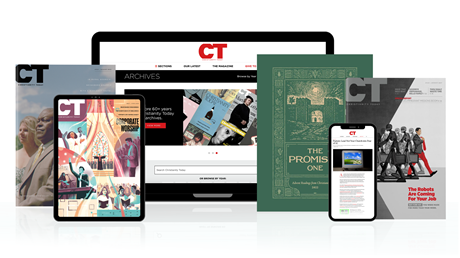 Subscribe to Christianity Today and get access to this article plus 65+ years of archives.
Home delivery of CT magazine
Complete access to articles on ChristianityToday.com
Over 120 years of magazine archives plus full access to all of CT's online archives
Subscribe Now
Best New Artists of 2004
Best New Artists of 2004