Last week in Sandy Cove, Maryland, at the headwaters of Chesapeake Bay, a group of evangelical leaders met to affirm our responsibility to care for God's creation. The gathering—sponsored by Christianity Today, the National Association of Evangelicals, and the Evangelical Environmental Network—included scholars, activists, denominational leaders, pastors, journalists, and representatives of relief organizations. Among the keynote speakers were Howard Snyder of Asbury Seminary, who called for a robust theology of creation; Sir John Houghton, one of world's foremost authorities on climate change, who gave a state-of-the-art report on global warming; and Larry Schweiger, president of the National Wildlife Federation, who told how his boyhood experience of both natural beauty and environmental destruction shaped his life's work.
What gives this meeting special significance is a largely unnoticed but profound shift in evangelical attitudes toward environmental concerns. For a long time, the rank and file of evangelicals perceived such concerns as part of a package deal—as if to acknowledge the reality of air pollution, say, committed you to embrace socialism, New Age pantheism, and Birkenstocks. The apocalyptic rhetoric of many environmentalists fueled this misperception.
But something has changed. Gradually, often reluctantly, many evangelicals have begun to recognize that there is a middle ground between laissez-faire capitalism and Earth First! At the same time, many environmentalists have begun to see the power of market-based incentives.
Not that such incentives offer a magic bullet. But they do point to a hopeful convergence, to the prospect for consensus on urgent matters even as disagreement persists on many points.
And yes, it's true, "environmentalist" is still a dirty word in many evangelical quarters—which is why the Sandy Cove gathering spoke of "creation care." But that term is not a euphemism or a bureaucratic evasion. Rather, as Snyder argued in his keynote address, it concisely expresses a fundamental biblical outlook that challenges evangelicals to take seriously their fidelity to Scripture.
The meeting last week concluded with a covenant among those present and an invitation to the evangelical community to engage the most pressing environmental questions. The prevailing spirit was neither Pollyanna-ish (the problems are daunting) nor despairing but rather hopeful.
Hope isn't silly or weak. Through a grove of oaks and across the railroad tracks behind our house lies Lincoln Marsh, where my wife and I walk whenever we get a chance, along the raised Prairie Path with cyclists and joggers and then down to the marsh itself, a microcosm of life's infinite variety and a source of inexhaustible wonder. Thirtysomething years ago, the marsh was a dump.
Related Elsewhere:
The Evangelical Environmental Network has more information about its activities on its web site.
Other Christian Environmentalism associations include Christian Environmental Council (an offshoot of the Evangelical Environmental Network), the Interfaith Council for Environmental Stewardship, Evangelicals for Social Action and Green Cross.
More Christianity Today and Books & Culture articles on environmental stewardship include:
Environment as Creation | Conquest vs. care for the wilderness. (Books & Culture, January/February 2004)
Bald Eagles and Babies | The case for compassionate conservationism. (June 27, 2001)
Eco-Myths | Don't believe everything you hear about the church and the environmental crisis (June 27, 2001)
Why We Love the Earth | Our belief in a Creator, not crisis scenarios, drives our environmental concerns (June 27, 2001)
Religious Leaders Rebuke Bush Administration Over Kyoto Protocol | Officials from the National Council of Churches, Presbyterian Church (USA), United Methodist Church, Disciples of Christ, and African Methodist Episcopal Church say U.S. must limit greenhouse gas emissions. (April 6, 2001)
Unholy Harvest? | Evangelicals join protests against genetically modified "frankenfoods." (May 9, 2000)
U.S. Churches Join Global Warming Debate | Environmental stewardship is an act of compassion toward the poor, say mainline Protestants and evangelicals, who are joining with other faith groups to reduce the effects of global warming. (Oct. 5, 1998)
God's Green Acres | How Calvin DeWitt is helping Dunn, Wisconsin, reflect the glory of God's good creation. (June 15, 1998)
Greening of the Gospel? | Evangelical environmentalists press to add creation care to the church's mission. (Nov. 11, 1996)
Evangelical Environmentalism Comes of Age (Nov. 11, 1996)
More on Christians and creation can be found in Books & Culture's Science Pages.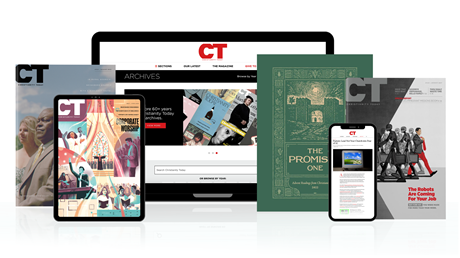 Annual & Monthly subscriptions available.
Print & Digital Issues of CT magazine
Complete access to every article on ChristianityToday.com
Unlimited access to 65+ years of CT's online archives
Member-only special issues
Subscribe
'Books & Culture' Corner: Tending the Garden
'Books & Culture' Corner: Tending the Garden