Most who see the name Baylor University in print think about the basketball program scandal in which one player murdered another and the coach scrambled to cover up improprieties as the media spotlight focused in on the school. Those who observe the intersection of worldview and higher education have been paying attention to what's happening at Baylor for a different reason. The university nestled in at the corner of I-35 and the Brazos River has embarked upon an ambitious quest to advance the Christian mind.
Back in 1951, William Buckley began his career as a conservative superstar with the publication of God and Man at Yale. The thesis was that the great university had abandoned its traditionally Christian roots and was actively employing the sort of faculty who would lead impressionable young people astray, that is to say, away from love of God, country, and family. The young Catholic with the million dollar vocabulary and the truckload of savoir faire had put his finger on an issue that became a staple of the conservative complaint against modernity. Buckley helped raise awareness that America's great universities, spurred on by the success of Darwinian theory and the apparent ascendancy of so-called "scientific" forms of government like communism and socialism, now embraced an account of knowledge that ignored or actively discredited the combination of Christianity and Classics that had once been dominant building blocks of the West.
Since that time, a number of small schools like Hillsdale, Grove City, Calvin College, Wheaton, and a few others have provided an alternative to the assumptions of secular liberalism embraced by most institutions of higher education. Among major universities, Notre Dame has been alone in simultaneously claiming a position as a top tier research institution while retaining at least part of its religious identity in teaching and research.
Eyeing Notre Dame's success and hoping to buck a trend toward secularization that had long overtaken schools like Duke, Emory, and Wake Forest, a group of intellectual entrepreneurs at Baylor University, a Big Twelve school and the largest Baptist university in the world, set out to accomplish a unique goal. Baylor President Robert Sloan, former Provost Donald Schmeltekopf, current Provost David Jeffrey, and several others on a Board of Regents that includes Houston Astros owner Drayton McClane, decided to drive Baylor toward a greater acknowledgment of its Christian identity while also pushing for top tier research university status.
Although the plan called for massive upgrades to Baylor facilities and the expansion of degree programs, the key change in policy has been to explicitly seek to hire Christian scholars capable of integrating their faith with scholarship. Examples of the type of faculty attracted by the new emphasis on the integration of faith and learning include well-known philosophers like Boston College's Thomas Hibbs and recent Princeton University Visiting Fellow Francis Beckwith, eminent sociologist Rodney Stark from the University of Washington, and literary scholar Ralph Wood from Wake Forest. Instead of diminishing the quality of Baylor's faculty, the search for explicitly Christian thinkers seems to have attracted scholars who share a passion for the idea of a great Christian university.
While Baylor can point to its share of successes during the nearly decade-long presidency of Robert Sloan, the ambitious expansion into graduate education, new emphasis on faculty research, and focus on aggressively seeking out faculty who can integrate their faith with their scholarship has stirred up a great deal of opposition from the school's older faculty and retired administrators. Thanks to the broad scope of the change and occasional indelicacy in making the transition, President Sloan has suffered two "no confidence" votes from the old-line dominated faculty senate. After the first vote last fall, the Board of Regents backed Sloan with an overwhelming affirmation. In the wake of the second vote in May, the Regents retained Sloan with a simple one vote margin.
Sloan is fighting on at least three fronts. The first is intellectual. Many academicians have been trained to believe that faith and reason are either irreconcilable or irrelevant to each other. As an example, some older faculty complain that the only Christian way to teach a subject like political science is to teach it well. They ignore the reality that faith influences the questions one asks and the solutions one may consider. The second is spiritual. Moderate Baptists are incredibly dedicated to freewill and tend to see the Sloan administration's careful interview process as overly searching. The third is a simple human dynamic. Sloan is the type of leader who drives his agenda forward with hopes of soothing hurt feelings after the tough sledding is finished. Among moderate Texas Baptists with ruffled feathers remaining from the loss of the Southern Baptist Convention to their "fundamentalist" cousins, grudges of every kind have been quick to harden.
To some extent, what Sloan has set in motion is irreversible. He has presided over the hiring of approximately half of the 800-plus faculty at the school. Youth is on the side of change as well. Most of the opposition professors are older than Sloan's prized recruits. Whether the change continues in slow motion due to inertia or with dispatch thanks to the continued presence of guiding vision is what's at stake now. It is possible that Sloan's administration has absorbed as much punishment as the opposition can muster. On the other hand, the slender margin by which he has been retained may cripple him.
Regardless of what happens next at Baylor, the school has taken a major stride forward in offering a new vision for education and research at a major university. The idea that faith and reason can't coexist or are "non-overlapping magisteria" is beginning to encounter resistance. The challenge Baylor has taken up was issued long ago by giants like Carl F.H. Henry and Elton Trueblood. It has since been re-issued persuasively by Christian historians like George Marsden and Mark Noll. Initially, expectations were modest. Perhaps an endowed chair here or a special institute there at a large school. But with Baylor, the idea of a university simultaneously reaching for research excellence and Christian identity at the same time has begun to become a reality. Let's hope the same Board of Regents that once strongly approved this great vision will have the courage and fortitude to see it through. May God grant them favor in so doing.
Hunter Baker is a doctoral fellow in Religion, Politics, and Society at Baylor University. This article originally appered in The American Spectator Online. Reprinted with permission.
Related Elsewhere:
Christianity Today's earlier coverage of the Baylor controversies include:
Weblog: Baylor President Narrowly Survives Regent Vote | Sloan keeps post, but barely (May 19, 2004)
2012: A School Odyssey | Baylor strives to go where no Christian university has gone before—in ten years (Nov. 22, 2002)
Baylor Reaps the Enlightenment Whirlwind | Ultimately, the challenge to creating a top-level Christian research university lies in combating individualism gone awry. By Ralph C. Wood (Oct. 7, 2003)
Christian History Corner: Breaking Down the Faith/Learning Wall | How the history of Christians in higher education has stacked the deck against Robert Sloan's "new Baylor" (Sept. 19, 2003)
Article continues below
Weblog: Baylor Regents Overwhelmingly Support President | After a very bad week at Baylor, good news for Sloan's vision of Christian higher education (Sept. 12, 2003)
Weblog: Showdown at Baylor, Continued | Baylor U.'s sports troubles leak into school's religion debate (Aug. 1, 2003)
Weblog: Showdown at Baylor | Baylor's president faces off against critics this week amid multiple controversies (July 18, 2003)
Design Interference | William Dembski fired from Baylor's Intelligent Design center (Nov. 28, 2000)
Unintelligent Designs | Baylor's dismissal of Polyani Center director Dembski was not a smart move (Oct. 23, 2000)
Books & Culture Corner: Defending Faith and Learning | Baylor University's Polanyi Center comes under fire from the university's faculty (Apr. 24, 2000)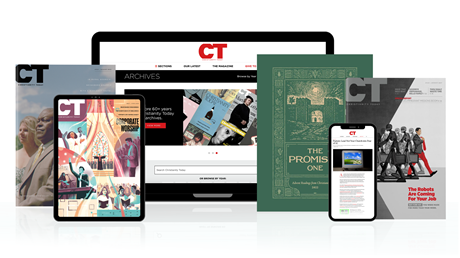 Subscribe to Christianity Today and get access to this article plus 65+ years of archives.
Home delivery of CT magazine
Complete access to articles on ChristianityToday.com
Over 120 years of magazine archives plus full access to all of CT's online archives
Subscribe Now
God and Man at Baylor
God and Man at Baylor