Following the Supreme Court's 2002 ruling that allowed religious schools to be included in state voucher programs, voucher proponents hit another snag—37 state constitutions. Constitutions with so-called Blaine amendments—passed in the late 19th and early 20th centuries largely because of widespread anti-Catholicism—require a stricter separation of church and state than the federal Constitution. Many specifically forbid the use of state money for religious schooling. However, last December the Supreme Court heard a case that many hoped would throw out these Blaine amendments.
The case focuses on Joshua Davey, who had qualified for Washington State's Promise Scholarship for low-income, high achieving students. When Davey enrolled at Northwest College, which is affiliated with the Assemblies of God, he was told that he was no longer eligible for the scholarship because he had chosen a theology major. Though the scholarship is available for other areas of study at the school, theology students are prohibited because of the state's Blaine amendment.
Some had hoped the Supreme Court would rule in favor of Davey and declare all 37 states' Blaine amendments unconstitutional. Not only would Davey receive the nearly $2,500 Promise Scholarship for which he had sued, but voucher programs and President Bush's faith-based initiative would be freed from Blaine states' stricter wall of separation.
Davey denied
Last month, the Supreme Court denied Davey's claim that Washington state denied his right to the free exercise of religion. In its opinion, the Court said the case fell in the "play in the joints" between the free exercise of religion and the establishment of religion. "There are some state actions permitted by the Establishment Clause but not required by the Free Exercise Clause," wrote Chief Justice William Rehnquist in his majority opinion.
Funding for religious training (Davey intended to use his degree to go into the ministry) falls into that category, but also has a uniquely sensitive history, the court said. "Since the founding of our country, there have been popular uprisings against procuring taxpayer funds to support church leaders, which was one of the hallmarks of an 'established' religion," Rehnquist wrote. "There are few areas in which a state's antiestablishment interests come more into play."
The issue is as old as the country. Patrick Henry, James Madison, and Thomas Jefferson fought over state funding of clergy in Virginia, said Charles Haynes, senior scholar at the First Amendment Center. "This has a long history in the U.S. of being an issue that many Americans think is at the core of the establishment principle. This court says that the state may make the argument that there's a compelling state interest in not allowing that."
However, Davey supporters argue that by excluding religious studies only, the state discriminated against religion. "This was not a program for funding clergy training," said Walter Webber, senior litigation counsel for the American Center for Law and Justice, which represented Davey. "This was a program for funding everybody, and singling out clergy was discrimination against religion and against particular viewpoints. There is a world of a difference between saying no special assessments for clergy versus saying we're going to exclude them and only them from something that everyone else gets."
In his dissenting opinion, Justice Antonin Scalia took the same position, saying, "One can concede the Framers' hostility to funding the clergy specifically, but that says nothing about whether the clergy had to be excluded from benefits the State made available to all. No one would seriously contend, for example, that the Framers would have barred ministers from using public roads on their way to church."
Narrow ruling leaves door open for vouchers
By limiting their decision to clergy training, the court left open the issue of using federal funds at religious schools. "If this had just been under the federal Constitution, obviously Mr. Davey would have won. Rehnquist makes that clear in his decision," said Haynes. "Voucher proponents can take hope that the court narrowly focused on using the money to fund someone to become a minister."
Rehnquist wrote, "There is no doubt that the state could, consistent with the federal Constitution, permit Promise Scholars to pursue a degree in devotional theology." According to the ACLJ's Webber, that means a voucher program that excluded schools solely because of religion would not find shelter under Locke vs. Davey. "That, in our view, would be unconstitutional discrimination," he said.
"I don't think voucher opponents can take too much heart from this," said Haynes. "It may be that a majority of the Supreme Court will not defer to these state constitutional provisions if they are interpreted to exclude religious institutions from an otherwise general, neutral voucher program."
'Blaine amendments survive for another day'
"I guess what voucher proponents were hoping for was a cleaning up of these provisions," said Haynes. "One of the most important things about this decision is that the U.S. Supreme Court didn't buy that argument. The so-called Blaine amendments survive for another day."
And that's the problem, says Jim Tonkowich, managing editor of Breakpoint "Our own bigotry from a century or so ago has come back to bite us," he said. Protestants, who had pushed for the amendments a century ago to prohibit funding of programs for Catholic immigrants and Catholic schools, are now on the receiving end.
Rob Moll is online assistant editor for Christianity Today magazine.
Related Elsewhere:
After the Supreme Court ruling, Weblog commented that the decision clouded church/state issues.
Also posted today is a article focusing on the ruling.
More is available from the Politics & Law page.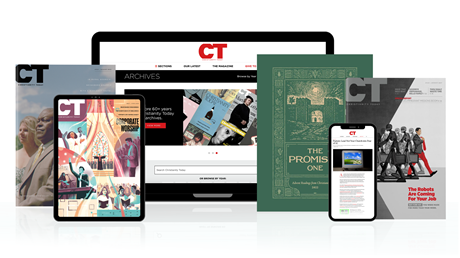 Annual & Monthly subscriptions available.
Print & Digital Issues of CT magazine
Complete access to every article on ChristianityToday.com
Unlimited access to 65+ years of CT's online archives
Member-only special issues
Subscribe
Locke vs. Davey Won't Hinder Voucher Expansion, Say Legal Experts
Locke vs. Davey Won't Hinder Voucher Expansion, ...