Status report: Faith-based initiative breaks ten-figure mark
Despite Congress's refusal to guarantee faith-based organizations can compete for federal funds, President Bush's faith-based initiative has shows results through executive branch efforts, according to a Washington Post article today.
"The administration has stuck at it, and the dollars going to faith-based organizations are clearly going up. But in the overall scheme of things, we're not talking about huge amounts of money here," Alan J. Abramson, director of the Nonprofit Sector and Philanthropy Program at the Aspen Institute, told the paper.
But in Washington terms, "not huge amounts of money" are still pretty big. The Post reports that in fiscal year 2003, faith-based charities received more than $1.1 billion in competitive grants—a figure that doesn't cover "all agencies or the full gamut of government grants," says Post religion writer Alan Cooperman.
There's no figure for last year, but individual comparisons suggest significant change: The Department of Health and Human Services had a 41 percent jump in the number of grants given to faith-based recipients from fiscal year 2002, and a 19 percent rise in dollars to these kinds of organizations.
"I think that we're seeing that when the playing field is leveled, faith-based organizations can compete with other nonprofits, but by no means are they getting all the money," said Jim Towey, director of the White House Office of Faith-Based and Community Initiatives.
WSJ: Beware of secular absolutism, "the most potent religious force in America"
Then again, perhaps we're entering a time when the "faith-based initiative" won't matter. After all, in the eyes of the California Supreme Court, none of the organizations that received the federal funding could be considered "religious," given that they aren't solely focused on "proselytizing," and don't "discriminate" in who they serve.
That's pretty loopy, says a Wall Street Journal editorial today (which you probably won't be able to read without a subscription):
When Catholic Charities insisted that as an avowedly Catholic organization it fit the religious exemption provided by the law in question, the court simply said it was not a religious organization. Catholic Charities? Leave aside the irony that of all America's Catholic institutions, Catholic Charities is arguably the most liberal and sympathetic to secular crusades. Even that didn't protect them. Nor did its practice of employing people outside the Catholic faith—which was used here as reason for denying its religious claims. If the state can order a Catholic organization to include contraceptive coverage as part of its health benefits or drop all drug coverage, it's not hard to see where that's leading. This is what passes for civil liberties now.
The editorial compares the court's decision to the Boy Scouts' legal woes, and says that both cases represent "an effort by liberal activists and their judiciary enablers to turn one set of personal mores into a public orthodoxy from which there can be no dissent, even if that means trampling the First Amendment. Any voluntary association that doesn't comply—the same little platoons once considered the bedrock of American freedom—will be driven from the public square."
Israeli scientists: Retest the Joash tablet
The debate over the authenticity of the James ossuary may have cooled, but another archaeological debate that many observers thought settled has reignited.
When Israel's Antiquities Authority called the James Ossuary inscription a forgery, it also called the Jehoash Tablet a fake. The tablet, which contains wording very similar to 2 Kings 12, is reportedly owned by Oded Golan, who also owns the James Ossuary.
While Biblical Archaeology Review has defended the James Ossuary, it has been more antagonistic to the Jehoash (Joash) Tablet, calling it a fake months before the IAA's assessment. Now the magazine has changed its position, publishing an article suggesting that the inscription may be authentic after all.
"What do we really know about the Hebrew of official royal inscriptions of Judah in the ninth to eighth centuries B.C.E.? The answer is rather simple: not much," writes University of California at, San Diego historian David Noel Freedman. "To say, therefore, that the language of the Jehoash inscription is inconsistent with what we would expect of such a royal inscription from the time of Jehoash is to assert an authority that is not merely audacious, but imaginative. … for the moment, we must conclude with a Scottish verdict: not proven. The verdict at this time is in effect a non-verdict. We simply don't know with any reasonable certainty whether it is a fake or authentic."
"Four leading scientists" agree, and are calling for a new examination of the tablet, according to the Tel Aviv newspaper Ha'aretz.
"Scholars who expressed the clear opinion that the inscription was a forgery were invited to the committee, while those who believed otherwise, such as the two scientists from the Geological Institute, were disqualified," complains Haim Cohen of Ben-Gurion University of the Negev. "There is nothing philological in the inscription that attests to its being a forgery. I can categorically refute all the evidence that my colleagues have brought up in concluding that it is a forgery. I can explain everything written there from a linguistic point of view as suited to the biblical period, to the period of Jehoash, the ninth century BCE. And I am not the only philologist who thinks so."
Cohen and the three other scholars also allege that "professional errors were made in dealing with the issue, which led to hasty conclusions." (So far, the IAA isn't responding.)
Cohen still isn't a fan of the tablet's owner. "Golan has a lot of explaining to do," he said. "There are a lot of questions about his behavior. He needs to answer to the police on these matters, and if necessary in court, but our task is to fully examine his claims that the inscription is authentic, and this has not been done. I personally find it difficult to believe that Golan has the expertise to carry out such a high level forgery. We are dealing with one of two things. Either the inscription is authentic, or the forger is a genius, and I find it difficult to believe that Golan is a genius."
Meanwhile, Golan is defending himself against charges that he's part of a massive forgery ring. "The number of times that I have sold or mediated in a sale of antiquities in my entire life is smaller than the number of fingers on my hands, and this in itself is much smaller than the number of sales or exchanges performed by any serious antiquities collector I know in the world," Golan said in an article responding to a recent Israel television documentary. "In all my 42 years of collecting antiquities, I have never sold a single item to any individual or institution outside Israel."
More articles
Christian attacked in India:
Christians killed in Egypt:
Partial-birth abortion ban:
Abortion:
Life ethics:
Richmond Times-Dispatchseries on gay Christians and clergy:
Gay marriage:
Gay marriage in Mass.:
Federal Marriage Amendment:
Civil unions and benefits:
Religion and gay marriage:
Gay adoption:
Teen sexuality:
Other issues of sexuality and marriage:
AIDS:
The Passion:
Passion and history:
The critics:
Passion and the Holy Land:
Christian response:
Passion and Hollywood:
Passion in Canada:
Jewish response:
Vandalism at Denver synagogue:
Anti-Semitism:
Religion in pop culture:
'Judas' on television:
Television:
Theater:
Related Elsewhere:
Suggest links and stories by sending e-mail to weblog@christianitytoday.com
Check out Books & Culture's weblog, Content & Context.
See our past Weblog updates:
March 9 | 8
March 5 | 4 | 3 | 2 | 1
February 27 | 26 | 25b | 25a | 24 | 23
February 20 | 19 | 18 | 17 | 16
February 13 | 11 | 10 | 9
February 6 | 5 | 4 | 3 | 2
January 30 | 29 | 28 | 27 | 26
and more, back to November 1999
Weblog
Launched in 1999, Christianity Today's Weblog was not just one of the first religion-oriented weblogs, but one of the first published by a media organization. (Hence its rather bland title.) Mostly compiled by then-online editor Ted Olsen, Weblog rounded up religion news and opinion pieces from publications around the world. As Christianity Today's website grew, it launched other blogs. Olsen took on management responsibilities, and the Weblog feature as such was mothballed. But CT's efforts to round up important news and opinion from around the web continues, especially on our Gleanings feature.
Ted Olsen is Christianity Today's executive editor. He wrote the magazine's Weblog—a collection of news and opinion articles from mainstream news sources around the world—from 1999 to 2006. In 2004, the magazine launched Weblog in Print, which looks for unexpected connections and trends in articles appearing in the mainstream press. The column was later renamed "Tidings" and ran until 2007.
Previous Weblog Columns: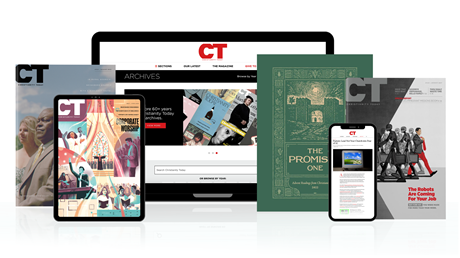 Annual & Monthly subscriptions available.
Print & Digital Issues of CT magazine
Complete access to every article on ChristianityToday.com
Unlimited access to 65+ years of CT's online archives
Member-only special issues
Subscribe
Feds Granted More than $1 Billion to Religious Charities in 2003
Feds Granted More than $1 Billion to Religious Charities in 2003