true
The United States just elected a president. And in a different contest, it appears that Hollywood has already elected this year's Academy Award-winner for Best Actor, even though the awards are still a few months away.
In director Taylor Hackford's Ray, Jamie Foxx's performance as Ray Charles is so impressive that almost every film critic that has seen it is talking about his Oscar chances. Playing the singer/songwriter from his early gigs in the Seattle jazz club scene and on through his meteoric rise to fame and several impressive reinventions, Foxx captures the charm, mannerisms, stage presence, strengths, and weaknesses of the man. He's supported by an impressive cast, including Kerri Washington (She Hate Me) in an affecting turn as his wife Della Bea; Curtis Armstrong (Better Off Dead) and Richard Schiff (TV's The West Wing) as his managers at Atlantic Records; Clifton Powell (Woman, Thou Art Loosed) as Jeff Brown, who keeps the band in line; and Regina King (Daddy Day Care, Enemy of the State) as Margie Hendricks, with whom Charles' has an extramarital affair.
Ray is worth seeing, not just for Foxx and the cast, but for the musical performances, the cinematography (by The Pianist's Pawel Edelman), and the sensitive portrait of an artist as a conflicted composer. Like Milos Forman's Amadeus, Ray reminds us that talent and genius have little if anything to do with wisdom. We come away from the film dazzled by the show, grateful for Charles' gift, and sobered by the consequences of reckless behavior.
And yet, while Ray reveals the genius of the artist and much about his personality, Hackford also conceals a great deal: including the story of Ray Charles' first wife, Eileen Williams, with whom he had a child, and stories related to other children he fathered. In a film that gives the appearance of telling the whole story (at 152 minutes), I can't help but wonder what Charles' other ten children are thinking, watching this film that fails to mention their existence (until the conclusion of the end credits), or acknowledge that Charles' marriage to Della Bea collapsed in divorce in 1977 after 20 years. The film is so intent on including all of the highlights that, in spite of Foxx's impressive work, we barely scratch the surface of the man's interior life.
My suspicion is that devotees of Charles' music will get much get much closer to the truth of his heart and soul than those who just see the movie and remain casual listeners.
My full review of Ray is at Looking Closer.
Russ Breimeier (Christianity Today Movies) says, "From the very start of Ray, you can tell that this film was a labor of love for Hackford, who also co-wrote the script. The camera work and visuals are excellent, as is the music … and the attention to detail is wonderful."
About Foxx, he says, "Believe the hype. Foxx is guaranteed an Oscar nomination for his portrayal, and it'll take a brilliant performance of gigantic proportions from another actor to keep him from taking home the statuette in February. He's really that good."
He concludes, "Though Ray is not a 'Christian' film, there's plenty familiar about the descent into sinful habits and the way out of it—forgiveness and accepting responsibility for actions. Ray tells the compelling story of an American music legend, putting his historical impact in proper perspective both professionally and personally."
"Rarely have I seen an actor so deserving of the Best Actor Oscar," says Annabelle Robertson (Crosswalk). "[Ray] is a moving film that portrays racism and segregation without the usual caricatures, showing honest whites and dishonest blacks alike, while also giving you a sense of how devastating it was to live in a world divided by segregation."
As for the "mature content," she says, "It's hard to tell a story about sin and its consequences without showing just that, and Ray serves as a powerful portrayal of life without Christ—something that some people just need to see to believe. It's also a moving story about the ability to overcome great hardship, as well as how easy it would have been for Charles' God-given talent to go to waste."
Harry Forbes (Catholic News Service) says, "Biographical films, particularly those about living or recent celebrities, are notoriously tricky to pull off, but … Ray easily surmounts the usual pitfalls with an intelligent script, fine performances and a satisfying blend of music and drama. Though the film deals with some difficult subjects like drug addiction and infidelity, they are presented with great restraint, in a refreshingly nongraphic manner."
Josh Hurst (Reveal) says, "Resistance is futile. Ray is a winner … a must-see picture, both for the strength of its lead performance and for being such an honest and inspiring homage to a modern day legend." But he also points out some glaring flaws. "Lamentably, Hackford sometimes stumbles by making his film too sentimental."
Steven Isaac (Plugged In) says the story is "excellently told on many levels," but "too many of Ray's adult dilemmas are blamed on a single childhood trauma. And too many complicated issues are quickly resolved when he suddenly comes to grips with his guilt over that catastrophe." But he too praises Foxx's "virtuoso performance." He concludes, "Ray doesn't avoid the obvious moral of the story, which is wrapped up in the truth that a man can only be free when he's not a slave to vice. But it also seems to want to celebrate the idea that it is only out of conflict, pain and captivity that passionate music can be birthed."
Michael Elliott (Movie Parables) is not so impressed with the film: "Hackford's treatment of Ray's life is full of the typical Hollywood treacle." But he joins the chorus of praise for Foxx. "His portrayal of the legendary musician is nothing short of phenomenal. There are times during the film when it becomes all too easy to forget that we're watching an actor playing the part of Ray Charles. His impersonation is that uncannily accurate."
Rosemarie Ute Hoffman (Christian Spotlight) says it's "a compelling biographical drama … that will have you mesmerized due to Jaime Foxx's realistic representation."
Mike Parnell (Ethics Daily) says, "Ray is a wonderful movie, and it reveals the genius of an American original. As a film biopic, some events in his life are necessarily shortchanged, but any omissions don't overshadow the movie."
David Bruce (Hollywood Jesus) says, "The film is the best I have seen this year. It is about hope for the complete integration on life in all areas."
Mainstream critics are singing Ray's praises.
You won't find many critics who say "See
Saw"
Once again, moviegoers are spending their hard-earned money to go into a theatre and watch a sadistic killer torment victims in a spectacular variety of ways. James Wan's film Saw, which stars Danny Glover and Cary Elwes, is clearly appealing to fans of grisly thrillers like Se7en. It's unlikely that the film will appeal to anyone else.
David DiCerto (Catholic News Service) says Saw "appears to be nothing more than a gory exercise in depravity devoid of any redeeming moral value. But if you look past its severed limbs and shock-value story line, you realize that's exactly what it is. The setup is actually quite intriguing. But any hopes of Hitchcockian suspense are soon dashed by a stomach-churning barrage of stylized sadism parading as entertainment."
Marcus Yoars (Plugged In) says, "In warped fashion, Saw's goriest scenes—from mutilations to amputations—become freeze-frame shots, as if to intimate that treating the subject matter like a crime-scene investigation somehow excuses over-the-top violence and gore. For Wan, detective work as a plot point must mean nothing more than an opportunity to display graphic, up-close depictions of unthinkable cruelty—with lots of obscene language added for full effect."
Michael Elliott (Movie Parables) says, "Watching a horror film is not my idea of a good time. Not only do I find blood, gore, and the idea of violent death disturbing, the films in the genre are, for the most part, so mindlessly predictable that they becoming boring to me. Saw demonstrates that it is possible to find some freshness in a much overworked genre. [The filmmakers] keep the suspense strong by telling the story largely from the victims' perspectives. We only know as much as they can figure out and the pieces of this particular puzzle appear slowly."
Most mainstream critics wish they hadn't seen Saw.
Kidman gets seduced by a kid in
Birth
Director Jonathan Glazer's last film Sexy Beast earned Ben Kingsley an Oscar nomination for his role as a scandalously foul-mouthed gangster. Glazer's new film Birth is being considered "scandalous" for entirely different reasons.
The film follows the troubling experience of a widow (Nicole Kidman) who is preparing to re-marry when she encounters a young boy (Cameron Bright) claiming to be her reincarnated husband. She initially dismisses the audacious claim, but then the boy forbids her to marry her new fiancé , and proceeds to reveal that he has intimate knowledge of her former marriage—knowledge that could only belong to her former husband. Slowly she is drawn toward the edge of madness as this seductive, persistent, yet alarmingly under-aged assailant gains influence over her feelings.
Michael Elliott (Movie Parables) says the director "encases his film with a certain gravitas that sets a creepy mood and atmosphere within which the characters never seem quite comfortable or settled. While it can hardly be considered a paranormal film, the atmosphere he creates certainly works for this odd and often thought-provoking material. The conclusion is weak and disappointing as Glazer opts for a convenient escape from the metaphysical dilemma of his characters."
Sherri McMurray (Christian Spotlight) says the film has "a great start" that "stirs up lots of tension." She adds that "the acting is intelligent at best and lack luster at worst," and concludes that it "loses momentum and is bogged down with painful attempts at some sort of thought-provoking answers to reincarnation and/or life after death."
Most mainstream critics say this Birth is nothing to celebrate.
Around the Bend

gives the prodigal's story a new twist

Writer-director Jordan Roberts made the movie Around the Bend as a way of exploring part of his own experience—his relationship with his estranged father. The movie, which stars Christopher Walken, Josh Lucas, and Michael Caine, thus becomes a variation on the story of the prodigal son, which has religious press critics busy discussing its subtext. The story concerns men of four generations who suddenly come to a reckoning about their family history.

Harry Forbes (Catholic News Service) says, "On the whole, this is a lovely, small-scale film that holds your interest throughout its 85 minutes. The performances are predictably fine. Jordan Roberts … has written a script that doesn't always avoid cliché , and though for the most part the film successfully avoids cheap sentiment, there are some occasional lapses."

Darrel Manson (Hollywood Jesus) also compares the narrative to the parable of the prodigal, and concludes, "Around the Bend reminds us that the pains and animosities that we harbor in our lives do not have to stay there."

At the same site, Elisabeth Leitch writes that the story "is both unique and powerful in that it is so real. It portrays a journey of self-discovery and healing, but it refuses to do so through fake monologues and sappy emotional confessions that occur only in the movies."

Whether or not mainstream critics note the film's echoes of Christ's parable, they're not too impressed with the film itself.

More reviews of recent releases

Primer: Nathan Nix (Relevant) compares it to Memento and Donnie Darko, saying, "Once you figure it out, the complexity of the story is rewarding." He praises director/writer/star Shane Carruth for "bucking the cliché s of low-budget films by daring to tell a complex story." And he is impressed by the film's avoidance of unnecessary special effects, "which usually are employed to distract the audience [from] the fact that their stories are contrived and dim. It utilizes science fiction to focus on humanity and the idea of human trust and the limits of that trust. It wants the audience to think more about the moral implications of technology than the actual technology."

Woman, Thou Art Loosed: Adam R. Holz (Plugged In) is impressed with "the power of Michelle's story combined with Jakes' compassionate and wise responses to her brokenness. [The film] does a masterful job of showing how one generation's weaknesses and sins shape the lives of the next." Holz notes that the film's R-rated elements (sex and violence) guarantee that "it'll (rightfully) remain out of bounds for quite a few families—some very much in need of the message presented. Namely, that God promises to enter into the most shattering experiences of our lives, if we'll let Him."

Next week: The Incredibles and The Polar Express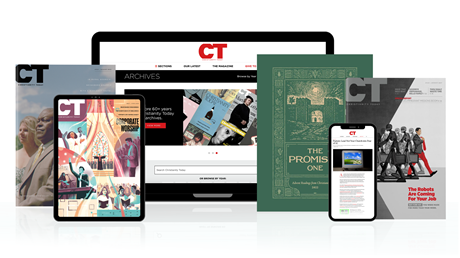 Annual & Monthly subscriptions available.
Print & Digital Issues of CT magazine
Complete access to every article on ChristianityToday.com
Unlimited access to 65+ years of CT's online archives
Member-only special issues
Subscribe
Ray Rocks the House, Foxx Aims for Oscar
Ray Rocks the House, Foxx Aims for Oscar