Christian-Muslim violence explodes in — the Netherlands?!
The nation that has long prided itself on being the most tolerant in the world is now home to the world's most recent outbreak of religious violence. At least five Protestant churches and nine mosques throughout the country have been attacked since filmmaker Theo van Gogh was killed, apparently by a Muslim extremist. Muslim schools have also been targeted, apparently by anti-immigrant racist groups ("White power" was scrawled near one school).
Van Gogh's death was apparently in retaliation for his short film Submission, which portrays Islam as a misogynist religion that supports rape and abuse. The film recently aired on Dutch television, infuriating many Muslims in the country. Van Gogh wasn't simply anti-Muslim, but Islam became a dominant target after the murder of politician Pim Fortuyn. Still, he frequently attacked religion in general and Christianity in specific. Thus, while news reports indicate that the Dutch churches were probably attacked by retaliating Muslims, and at least one Islamic group promised reprisals for the mosque attacks, there's also the possibility that they were attacked by the same terrorists who targeted the mosques and schools. No arrests have been reported in the church arson attacks.
Dutch Prime Minister Jan Peter Balkenende, an evangelical Protestant, blames Muslims and non-Muslims. "Extremism is reaching the roots of our democracy," the Associated Press reports him telling Parliament yesterday. "We cannot let ourselves be blinded by people who seek to drag us into a spiral of violence. It is the joint task of Muslims and non-Muslims to warn young people against radicalization. Together we need to work toward a peaceful society. … We have to utterly reject this violence altogether, because we're being un-Dutch."
"The violence, the aggression must stop. And that goes for people who get the idea that they should damage Muslim mosques or schools, too," said Jan-Gerd Heetderks, dean of the Netherlands' Protestant churches, according to another Associated Press report.
American killed in Ivory Coast apparently not a missionary
News agencies reporting on the recent violence in Ivory Coast have repeatedly said that the American killed by the West African country's warplanes last weekend was an American missionary. The source is U.S. Embassy spokeswoman Ergibe Boyd, who made the guess based on the absence of U.S. military and diplomatic presence in the country. An article in The Post-Standard of Syracuse, New York, however, suggests that Boyd was mistaken. Robert Carsky (photo) was a soil scientist and crop researcher affiliated with WARDA, a rice production agency. There's no reference to religion in the Post-Standard story.
Specter may be off the hook
Just a guess, but the uproar from conservative groups over Sen. Arlen Specter's chairmanship of the Senate Judiciary Committee may be over. He's backed way, way down, and appears in today's Wall Street Journal op-ed pages promising to support pro-life judges.
But now comes what may be a bigger battle: replacing Attorney General John Ashcroft with current White House counsel Alberto Gonzales, who has been widely criticized by religious conservatives in the past. Focus on the Family has actively opposed Gonzales in the past, when his name was bandied about as a possible Supreme Court justice. "We are absolutely opposed to Alberto Gonzales," Tom Minnery, Focus's vice president for public policy, told the Los Angeles Times last year. "He is soft on the constitutional issues we care most about."
Gary Bauer similarly said, "I think any conservative would be deeply concerned by a Gonzales nomination."
In a separate setting, pro-life activist Joseph Starrs told The Rutherford Institute, "I don't think he is a conservative. And if he is pro-life, I haven't seen anything to indicate it."
And the Family Research Council's Connie Mackey told The Washington Times, "There is a long list of qualified candidates who would uphold laws defending the sanctity of human life. It's not clear that Al Gonzales is one of them."
The Times explained: "As a Texas Supreme Court justice, Gonzales voted in several cases to allow a teenage girl to obtain an abortion without her parents' knowledge. He said he was following Texas law."
But Weblog may be getting ahead of itself here. Religious conservatives may not fuss about Gonzales's appointment as attorney general, thinking that it might at least keep him off the Supreme Court.
More (a lot more) articles
Arlen Specter | Court Battles | Evangelical Voters | Catholic Voters | Hispanic Voters | Divided America | Marriage Amendment Voters | 'Moral Values' | Contempt for Religion | Democrats & Religion | Should Faith Matter? | Payback | America & Europe | EU & Religion | Churches & Politics | Australia | Same-Sex Marriage | Marriage & Family | Human Rights | Religious Freedom | Sudan | Ireland | War & Terrorism | Church & State | Education | Abortion | Stem Cells | Suicide | Health | Alcohol | Poverty & Social Justice | Missions & Ministry | Church Life | Pastors | Denominational life | Episcopalians & Anglicans | Catholicism | Closing Parishes | Abuse | Crime | Halloween | Santa | TV and Movies | Music | Sports | Money & Business | Books | History | Prayer & Spirituality | Other Articles
Arlen Specter & judicial nominees:
The battle over the courts:
Evangelical voters:
Who are evangelicals?
Catholic vote:
Hispanic vote:
Divided America:
Marriage amendment voters:
'Moral values' made the difference:
No, 'moral values' didn't make the difference:
Well, 'moral values' kinda made some difference:
Whose 'moral values' are we talking about?
Liberal 'moral values':
Contempt for religion (analysis):
Contempt (examples):
Democrats & religion (inside):
Democrats & religion (outside):
Should faith matter?
Payback time?
America & Europe:
EU & religion:
Italy's Rocco Buttiglione & the EU:
Jerry Falwell:
Churches & politics:
Religion and politics in Australia:
Rove says Bush to push for marriage amendment:
Same-sex marriage:
Marriage & family:
Same-sex marriage elsewhere:
Human rights:
Persecution:
Religious freedom:
Sudan:
Ireland:
War & terrorism:
Church & state:
Jewish parents want Scientology's tax break:
Education:
Ashland U. to hire Jews, Christians only:
Teaching evolution, or not:
Sexual education:
Abortion in Nepal:
Abortion in Africa:
Abortion debate in Australia:
Federal workers opt for Catholic health plan:
More on abortion:
Stem cell research:
Suicide:
Health:
Alcohol:
Poverty & social justice:
Missions & ministry:
Church life:
Pastors:
Los Angeles's First AME:
Denominational life:
Episcopal priests and druid rites
Episcopal Church:
Anglican Communion and the Church of England:
Catholicism:
Closing Catholic parishes:
Priest & porn:
Abuse:
Crime & fraud:
Halloween:
Banning Santa:
TV and movies:
Music:
Sports:
Money & business:
Books:
History:
Prayer & spirituality:
Other articles of interest:
Related Elsewhere:
Suggest links and stories by sending e-mail to weblog@christianitytoday.com
Check out Books & Culture's weekly weblog, Content & Context.
See our past Weblog updates:
November 5 | 3b | 3a | 2 | 1
October 29 | 28 | 27 | 26 | 25
October 22 | 21b | 21a | 18b | 18a
October 15 | 13 | 12 | 11
October 8 | 7 | 6 | 5 | 4
October 1 | September 30 | 29 | 28 | 27
September 24 | 23 | 22 | 21 | 20
Weblog
Launched in 1999, Christianity Today's Weblog was not just one of the first religion-oriented weblogs, but one of the first published by a media organization. (Hence its rather bland title.) Mostly compiled by then-online editor Ted Olsen, Weblog rounded up religion news and opinion pieces from publications around the world. As Christianity Today's website grew, it launched other blogs. Olsen took on management responsibilities, and the Weblog feature as such was mothballed. But CT's efforts to round up important news and opinion from around the web continues, especially on our Gleanings feature.
Ted Olsen is Christianity Today's executive editor. He wrote the magazine's Weblog—a collection of news and opinion articles from mainstream news sources around the world—from 1999 to 2006. In 2004, the magazine launched Weblog in Print, which looks for unexpected connections and trends in articles appearing in the mainstream press. The column was later renamed "Tidings" and ran until 2007.
Previous Weblog Columns: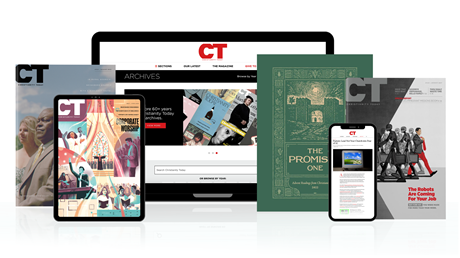 Subscribe to Christianity Today and get access to this article plus 65+ years of archives.
Home delivery of CT magazine
Complete access to articles on ChristianityToday.com
Over 120 years of magazine archives plus full access to all of CT's online archives
Subscribe Now
Ultra Mega Weblog: Five Churches Attacked in Netherlands
Ultra Mega Weblog: Five Churches Attacked in Netherlands