Leaders of conservative Episcopalians have expressed various levels of anger and disappointment about the Windsor Report, which the Lambeth Commission on Communion released on Monday in London.
Most conservative leaders who spoke to Christianity Today were either in London or on their way to it. None of these leaders expects that bishops of the Episcopal Church will express anything more than token regrets for proceeding with gay blessings or for consecrating Gene Robinson as a bishop earlier this year.
David Anderson, president of the American Anglican Council, cited Presiding Bishop Frank Griswold's "A Word to the Church: Some Preliminary Reflections Regarding the Windsor Report."
"Griswold already said, basically, nothing doing," Anderson said.
Griswold expressed two regrets in his document: "I regret that there are places within our Communion where it is unsafe for [homosexual persons] to speak out of the truth of who they are" and "[members of our church] regret how difficult and painful actions of our church have been in many provinces of our Communion, and the negative repercussions that have been felt by brother and sister Anglicans."
Anderson is no more hopeful that Episcopal bishops will observe a moratorium on consecrating additional gay bishops, should they be elected, or on blessing gay unions. "Will they do that? I've been around for a long time, and I don't expect it."
Robert Duncan, moderator of the Anglican Communion Network, said the network's member bishops will press the Episcopal Church's House of Bishops to enact what the report asks of them.
"We'll call on the House of Bishops very clearly to express their regrets, to embrace the moratorium, to affirm the Lambeth Commission's resolution on human sexuality, and to commit to the core covenant [proposed by the Windsor Report]," Duncan said.
Duncan does not expect retired U.S. bishops to stop crossing diocesan borders unless the House of Bishops is willing to make those commitments.
Though the report gives the network something to work with, Duncan believes it's a weaker document than the current crisis requires. "It's more concerned about family than it is about faith, and more concerned about unity than it is about truth," Duncan said.
Duncan also is concerned that the report merely invites American bishops to refrain from attending pan-Anglican meetings. "It's a very English inviting of the Episcopal Church to come to its senses. It doesn't seem wise to invite the Episcopal Church one more time to do the right thing."
Duncan expects that African bishops will provide their own critiques of the report when they gather in Lagos, Nigeria, October 26 to November 1 for a continent-wide meeting on economic development and other issues.
"The disease of the U.S. church has found its way into this report, and that's going to be a concern to our global allies," Duncan said. "I think at the end of next week we're going to have a much clearer idea of what the bulk of the Anglican Communion believes about this report."
Kendall Harmon, canon theologian in the Diocese of South Carolina, found the report weak in its ecclesiology. "There's not enough of an exploration of biblical calls to discipline and the integration of discipline and community," he said.
The report pays inadequate attention to how the early church dealt with false teachers—that, for instance, orthodox bishops considered the sees of false teachers to be vacant and would therefore cross diocesan borders.
Harmon praised the report's rebuke of the Episcopal Church for consecrating Robinson and its proposal of a core covenant for the global Anglican Communion. Nevertheless, he too doubts that bishops of the Episcopal Church will respond to the report's recommendations.
"There's no indication from the leadership of the Episcopal Church that they have any intention of turning from the headlong rush they're on," Harmon said. "It's an under-prescription for the seriousness of the disease."
Diane Knippers of the Institute on Religion and Democracy said the report was a bit stronger than she expected after addressing the commission's second meeting earlier this year. Based on the questions commission members asked her, Knippers said, she sensed that they were more focused on managing the crisis than on providing bold solutions.
"I think the report expresses more hope than realism," Knippers said. "I have higher hopes for the primates." The 38 primates of the Anglican Communion will gather in February to discuss the report.
"For me, the big question is, Are the standards going to be clear enough that the deconstructionists cannot make it say whatever they want?" Knippers said. "I think the international Anglican Communion is still naïve about the duplicitous nature of postmodern deconstructionism."
Knippers said the report, with its recommendations of a process that will take years to unfold, fails to understand the urgent dilemma felt by conservative Episcopalians. "When you're the parents of a teenager, you don't have a lot of time for your church to get its teaching together," she said. "The report doesn't begin to understand our feelings of complicity in a church that is doing harm."
"What the primates must realize is that every delay of sending clear signals simply allows revisionist theology to become more firmly entrenched in the Anglican Communion," she said. "If false teaching is an infection, we want to see it quarantined."
Related Elsewhere:
Our other coverage of the Windsor Report and its fallout includes:
Stronger Action Needed, Say Global Anglican Leaders | "The primates will add teeth" to Windsor Report, conservatives predict, hope. (Oct. 19, 2004)
Disappointed Anglican Conservatives Mull Options, Threaten Revolt | Americans must belong to Episcopal Church, report says. (Oct. 19, 2004)
Report Rebukes Episcopalians for Disunity but Declines Sanctions | U.S. church in limbo as conservative dissidents mull their options. (Oct. 18, 2004)
Weblog: Anglican Report Treats Conservatives Harsher than Liberals | News, predictions that commission would sanction Episcopal Church were greatly exaggerated. (Oct. 18, 2004)
Anglican Primates Respond to the Windsor Report | What church leaders from around the world are saying about the Eames Commission and the future of Anglicanism. (Oct. 18, 2004)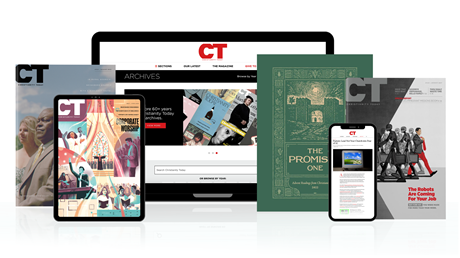 Annual & Monthly subscriptions available.
Print & Digital Issues of CT magazine
Complete access to every article on ChristianityToday.com
Unlimited access to 65+ years of CT's online archives
Member-only special issues
Subscribe
Windsor Report Leaves Conservative Episcopalians Hopping Mad
Windsor Report Leaves Conservative Episcopalians Hopping Mad