true
Long before the word "Passion" became synonymous with that famous Jesus movie, it was already a buzzword for a young generation of believers wanting to live entirely for God's renown. Though the movement's manifesto has always been strictly vertical, Passion is also responsible for introducing us to the heart and the songs of Chris Tomlin, the David Crowder Band, and many others. Christian Music Today talked to Passion founder Louie Giglio about the growth of the ministry, how it operates as a family, and how popularity and commercial success are but vehicles to get the message out to a wider audience.
What prompted you to start Passion?
Louie Giglio The death of my father. That seems like a strange starting point, but from '85 to '95, my wife, Shelley, and I led a campus ministry at Baylor University in Texas, and we wanted that campus to really come alive. We had never done a campus ministry before; God just sort of planted us there and birthed this ministry. In a few years, in a campus of 11,000 kids, there were 1,400 of them coming to these weekly Bible studies. It was simple. It was teaching that was super-challenging. Like, "God wants your whole life for his glory." And it was music, giving kids the chance to really express their hearts to God in worship. That's all we did.
So where's your father come into the story?
Giglio In the ten years we were there, my dad was disabled with a brain virus. He couldn't feed himself. My mom was taking care of him. I'd pray, "Lord, let me go to Atlanta to help my mom take care of my dad." Finally, in 1995, I felt like the Lord said, "You can go." So Shelley and I transitioned our leadership to our staff. We started to get the dominoes in place for our big move. I was willing to work at Home Depot, if necessary. Anything to help my mom take care of my dad.
On the last Monday of our Bible study before leaving Baylor, that's the day we buried our dad. He had a heart attack on April 28, and died. It was totally unrelated to his disability. That left us in a pretty weird place. We were in no man's land. We'd left Baylor, our ministry. We couldn't really go back after transitioning our staff. We had no ministry in Atlanta. But on the plane back to Atlanta, I had this picture-a vision, as clear as day. It was a generation of college students. They were on their faces worshipping and praying for spiritual awakening in their generation and giving their lives to God. I think it lasted a second, but it blew my mind. God was shifting my focus from the 11,000 students at Baylor to the 16,000,000 college students in the nation.
How does that work? You didn't know anybody in Atlanta.
Giglio Well, Atlanta didn't have anything to do with it. Atlanta was just going to be the base. But the picture was God saying, "This is what I'm going to do with Louie. And I'm going to use you in it, because right now I need a guy who doesn't have a job, who doesn't have a ministry. And you're the guy right now."
I didn't really tell anybody about this for three months. You can't just walk up to people and say, "I had a vision from God. This is what's going to happen." I just carried it for a long time. And then I just slowly started talking to people about it. I talked to Shelley about it. I'd talk to a friend here. A friend there. Eventually, everybody was affirming, "Dude, where do we start? We see the vision."
So how did this evolve into a national event?
Giglio I used to speak at that time to a lot of campus ministries around the country, even though I was living in the Baylor student world. I knew a lot of college leaders from around the country. And I knew which ones had a similar heartbeat for what we were going to do. And those 15 or 16 college leaders brought their kids to Passion '97 in Austin. Two thousand people showed up, and it was just four days of seeking the face of God, and yielding our lives for his fame, his glory. And man, God just dumped on this thing. And the whole movement started. We didn't do any marketing or PR for the next year, but those two thousand turned into five thousand the next year.
So it was all word of mouth?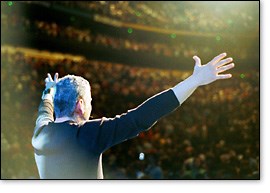 Giglio Word of mouth. The five thousand turned into eleven-and-a-half the next year. That jumped to forty thousand kids at OneDay in 2000 in Memphis. And we're going to haul along, to see where we're going and what God's going to do.
A big part of the growth is the music. Did you always have that core group of lead worshippers like Chris Tomlin, David Crowder, and others? Did you discover them?
Giglio I wouldn't say I discovered them, but I was friends with them. I'd spoken at a lot of events, and that's how I got to know Chris, at a youth camp I did with him. He was a college student and hadn't written any famous songs. Not yet. But I saw immediately that this guy had something in his heart from God. Crowder was a student at Baylor, so he was sitting in some of these Bible studies. I didn't know him really well, but I had heard one of his indie CDs, and I thought, These Crowder guys are really cool.Charlie Hall, same circumstances. I met him through friends, loved his heart. He was already voicing the vision and writing songs about it before I met him. That's how the team came together.
That core team has stayed the same through the years, and no new worship leaders have been added to the fold. Why is that?
Giglio (Laughs) Because we've built it through relationships. And I'm not very likely to put somebody in front of our movement that I don't have a relationship with. [I don't care if] someone is "the hot thing right now." If I don't know them, I don't know if they really get what we're doing. I know everyone wants to play at a Passion event: "How can I get my band in there?" But if that is what you're asking, then you probably don't need to be there. This is not about people. We don't make a big deal about Chris Tomlin at Passion. It's not like somebody goes, "Now everybody, please welcome No. 1 radio single songwriter … blah-blah-blah … Chris Tomlin!" He just gets on the stage with his guitar and starts pointing people to Jesus. That's all Passion cares about.
Is that why your label, sixteps Records, hasn't signed any new artists?
Giglio We're a family. We're not just trying to throw around trendy words. We go away together every year for two or three days in a family vacation. We encourage each other. We build each other up. We see each other as integral parts of this equation. Matt Redman is part of it. John Piper, who has spoken at every major Passion event, is part of it. Beth Moore has been in that same stream. We're not trying to get Beth because she's the hottest woman speaker; she's part of what we do because I know her, and her heart for God and her passion for college students.
So sixsteps, as a label, is not in the business of signing and developing new artists, selling records, sending singles to radio, meeting quotas and bottom lines, and everything else a regular record label does? Or is it really all family, like you say?
Giglio We're both. We are not shying away from success. We're not super-spiritual so as to say, "We don't care about having No. 1 singles or we never look at SoundScan figures." I'm not going to tell you that. These are ways of measuring how well you're moving forward your mission. I love the fact that God has graced our guys with success. You know why? Because it allows us to talk about our message more. Everybody's happy when you have a great message. But in this world, if you're not on the radio and sell records, they're going to patronize you the whole time. But if you can prove that you can succeed, you garner an opportunity to tell your story.
We're a family, yes. If someone doesn't sell enough records on our label, they don't get chopped off. You don't chop off family members, do you? And we're not going to sign ten artists in hopes that one of them could bust out one day and drop the following day. That's not what families do, either.
Families do grow, though.
Giglio Families only have a certain amount of bandwidth. Say you have two siblings. What if I told you that you have to go get seven more brothers and sisters this year, because that's what it says in the business plan. You'd be like, "That's stupid."
But eventually I'm going to have kids, no?
Giglio Eventually, you will. But how many are you going to have? Twenty? Thirty? Forty? No, two or three. That's only how much you can shepherd at the moment. Right now, we have Passion, Matt, Chris, David, and Charlie. That's five kids to shepherd. And a couple of them are blowing up. And there's still a lot of shepherding to be done. But all of them are equally important. Will we sign more artists? I hope so. Do we want to develop more artists? Absolutely.
You said a couple of your artist-worshippers are "blowing up." Is there ever a fear of people coming out to a Passion event to see the artists themselves, instead of to align themselves with what Passion stands for?
Giglio There's always that fear. And it happens. When we go out on tour or go to different cities, there are definitely people who are coming to hear somebody. "We're here to see David Crowder. We don't know what Passion is."
What do you do when that happens?
Giglio You hope you're winsome enough, and that your movement has enough force to hold the audience in the building for three hours, in hopes that they're going to catch the vision of your movement. And if they don't, then your movement is not all that great. I don't mind people coming to see Crowder or Tomlin at a Passion event. I hope that by the time is over, there's a whole lot more to life than that. But I know these guys, and I know they just want to keep pointing people to Jesus Christ. Whether it's Chris, David, or Passion, whoever comes is going to get the same: "It's not about me. It's all about God."
The latest Passion worship album is How Great Is Our God. You can listen to sound clips and purchase it at Christianbook.com. To read our review of it, click here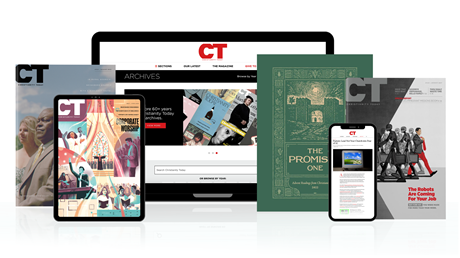 Subscribe to Christianity Today and get access to this article plus 65+ years of archives.
Home delivery of CT magazine
Complete access to articles on ChristianityToday.com
Over 120 years of magazine archives plus full access to all of CT's online archives
Subscribe Now
A Passion for the Christ
A Passion for the Christ