"We have acquired intelligence that our relief groups in Indonesia and some other areas are becoming a possible target of terror attacks," South Korean Foreign Ministry spokesman Lee Kyu-hyung said. In response to the intelligence, South Korea sent out requests to countries where their relief workers are asking them to take security measures for South Koreans, according to the Associated Press.
An un-named ministry official said the government received no specific threat but "the warning was issued as a precaution because of the Christian-leaning of some relief organizations."
Radical Islamic groups have begun relief operations in Indonesia, on the island of Aceh. "The Laskar Mujahidin group, which campaigns for an Islamic state in Indonesia and is fiercely anti-American, established a camp close to hundreds of other local and international volunteers at the military airport in Banda Aceh, beneath a sign in English that reads 'Islamic Law Enforcement,'" writes the AP reporter Chris Brummitt.
"We are here to help our Muslim brothers," said Jundi, a member of Laskar Mujahidin. "As long as [foreign troops] are here to help, we will have no problem with them. There is no need for any friction."
Indonesia is home to the al-Qaeda-linked Jemaah Islamiyah, which is blamed for bombings across Southeast Asia. Jemaah Islamiyah expert Sidney Jones said Laskar Mujahidin was "raising concerns that the presence of U.S. and Australian troops in Aceh to help the humanitarian aid effort masks a hidden agenda" of Christian missions.
"We are very close friends with the military and they have been assisting our efforts to help the Acehnese people by bringing us on their airplanes. I expect we will be here for a very long time," said Hilmy Bakar Almascaty, vice-chairman of the Jakarta-based Islamic Defenders Front, which is coordinating with other radical Islamic groups, according to Toronto's Globe and Mail.
However, the people on the Indonesian island of Aceh, where more than 100,000 people have died, tend to dislike the radical forms of Islam spread from other Muslim nations. "The traditionalist Muslims of Aceh, with their mystical, Sufistic approach to life and faith, are a world away from the fundamentalist Islamists of Saudi Arabia and some other Arab states," says Greg Barton, a professor of politics and author of Indonesia's Struggle: Jemaah Islamiyah and the Soul of Islam.
Writing in The Australian, Barton says, "Perhaps it is for this reason that aid for Aceh has been so slow coming from wealthy Arab nations such as Saudi Arabia." A debate within those Arab nations has been raging over the amount of money they should give. The situation in Aceh shows that the Muslim world is not united under the banner of radical Islam. "There is, thank God, no clash of civilisations in Aceh, but rather a profound expression of our common humanity that speaks of the potential for some enduring good to come out of this appalling tragedy." Maybe the work of Christian relief groups can go a long way toward providing that "enduring good."
More Articles
Church aid:
Area churches help tsunami victims | Less than two weeks after a devastating earthquake and tsunami ravaged parts of Asia, local churches are reaching out to help. (Forest Lake Times, Minn.)
Religious groups play vital role in charitable offerings | Every year, Wooddale Church in Eden Prairie sends $150,000 to humanitarian causes overseas. Since the tsunamis, it has decided that's not enough. The church is embarking on a monthlong campaign to raise another $100,000 from its members to help survivors of the natural disaster in southeast Asia. (Minneapolis Star Tribune)
Bellmores aid tsunami victims | With the death toll nearing 150,000, the South Asia earthquake and resulting tsunamis have galvanized Bellmore parishes in support of the victims of the natural disaster. (New York Herald Community Newspapers)
Bay Area churches quick to provide Good Samaritan aid | Catholics are praying, Mormons are paying, and the Baptists are packing their bags. (San Francisco Chronicle)
Faith-based charities show the value of 'organized religion.' | Of the 23 tsunami-victim aid agencies listed recently in the pages of The Washington Post, The Washington Times, and The Free Lance-Star, at least 10 have explicit moorings in religious faith. (Editorial, The Free Lance-Star, Va.)
Church joins tsunami relief effort | Zion Baptist Church's congregation will be giving money to the Indian Ocean tsunami victims this month. The Ambler congregation will donate the highest Sunday offering in January to relief efforts. (Times Herald, Penn.)
A portrait of compassion | N. Texans brush up on fund-raising skills to assist tsunami victims. Local residents, as well as many community organizations, churches and Texas relief agencies, are pitching in to send money to those in need. (Dallas Morning News)
Ministry & relief:
A heritage of giving | Christians and Disaster Relief (Chuck Colson, Breakpoint)
Tsunami survivors desperate for help, open to gospel (Agape Press)
Compassionate Conservatives? | The right turns tight (The Boston Phoenix)
Government inaugurates committee on tsunami relief | Equating African traditional values of love, compassion and charity which the teachings of Islam and Christianity, Obasanjo stated that Nigerians are obligated by such values to share other people's pain and sorrow in collective action, mutual support and divine intercession. (Nigeria First, Abuja)
Tsunami mobilizes Christians relief | Relief organizations are trying to head off the threat of cholera and malaria epidemics that could break out where water supplies are polluted with bodies and debris. People of faith are stepping up to mercifully help those across the world. (Naples Sun Times, Fla.)
Distant crisis prompts local relief efforts | The killer tidal waves struck the far side of the world, but everyone from private citizens and students to churches, businesses and charity organizations wasted no time launching relief efforts in the Somerset Hills this week. (Bernardsville News, N.J.)
US foreign aid: Do Americans give enough? | Is the US stingy when it comes to foreign aid? The answer depends on how you measure. (Christian Science Monitor)
Not the time for theology debate | With deep regret I must protest your recent editorial attack upon my character (Phillip Jensen, The Australian)
Relief & corruption:
Concerns of possible corruption emerging | As relief officials struggle to reach homeless tsunami survivors, another concern is quietly making the rounds of donor meetings: the threat of corruption. (Boston Globe)
Corruption a two-sided fear for aid groups | Officials concerned that graft could waylay relief - and blunt generosity (Associated Press)
Conspicuous compassion | From the president on down, it has become the stated purpose of our aid not only to help the victims of the tsunami but to establish our credentials as a supremely good guy (Richard Cohen, The Washington Post)
Kidnapping children:
'The men offered to put me in a house and buy me clothes. I ran' | Illegal 'adoption' and paedophile gangs are putting young orphans in peril (The Times, London)
Pope: Trafficking of children vile | Pope John Paul condemned the "vile" trafficking of children and prayed for the youngest victims of the Asia tsunami disaster on Thursday, the Catholic feast day of the Epiphany. (Reuters)
Christians in the region:
India tribe perseveres in deadly tsunami | But survivors among the estimated 30,000-strong tribe have shown courage and resilience in the face of the tragedy, a trait they say came from deep community bonds and centuries of traditions of sharing joy and sadness. "We are good Christians. If we are starving, we are starving. If we have food, we will share. We share everything. Sorrow, sadness, everything.'' (Associated Press)
Catholic Bishops meet President Kumaratunga | President Chandrika Kumaratunga has expressed her appreciation for the humanitarian work carried out by members of the Catholic Church to help victims of the December 26 tsunamis. (Colombo Page, Sri Lanka)
Disaster's far reach | South Asian churches have tapped into their congregational membership lists, funneling the money to relief organizations or Christian groups working in the countries affected (The Boston Globe)
Theodicy:
Disaster ignites debate: 'Was God in the tsunami?' | I would propose a truce between believers and unbelievers so they can stop fighting over the credit for the goodness of the rescue workers, whether it should be assigned to God or to man, so that we can remove God—and the critique of God—from the equation entirely for a while and save our energy to support the recovery unencumbered by this perennial debate, however important and profound (Ron Rosenbaum, New York Observer)
Message from God in the flood? | Religious leaders discern widely differing meanings in the Indian Ocean tsunami - and the human response to it. (The Philadelphia Inquirer)
Angry with God | Calling God to account, arguing with him when He seems to be acting unjustly, has deep roots in Judeo-Christian faith. (Jeff Jacoby, The Boston Globe)
Don't blame God for tsunami casualties | "What sort of God would have let this happen?" is one example of the wrong question. First, it is a perfect example of narcissism. (Rabbi Daniel Lapin, Jewish Press)
Blaming the victims: An ecumenical disaster | While the death tolls are still mounting from last week's catastrophe in the Indian Ocean, some prominent religious leaders haven't wasted any time engaging in politicking and opportunism. Last Thursday, Rev. Sam Kobia, general secretary of the World Council of Churches, and Rev. Ishmael Noko, general secretary of the Lutheran World Federation, issued statements rebuking the United States, among other nations, for not signing on to the Kyoto protocol. (Jordan Ballor, Acton Institute)
Why did God allow this disaster? What a silly question | It's a silly question because mankind has been asking it since time immemorial every time something nasty happens and no one has ever been able to give a satisfactory answer. (Garth George, New Zealand Herald)
Of sufferings and destruction | Christianity, however, does not equate misfortune with malfeasance. Nor do its believers point a finger to God as the author of unfortunate happenings. God they believe is a loving God. He cares for his children as a human father cares for the boy or girl he sires. (E.C. Dioko, The Freeman, Philippines)
The bishop who believed | Nowhere at any point did the story suggest that Rowan Williams was questioning God's existence. (David McKie, The Guardian, UK)
The Anglican Church—out of touch, out of hope? | I am no biblical scholar, but if his God wantonly and cruelly kills tens of thousands of innocent men women and children, the vast majority of whom are poor, then my God is a different one! (Outside Centre, Crikey, Australia)
The Almighty has his purpose | Throughout the United Kingdom, following the Christmas tsunami that killed at least 150,000 people and changed the lives of their surviving relatives forever, some are asking how a "loving" God, if He exists, could allow such a catastrophe to happen. (Cal Thomas)
We are all diminished by this global catastrophe | When people ask where is God in all this, and as Christians we must ponder and answer truthfully, we believe He is a God within each one of us and so He is grieving with the bereaved, aiding all who struggle to help them and He is also present in the hearts of all of us who reach for our wallets, purses and cheque books to give as unstintingly and generously as we are able. (Margery Railton, Whitehaven News, UK)
Tsunami disaster proves we're all in this together | Somehow I doubt the thousands of Hindus, Buddhists, Muslims, Jews and Christians who died on the 26th cared that, the day before, so many Americans were obsessed with whether we should say "Merry Christmas" or "Happy Holidays." (Pierre M. Atlas, Indianapolis Star)
Prayers & memorials:
Sydney service remembers tsunami victims | Leaders from the Muslim, Christian, Hindu, Buddhist, Sikh and Jewish faiths all attended and called for unity. (ABC Online, Australia)
Aid efforts: Tsunami catastrophe unites different religions in Sri Lanka | A group of students led by Christians, Catholics and Buddhists on the way to the airport in Colombo have attempted to collect money for the people hit by tsunami with hymns and flags in their hands. (Journal of Turkish Weekly, Turkey)
Pilots help stricken village | A Redlands nonprofit is the first to reach an isolated, hard-hit Indonesian area. Halfway around the world, Redlands-based missionary pilots are landing on a remote road to deliver relief supplies for Indonesian disaster victims who spent a week without food. (The Press-Enterprise, Calif.)
Thousands from many faiths light candles, chant to mourn tsunami victims | Under a gray sky patched with the pink of sunset, thousands of people in a soccer stadium lit candles and released paper lanterns that floated to the heavens Wednesday as Christians, Muslims and Buddhists mourned victims of the tsunami in this ravaged resort. (Associated Press)
Millions of silent prayers for the victims | Heathrow airport fell silent, ferries at Dover came to a halt and radio stations went off the air or played solemn music yesterday as Britain paid tribute to victims of the tsunami disaster (The Telegraph, London)
Europe comes to a standstill in memory of victims | Millions heed call for three-minute silence (The Guardian, London)
Three-minute silence for victims | Millions of people across the UK and Europe have observed a three-minute silence on Wednesday to remember the 150,000 killed by the Asian tsunami (BBC)
Victorians flock to places of worship | Churches and cathedrals throughout the city have been busier than usual over the past 10 days, according to Melbourne clerics, as Victorians flock to places of worship to pray for victims of the tsunami disaster and their families (The Age, Melbourne, Australia)
More articles:
By Jupiter, the astrologers missed a trick | Why, many formerly trusting followers of horoscopes may be asking, was this colossal event not presaged in the stars? (Catherine Bennett, The Guardian, London)
Spare us this disaster drivel | Scientist and philosophers are waving the shrouds of thousands of victims as a debating trophy (Gerard Baker, The Times, London)
Tsunami disaster engages questions of faith | Story ideas and resources for covering the story for religion reporters (ReligionLink, Religion Newswriters Association)
Related Elsewhere:
Suggest links and stories by sending e-mail to weblog@christianitytoday.com
Check out Books & Culture's weekly weblog, Content & Context.
See our past Weblog updates:
January 5a | 5b |4a | 4b
December 23 | 22 | 21
December 17 | 14b | 14a
December 10 | 9 | 7 | 6
December 3 | 2 | 1
November 24 | 23 | 22
November 19 | 18 | 17 | 16
Weblog
Launched in 1999, Christianity Today's Weblog was not just one of the first religion-oriented weblogs, but one of the first published by a media organization. (Hence its rather bland title.) Mostly compiled by then-online editor Ted Olsen, Weblog rounded up religion news and opinion pieces from publications around the world. As Christianity Today's website grew, it launched other blogs. Olsen took on management responsibilities, and the Weblog feature as such was mothballed. But CT's efforts to round up important news and opinion from around the web continues, especially on our Gleanings feature.
Ted Olsen is Christianity Today's executive editor. He wrote the magazine's Weblog—a collection of news and opinion articles from mainstream news sources around the world—from 1999 to 2006. In 2004, the magazine launched Weblog in Print, which looks for unexpected connections and trends in articles appearing in the mainstream press. The column was later renamed "Tidings" and ran until 2007.
Previous Weblog Columns: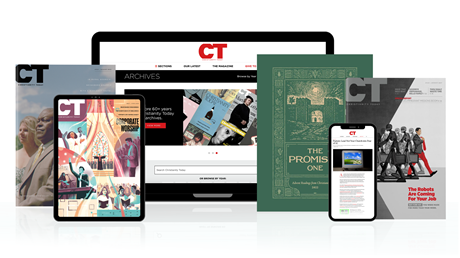 Annual & Monthly subscriptions available.
Print & Digital Issues of CT magazine
Complete access to every article on ChristianityToday.com
Unlimited access to 65+ years of CT's online archives
Member-only special issues
Subscribe
Tsunami Weblog: S. Korea Worries Christian Relief Groups May Face Terror Attacks
Tsunami Weblog: S. Korea Worries Christian Relief ...