true
Clichés are usually clichés because they're true, and formulas are generally formulas because they work. Dreamer, the new equestrian movie from DreamWorks, is loaded with enough clichés and formulas to choke a horse. But truly, it works. Kids who haven't seen many other horse movies will find the story thrilling; adults will likely find it engaging in a nostalgic sort of way.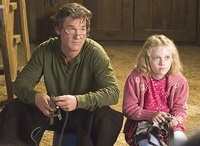 Ben Crane (Kurt Russell) has the only horse farm in Kentucky that is devoid of even a single horse. Hard times have forced him to sell off the property, piece by piece, and all he has left is the land his house and ramshackle barn stand on. With no animals of his own, Ben is forced to use his gift for horse training to produce winning racers for Nasty Rich Guys (including a petulant prince obsessed with finding horses to beat his brother's stallion). The whole state of affairs has Ben distracted and more than a little grumpy. His long-suffering wife Lily (Elizabeth Shue) seems willing to roll with the punches (and take extra shifts at the local diner to help make ends meet), but Ben's young daughter Cale (Dakota Fanning) is a bundle of worry and longing. She wants a horse on the Crane Farm almost as desperately as she wants a relationship with her dad.
Estranged family relationships come naturally to Ben, who is barely speaking to his own father (Kris Kristofferson), even though they live side-by-side on the same bit of remaining Crane property. Both men have the horse business in their blood, both have been burned by it, and neither one is willing to stop blaming and avoiding the other. The only common ground they can admit to is their love for Cale.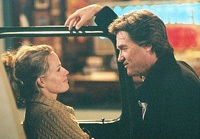 The family's fortunes begin to change the morning Cale insists that her father take her to work with him. It happens to be the day of a big race, and Ben is overseeing the well-being of a horse with enormous promise name Sonador (Sonya for short). Sonya has a very good shot at winning the day's race, but something is wrong. She's favoring a knee and acting skittish, and after Ben has a good talk with her (think The Horse Whisperer), he becomes convinced that she shouldn't race. He's overruled by his arrogant and opportunistic boss, Mr. Palmer (David Morse), and tragedy ensues. When Sonya goes down with an apparently career-ending injury, Palmer orders her destroyed. Not wanting Cale to witness the procedure, Ben delays and eventually refuses his bosses' wishes, losing his job in the process. Against his better judgment (and swayed by the heartbroken compassion of his daughter), he negotiates the right to keep Sonya as part of his severance pay, and before he knows it the Crane Horse Farm has a very injured horse in its stables. The miraculous recovery of the horse—and of the family who loves her—provides the predictable but effective narrative arc of the rest of the movie.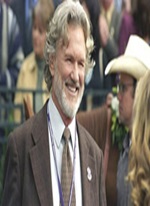 John Gatins, an experienced screenwriter (Coach Carter, Hardball), makes his directorial debut with Dreamer. Gatins points to the true-life comeback of an injured racehorse named Mariah's Storm as his inspiration, but most of the plot twists in Dreamer seem to come from the pantheon of previously-told horse stories. An injured but courageous animal … A trainer/owner who needs to believe in dreams again … A talented but traumatized jockey who may never return to the track … Dreamer is virtually surprise-free, and it's tempting to re-subtitle the film Inspired by a True Story and Also That Seabiscuit Movie. But, to be fair, long before Seabiscuit, there were three National Velvets and no less than five Black Stallion films. It seems there are some stories we don't mind hearing again and again.
If Gatins' familiar (and sometimes oddly plodding) script is salvaged by the reliable power of any good Underdog Story, it's elevated by an exceptional cast. Originally written as a boy-and-his-horse tale, Dreamer was adapted in order to feature Fanning (and secure studio support in the process). Fanning (War of the Worlds, Cat in the Hat) has taken the place of the now-relatively-aged Haley Joel Osment as Child-Actor-Du-Jour, and she would run the risk of over-exposure if she weren't so freakishly good in every role she plays. (Her recent turn in a very different movie, Nine Lives, placed her opposite consummate actor Glenn Close—and Fanning held her own in every respect). Fanning is Dreamer's emotional center and manages to be an empathetic and endearing protagonist without any cloying cutesy-ness. Russell is equally compelling, and Kristofferson is an inspired choice as his father—when both actors are in the same shot, it's hard to believe that they aren't actually related. Shue brings more warmth to Lily than the flimsy script deserves, and even the horse is effective. (Sonador is actually played by three horses and several other stunt-double animals, but the portrayal is convincing.)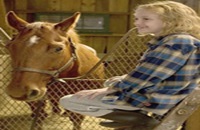 Early in the movie Cale learns that Sonador is Spanish for "dreamer," and the film gives a lot of dialogue time to the idea that dreams—whether they're obtainable or not—are essential to the human spirit. Again, Gatins is covering some pretty familiar territory. But a more compelling theme developed in Dreamer is the power found not in dreaming a dream, but in sharing it with the people you love. When Cale and her dad and her crusty old grandpa all let themselves hope for the same thing, and when they work hard toward achieving it together, the story's magic and the film's best moments happen. We are reminded that it is the dreams that take us outside of ourselves and unite us to each other that matter most. Maybe we've heard that before, but it's an idea worth hearing again.
Talk About It
Discussion starters
Lily tells Ben it's not important that Cale's dream come true, only that she be permitted to dream it. Do you agree with that idea? Discuss.


Gambling plays a big role in

Dreamer

—not only in terms of literal wagering at the track, but also in terms of the risks Ben must take to potentially rebuild his farm. What level of risk do you think is acceptable in any business or endeavor (see Matt. 25:14-30)?


The Crane family is healed and strengthened less by analyzing their relationships and more by being united in a common mission. Can you think of one venture or goal your family could share in the next month?


The Family Corner
For parents to consider
Dreamer is rated PG for some mild cursing. The scene in which the horse is injured may be disturbing to very young or sensitive viewers. There is an extended subplot about animal breeding—it's handled matter-of-factly and without any specific details, but parents of perceptive kids may find themselves fielding some birds-and-bees questions. On the whole, Dreamer is a wholesome film that affirms the importance of family.
Copyright © 2005 Christianity Today. Click for reprint information.
What Other Critics Are Saying
compiled by Jeffrey Overstreet
from Film Forum, 10/27/05
America's biggest little superstar, 11-year-old Dakota Fanning, has had quite a year. She's been in Hide and Seek, War of the Worlds, Nine Lives, and she'll star in the upcoming adaptation of Charlotte's Web.
And now she's starring in a film about a girl who works out some tough issues with her father, even as she helps an underdog (underhorse?) come back to compete on the racetrack again. Dreamer: Inspired by a True Story co-stars Kurt Russell, and is directed by Coach Carter's John Gatins.
Article continues below
The film is full of familiar material, but Christian critics don't mind too much. They're just happy to have a well made, clean, appealing family film on the big screens.
Carolyn Arends (Christianity Today Movies) writes, "Clichés are usually clichés because they're true, and formulas are generally formulas because they work. Dreamer … is loaded with enough clichés and formulas to choke a horse. But truly, it works. Kids who haven't seen many other horse movies will find the story thrilling; adults will likely find it engaging in a nostalgic sort of way."
David DiCerto (Catholic News Service) says it's "one of the better family films of the year. … Familiar plot notwithstanding, with its wholesome charm, unapologetic sentimentality and themes of family love and holding on to your dreams, Dreamer is a sure bet to win your heart."
"It's refreshing to watch a family movie that doesn't pander," says Steven Isaac (Plugged In). "All too often well-intentioned films inject characters who flail about with unnatural wackiness in an effort to create diversions for young viewers. Thus, stories are sometimes driven into the ground with senseless subplots and silly shenanigans. Dreamer, rather, aims to draw in young minds by empowering them. … So, despite its macro-plot similarities to the likes of Seabiscuit, Dreamer ends up, to its benefit, charting its own path, and it does so with grace and style."
Lisa Rice (Crosswalk) says it will "strike a deep chord with anyone who has been broken by shattered dreams and is desperate for restoration. … When common themes are splashed throughout so much of television and the movies, it's worth it to sit up and take note. Perhaps this is the day of God's restoration, and perhaps even the secular media is tuning in and portraying His heart through the arts."
Keith Howland (Christian Spotlight) says, "The outcome of this film will not surprise anyone. But that does not matter. What matters is that it ends the way you want it to. It is told with such unblushing conviction (and with such gorgeous horses and scenery), that its intended audience should be satisfied. This is not a film for the cynical; it is a film for all who believe in long shots and second chances … and who doesn't?" He concludes, "This film is refreshingly inoffensive."
Many mainstream critics groan about the sentimentality and the clichés—but recommend it anyway.
from Film Forum, 11/03/05
Cliff Vaughn (Ethics Daily) says this family film starring Dakota Fanning and Kurt Russell is "the latest in a line of recent horse films like Seabiscuit and Racing Stripes, though Dreamer is tonally much more like the former—and just as satisfying."
Browse All Movie Reviews By: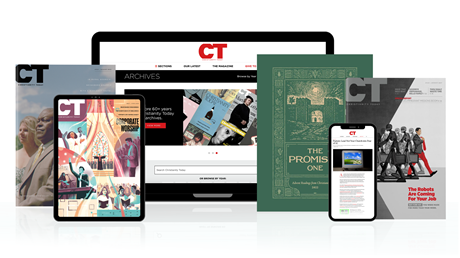 Subscribe to Christianity Today and get access to this article plus 65+ years of archives.
Home delivery of CT magazine
Complete access to articles on ChristianityToday.com
Over 120 years of magazine archives plus full access to all of CT's online archives
Subscribe Now
Dreamer: Inspired by a True Story
Dreamer: Inspired by a True Story