London's churches respond to terrorist attacks
Immediately after yesterday's transportation bombings, St. Paul's Cathedral closed to tourists, but remained open to anyone who wanted to pray there. One wonders, at such a time, are there any who would visit a church merely for sightseeing purposes?
Churches around the city opened their doors to the grieving and frightened, though there's no word yet on attendance at last night's prayer vigils and special services. The churches closest to the blasts, meanwhile, became relief centers, offering assistance and a home base for both injured commuters and rushing emergency workers.
The church most involved seems to be East London's St. Botolph's Church in Aldgate, which stands next to the station where the first Underground bomb exploded.
"Within minutes fire fighters and other emergency operatives were using the office of the rector of St. Botolph's, the Rev. Brian Lee, to coordinate their activities," reports the British Christian site Ekklesia. "This became necessary because of the blocking of mobile phone services by the authorities, aimed partly at preventing the detonation of another bomb."
The Times reports that St. Botolph's stayed open all night for those unable to get home. There's no word yet on how many people took advantage of the offer.
Most of the British papers today round up reactions from Britain's religious leaders, including Archbishop of Canterbury Rowan Williams, Anglican Bishop of London Richard Chartres (who also preached last night), Roman Catholic Cardinal Cormac Murphy-O'Connor, the Muslim Council of Britain's Iqbal Sacranie, Chief Rabbi Jonathan Sacks, and others.
Williams also gives a special "Thought for the Day" on BBC's Radio 4 today (text | audio). "The only finally adequate response to terror and evil is to gather ourselves like this—to reach down into what feeds the roots of our spirit, trusting that justice, mercy, and joy are never going to be silenced or paralyzed," he says.
The Vatican also released a statement.
London church leaders are also urging their members not to see Islam as the enemy, and not to seek vengeance upon Britain's Muslim community, "Living near most of us will be families who are quite worried that they may be identified with a terror attack simply because they are from another faith," Bishop of Lichfield Jonathan Gledhill said last night, according to Ekklesia. " I want us to do what we can to reassure them that we recognize that just as the IRA has nothing to do with Christianity, so this kind of terror has nothing to do with any of the world faiths."
The ecumenical organization Churches Together in Britain and Ireland released a joint statement with the Muslim Council of Britain, decrying the attacks.
More articles
G8:
Can rockers and religious leaders end poverty? | A coalition of the glamorous and the pious see a golden opportunity (Beliefnet)
'As we forgive our debtors' | Can the true spirit of debt forgiveness be fulfilled if strings are attached by the creditor? Religious thinkers weigh in, as G-8 leaders consider relief for debtor nations (The Christian Science Monitor)
Evangelicals abandon stereotypes to pursue array of social issues | Encouraged by a new statement on broader civic obligations from the National Association of Evangelicals, they are turning their attention to such issues as poverty, peacemaking, environmentalism and the burdensome debt carried by developing countries — issues some evangelicals have always cared about but that now are getting broader attention (The Kansas City Star)
Politics:
To the extreme | Bipartisanship isn't dead. It's merely different (Kal Raustiala, The New Republic)
Labor needs soul to win conservative hearts | The party can find common ground with Christians and still stay true to itself (Marion Maddox, The Sydney Morning Herald)
A hard evening on Hardball | In politics we have to be careful about declaring what is the will of God. (Tony Campolo, The Huffington Post)
Billy Graham's final crusade | In a time of shrill and divisive religious rhetoric, Graham's simple message of faith rings with refreshing authenticity (James L. Evans, Sightings)
Court battle:
Bush's grievance | It would be naive to suppose that the clamor from the right will not weigh in his judgment. But my strong impression is that the constituency that is most important is the one inside the White House -- the people who share and, I believe, reflect the president's own deep sense of grievance about the Democrats' past treatment of his judicial nominees (David S. Broder, The Washington Post)
Bush answers Gonzales critics | President decries attacks from right, says character will guide nomination (The Washington Post)
Divisive issue is decisive for some | Abortion drives wedge between conservatives and Gonzales (The Washington Post)
The next Sandra Day | Harry Reid may be willing to give up Roe v. Wade to get a trial lawyer on the Supreme Court (Walter Olson, The Wall Street Journal)
Timing on court nominee called key | Republicans warn early Bush pick could draw attacks (The Boston Globe)
Life ethics:
Abort, retry, fail | Steven Levitt and Stephen Dubner's argument about abortion and crime is a lively read. But it's morally rotten to the core (Jeremy Lott, Beliefnet)
In-vitro new front in embryo war | Right-to life battle lines may be shifting to fertilized frozen embryos, which have helped millions of women conceive (Chicago Tribune)
Eyes on Romney as morning-after pill okayed | House approves bill increasing access (The Boston Globe)
Plan B for Plan B | The FDA's refusal to issue a decision on Plan B reflects the influence of the Christian right over Bush Administration policy (Ayelish McGarvey, The Nation)
Catholicism:
Vatican criticizes Catholics on communion | The Vatican singled out divorcees who remarry and Catholic politicians who support abortion on Thursday in criticizing the faithful who continue to receive Holy Communion while in a state of mortal sin (Associated Press)
Catholics cannot support abortion rights-Vatican | The Vatican on Thursday said too many Roman Catholics were not taking their religion seriously and that those faithful who receive communion and still support abortion rights were behaving scandalously (Reuters)
Itzik invites pope during 'warm, informal' visit | Benedict said he was "very happy" to receive the invitation and that although his schedule was very tight, visiting Israel would certainly be "a priority" for him (The Jerusalem Post)
Abuse:
Stokes decries decision not to retry Blackwell | Dontee Stokes said yesterday that because a former West Baltimore priest—whom he accused of molesting him and later shot—will not face a retrial, "There is no safe haven within the system" for sexual assault victims (The Baltimore Sun)
Also: Lack of retrial for ex-priest decried | Md. man who shot alleged abuser rejects 'poor excuses' (The Washington Post)
Ex-Catholic priest receives life sentence | A former Roman Catholic priest was sentenced to life in prison for sexually assaulting an 18-year-old former parishioner who said he was too drunk following a wedding party to defend himself (Associated Press)
Crime:
Teenage girl attacked by church trio | A pastor and two Bible studies teachers bashed a 19-year-old Korean girl because they thought she had been disrespectful to her parents and had stopped attending church (News.com.au, Australia)
Victim of a Bible bashing | The brutal beating left her with deep purple bruises all over her body but a priest and two Bible studies teachers claim they were just trying to "help" the girl realize she should go to church (The Daily Telegraph, Australia)
Thousands are arrested in India in unrest over temple site | Demonstrators on Wednesday protested an attack on a disputed religious site that has emerged as India's most potent symbol of sectarian strife (The New York Times)
Billy Graham's daughter arrested | Pastor's eldest, 59, in Florida domestic violence bust (The Smoking Gun)
Church life:
Parish split on serving as sanctuary | Homeless woman asked to leave Holy Rosary's loft (The Boston Globe)
Motorcycle church seeking highway to heaven | Members of evangelical congregation take their faith and love of riding on the road (The Boston Globe)
Churches find a fair trade in coffee sales | More of proceeds funneled to growers, not importers (The Boston Globe)
Greek Patriarchate to select replacement for ousted Irineos I | The Greek Patriarchate in Jerusalem announced Wednesday that it will be selecting a new patriarch to replace Irineos I, who was ousted by the church's institutions (Haaretz, Tel Aviv)
Kids are on song with Jesus Christ, superheroes | Batman and Spider-Man lead the chant: "Jes-us, Jes-us, Jes-us." (The Sydney Morning Herald)
Elizabethtown Christians leave Episcopal Church | Ties are cut over ordination of gay bishop (Associated Press)
Caught between the cross and the comma | UCC denomination addresses identity (Religion News Service)
Anglicans gather to choose conservative, moderate, or middle path | At a time of internal dissent in the worldwide communion, there are six contenders (The Sydney Morning Herald)
Scientology:
War of two religious worldviews | The recent debate between Tom Cruise and Brooke Shields illuminates two important First Amendment issues: freedom of religion and freedom of the press (Keith Hoeller, The Washington Times)
Cruise lends Hollywood hype to Scientology | Hubbard died in 1986, but his church has continued to find believers and court controversy (Associated Press)
Evolution:
Evolutionary war | Do leading conservative pundits and thinkers believe in evolution? We asked them (The New Republic)
Finding design in nature | The Catholic Church's official stance on evolution (Christoph Schönborn, The New York Times)
Sex ed:
Sex and significance | How the Heritage Foundation cooked the books on virginity (Jordan Ellenberg, Slate)
Parents to be on sex-ed panel | The Montgomery Countyboard voted to allow groups such as Citizens for a Responsible Curriculum (CRC) and Parents and Friends of Ex-Gays and Gays (PFOX), both of whom have a guaranteed seat on the panel, to submit one nominee and two "alternates." (The Washington Times)
Same-sex marriage:
Same-sex church vote no surprise | It was a historic vote - momentous even, but hardly unexpected, local United Church of Christ leaders said of the national denomination's overwhelming endorsement of same-sex marriages (The Republican, Ma.)
UCC vote to affirm gay marriage will aid church | The reports of the death of liberal Protestantism have been wildly exaggerated (Warren Goldstein, Minneapolis Star-Tribune)
Beyond gay marriage | By engaging the marriage debate only in terms of "gay rights," progressives have put themselves in a losing position (Lisa Duggan & Richard Kim, The Nation)
Israel:
Jewish group sues area evangelist | $9 million suit says K.A. Paul's aid agency violated a contract to fly members to Israel (Houston Chronicle)
Mideast divestment movement picks up steam | United Church of Christ votes to use 'economic leverage' to promote peace between Israel and Palestinians (The Christian Science Monitor)
Talk to the laity | Engaging Protestant leaders in dialogue has not succeeded in preventing political attacks on Israel (Editorial, The Jerusalem Post)
Korean Christians urged to avoid Holy Land | The government appealed for restraint on Thursday after Evangelical groups pushed mass events in Jerusalem and several Korean missionaries were picked up in Afghanistan (Chosun Daily, South Korea)
Business & media:
Christians put faith in marketing | Independent Christian retailers are seeking more visible storefronts, focusing more on marketing and even slashing prices as they contend with new forms of competition in their once-protected industry (The Denver Post)
Christian rock industry going strong after 40 years | Late last month in his hometown of Salem, Oregon, Larry Norman gave his last U.S. concert (Voice of America)
Christian video games make old testament fun | There is an emerging trend of Christian Video games that although far behind the secular games in quality, claim to be free of the moral problems Christians have with games such as Halo and Playboy Mansion (Australian Broadcasting Corp.)
The A-Team of collectors | Mr. T as moral compass. (The Washington Post)
Sincere 'Altar Boyz' transcends faith | Here, just west of Manhattan's theater district -- possibly the bluest enclave of the bluest island in a decidedly blue state -- you might expect a show that openly mocks religion. "Altar Boyz," however, is disarmingly sincere. The five Boyz come across as devoted to their message. For the most part, theirs is a musical that does not wink at its audience (Associated Press)
Other stories of interest:
Religion news in brief | NCC opposes U.S. Iraq policies, UCC reaffirms its "faith in Jesus Christ", and other stories (Associated Press)
Miracle worker | The Basilica of St. Nicholas in Bari, visited for centuries by both Catholic and Orthodox pilgrims, brings its treasures to Moscow (The Moscow Times)
The censoring of our museums | Certain artefacts in the British Museum are deemed to have such religious significance that the director himself cannot examine them, and Australian male totems are barred from female eyes at the Hancock Museum in Newcastle. Faith sensitivity is endangering free access to our collections (Tiffany Jenkins, New Statesman, U.K.)
Cleansing body and soul | Faith healing gaining among state's Hispanics (Rocky Mountain News, Denver)
Related Elsewhere:
Suggest links and stories by sending e-mail to weblog@christianitytoday.com
See our past Weblog updates:
July 7 | 1 | June 30 | 27
June 24 | 23 | 20
June 17 | 16 | 15 | 14
June 10 | 9 | 3 | 2 | May 31
May 27 | 26 | 24 | 23
Weblog
Launched in 1999, Christianity Today's Weblog was not just one of the first religion-oriented weblogs, but one of the first published by a media organization. (Hence its rather bland title.) Mostly compiled by then-online editor Ted Olsen, Weblog rounded up religion news and opinion pieces from publications around the world. As Christianity Today's website grew, it launched other blogs. Olsen took on management responsibilities, and the Weblog feature as such was mothballed. But CT's efforts to round up important news and opinion from around the web continues, especially on our Gleanings feature.
Ted Olsen is Christianity Today's executive editor. He wrote the magazine's Weblog—a collection of news and opinion articles from mainstream news sources around the world—from 1999 to 2006. In 2004, the magazine launched Weblog in Print, which looks for unexpected connections and trends in articles appearing in the mainstream press. The column was later renamed "Tidings" and ran until 2007.
Previous Weblog Columns: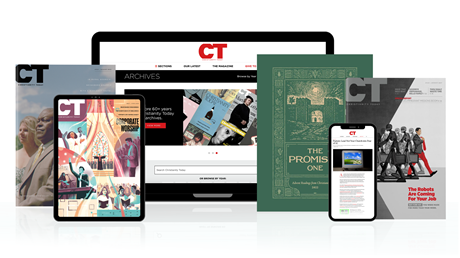 Subscribe to Christianity Today and get access to this article plus 65+ years of archives.
Home delivery of CT magazine
Complete access to articles on ChristianityToday.com
Over 120 years of magazine archives plus full access to all of CT's online archives
Subscribe Now
London Church Doors Flung Open After Attacks
London Church Doors Flung Open After Attacks