It was a "textbook case" of how to deal with a hostage-taker. Ashley Smith talked shooting suspect Brian Nichols into turning himself in. After several hours in her apartment, Nichols allowed Smith to leave, and she immediately called the police.
"To avoid this thing becoming even more crazy, it wasn't a question of who was right or wrong, but how do we get this thing taken care of, managed, so nobody else gets killed?" Robert Benjamin, a veteran conflict negotiator in Portland, Oregon told The Christian Science Monitor. "And her deft touch, unstudied as it was, was quite frankly a moment of brilliance."
Reading Smith's account of the story, it's clear that sharing her faith with Nichols did much to help them both get through the situation safely.
We went to my room. And I asked him if I could read.
He said, "What do you want to read?"
"Well, I have a book in my room." So I went and got it. I got my Bible. And I got a book called The Purpose-Driven Life.
I turned it to the chapter that I was on that day. It was Chapter 33. And I started to read the first paragraph of it. After I read it, he said, "Stop, will you read it again?"
I said, "Yeah. I'll read it again."
So I read it again to him.
It mentioned something about what you thought your purpose in life was. What were you—what talents were you given? What gifts were you given to use?
And I asked him what he thought. And he said, "I think it was to talk to people and tell them about you."
As Nichols began to open up to Smith, she told him about her life. Smith's husband was murdered four years ago. "As a teen, she was arrested for shoplifting and was on probation for a year. Later came arrests for drunken driving, speeding, and battery," according to CBS News.
Two days before, Smith moved into the apartment where Nichols held her hostage. She works two jobs and recently completed a medical assistant course. Smith was returning from a store at 2:30 a.m. when Nichols held a gun to her back and forced her into the apartment. But by 9 that morning Smith convinced Nichols to allow her to pick up her daughter from AWANA, according to Baptist Press.
Smith said she wanted to gain his trust, and the two talked for several hours. She even made him pancakes for breakfast. "He said he thought that I was an angel sent from God," Smith said. "And that I was his sister and he was my brother in Christ. And that he was lost and God led him right to me to tell him that he had hurt a lot of people. And the families—the people—to let him know how they felt, because I had gone through it myself."
Smith even showed Nichols her husband's autopsy report. "That's what a lot of people will have to go through now, because of what you've done," she told him. "You need to turn yourself in. No one else needs to die, and you're going to die if you don't."
She helped Nichols believe in something beyond his immediate situation. "After I started to read to him, he saw—I guess he saw my faith and what I really believed in. And I told him I was a child of God and that I wanted to do God's will. I guess he began to want to."
Over breakfast, Smith said, "I just talked with him a little more … we pretty much talked about God … what his reason was, why he made it out of there.
I said, "Do you believe in miracles? Because if you don't believe in miracles—you are here for a reason. You're here in my apartment for some reason. You got out of that courthouse with police everywhere, and you don't think that's a miracle? You don't think you're supposed to be sitting here right in front of me listening to me tell you, you know, your reason here?"
I said, "You know, your miracle could be that you need to—you need to be caught for this. You need to go to prison and you need to share the Word of God with them, with all the prisoners there."
Smith has already been offered book and film deals. H.B. London, vice president for ministry outreach/pastoral ministry at Focus on the Family said, "Every Christian organization in the country will want to tell her story" as an example of "how God can sustain a person in a time when most people would have crumbled."
"This is, I would say, one of the more dramatic, if not the most dramatic [testimonials] I'm aware of," Vicki Cessna, spokeswoman for Zondervan told the Los Angeles Times. "Obviously the book has had far-reaching, life-changing influences for millions of people. We're just honored that this in any way helped facilitate a positive outcome for Ashley."
"She epitomizes the many Americans clinging to the edge of the middle class, working multiple jobs, making mistakes, finding loss and redemption, and enduring tragedy, all while looking for wisdom and comfort in self-help books and Scripture," writes The Christian Science Monitor. The paper continues:
Smith's more humanist reaction reminds some observers of Terry Waite, who negotiated the release of two Anglican priests from Libya, and of hotel manager Paul Rusesabagina, who saved hundreds of lives through negotiation during the Rwandan genocide, in a story that inspired the movie Hotel Rwanda. In those cases, common men became forces to reckon with by virtue of their astute perceptions of human behavior. Authenticity and self-knowledge, not brute force, are key attributes to solving the stickiest standoffs, negotiators say.
"Our culture trains us to make an argument to overwhelm the other side, not to listen to what the other person is saying," says Mr. Benjamin in Portland. In contrast, "[Smith] practiced negotiation at its most noble, artful way."
So, before the SWAT team surrounded the apartment complex with guns, Smith had defused the situation with love. In fact, when Nichols left her, untied, with ready access to guns, and when Smith followed Nichols in her own car while he ditched his stolen truck, Smith declined to take the opportunity to free herself. Instead she hoped to convince Nichols to turn himself in without hurting anyone else. "For a country used to getting things done with overwhelming force, it was a humbling lesson in Peacemaking 101," writes the Monitor.
Her account makes a great illustration of how God works in our lives, and it ought to be told, as London suggests. Hopefully it doesn't become a clichéd Hollywood story of faith, courage, and hope, because it is a beautiful illustration of the Sermon on the Mount.
Jesus says, "You have heard that it was said, 'Eye for eye, and tooth for tooth.' But I tell you, Do not resist an evil person. If someone strikes you on the right cheek, turn to him the other also. … I tell you: Love your enemies and pray for those who persecute you."
As Dallas Willard says, Jesus was a pretty smart guy, huh?
Related Elsewhere:
News stories elsewhere include:
Ex-hostage: 'I wanted to gain his trust' | Authorities say courthouse shooting suspect Brian Nichols held Ashley Smith hostage for hours in her suburban apartment northeast of Atlanta before she was able to get away and call 911. On Sunday, Smith, 26, recounted her ordeal to reporters in her attorney's office. (CNN, March 14, 2005)
'I felt really, really scared' | Hostage says she gained trust of Atlanta killings suspect (CNN, March 14, 2005)
'I believe God brought him to my door' | Taken hostage in her home, Duluth woman shared her life, faith (The Atlanta Journal-Constitution, March 14, 2005)
Hostage Has Had 'Tough' Life | Ashley Smith, the hostage who turned in the suspect in the Atlanta courthouse shootings, didn't always make the right choices. (CBS News, March 14, 2005)
Article continues below
'I feel like I met him for a reason' | When Brian G. Nichols came to the door of Smith's apartment in Duluth early Saturday morning, on the run from a shooting rampage that had killed four people, Smith's gentleness and inner strength became her salvation. They contributed to Nichols' peaceful surrender seven hours later. (The Atlanta Journal-Constitution, March 14, 2005)
For Captive, Book Offers New Purpose | Ashley Smith's ordeal is seen as a testimonial to Orange County Pastor Rick Warren's bestseller. (Los Angeles Times, March 14, 2005)
Out of violent rampage, a parable of faith and calm | She has become an overnight hero, an instant celebrity in a media age when the nation seems to need something to feel good about. Ashley Smith, the blond waitress with the calm voice and seemingly infinite poise, has become Jessica Lynch with a crystalline memory and perhaps a less choreographed narrative. (The Christian Science Monitor, March 14, 2005)
Weblog
Launched in 1999, Christianity Today's Weblog was not just one of the first religion-oriented weblogs, but one of the first published by a media organization. (Hence its rather bland title.) Mostly compiled by then-online editor Ted Olsen, Weblog rounded up religion news and opinion pieces from publications around the world. As Christianity Today's website grew, it launched other blogs. Olsen took on management responsibilities, and the Weblog feature as such was mothballed. But CT's efforts to round up important news and opinion from around the web continues, especially on our Gleanings feature.
Ted Olsen is Christianity Today's executive editor. He wrote the magazine's Weblog—a collection of news and opinion articles from mainstream news sources around the world—from 1999 to 2006. In 2004, the magazine launched Weblog in Print, which looks for unexpected connections and trends in articles appearing in the mainstream press. The column was later renamed "Tidings" and ran until 2007.
Previous Weblog Columns: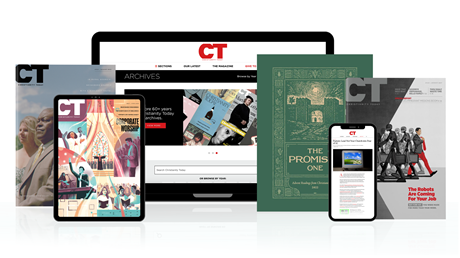 Subscribe to Christianity Today and get access to this article plus 65+ years of archives.
Home delivery of CT magazine
Complete access to articles on ChristianityToday.com
Over 120 years of magazine archives plus full access to all of CT's online archives
Subscribe Now
Is Ashley Smith's Hostage Story a Testimonial?
Is Ashley Smith's Hostage Story a Testimonial?