My own history with chastity is nothing to be proud of. I first had sex when I was 15, with a guy I met at summer camp. We dated for three months and had sex, but gradually our relationship dissolved—he went away to college, we wrote letters occasionally, but things fizzled out. A year later, I started college myself. And even though I was part of an observant Jewish community, I kept having sex. My freshman year, I dated a stunning man (he looked like an Armani model), and we had sex a few times. Then I began dating the man I now think of as "my college boyfriend," and we had sex too. None of this behavior was sanctioned by my Jewish community, so I kept it pretty quiet.
As I graduated from college and moved from New York to England for graduate school, I got pretty serious about Christianity. I was going to church regularly by then, praying to Jesus, thinking about him as I walked down the street, believing with a certainty that surprised me that he was who he said he was: God. I did some of the things you might expect from someone who believes that Jesus is God. I got baptized. I started spending inordinate numbers of hours hanging around with other Christians. I read the Gospels. I prayed the Psalms. I wore a small silver cross around my neck, proclaiming to passersby that I am part of this tribe whose allegiance is to Jesus.
But there were other things that you might expect a Christian to do, and I did not do them. I didn't forswear sex. I didn't tithe. I didn't especially enjoy going to church on Sunday mornings; in general, I had to grit my teeth, silence my alarm clock, and drag myself there.
I knew, dimly, that Christianity doesn't look kindly on premarital sex, but I couldn't have told you much about where Christian teachings about sex came from. It would not have been too difficult, of course, to get more clarity on this sex issue. But I didn't do that for one principal reason: I didn't really want to get more clarity on Christian sexual ethics, because I wanted, should the opportunity arise, the option of having sex.
Instead, I settled for an easy conclusion: what God really cared about was that people not have sex that might be harmful in some way, sex that was clearly meaningless, loveless, casual. I more or less managed to abide by that. I didn't have sex until that truly committed relationship came along, and then when it did—when I met a man I'll call Q.—I did. Once, during the Q. months, I broke my own pledge, to God and to Q., having sex one night with an ex-boyfriend and then lying to Q. about it. I began to have some twinges of misgiving.
The twinges continued (even after the "committed relationship" with Q. ended and another "committed relationship" began). Eventually I went to a priest. I was there to confess a long litany of sins, not just sexual sin. When I came to the confession of sexual sin, my confessor said, gently but firmly, "Well, Lauren, that's sin."
And in that sacramental moment, kneeling with another Christian whose sole task was to convey Christ's grace and absolution to me, something sunk in. I knew that this priest had just told me something true.
I wish I could say that at that moment I abandoned all that smacked of sexual sin and never looked back; but that's not true. But I did begin what has been a sometimes-halting movement, deeper into chastity.
Related Elsewhere:
Sex in the Body of Christ | Chastity is a spiritual discipline for the whole church.
Real Sex: The Naked Truth About Chastity is available from Christianbook.com and other book retailers.
Our sister publication, Books & Culture, reviewed Real Sex.
Another excerpt from Real Sex, along with an interview with Winner, is available from Beliefnet.com.
An article about Winner and her book appeared in The New York Times, and also ran in the San Diego Union-Tribune. The Associated Press also ran a review.
More CT articles about Lauren F. Winner include:
The Dick Staub Interview: Lauren Winner's Faith Still a Bit Jewish | The author of Girl Meets God discusses the Jewish habits that inform her Christianity (Jan. 20, 2004)
Christ via Judaism | Lauren Winner's spiritual journey is an invaluable—and, to some, unsettling—reminder of where we came from. (July 07, 2003)
Christianity Today articles by Lauren F. Winner include:
meetingGod@beliefnet.com| I thought the high-powered, heady world of dot-coms—even dot-coms devoted to religion and spirituality—was far removed from my own walk with Christ. (Nov. 16, 2001)
Solitary Refinement | The church is doing better than ever at ministering to single people. But some evangelical assumptions still need rethinking. (June 4, 2001)
The New Ecumenists | At the Vine, emerging Christian leaders are reinterpreting the meaning of church unity. (Feb. 5, 2001)
Policy Wonks for Christ | At Civitas, grad students learn to think Christianly about public life. (Nov. 16, 2000)
The Man Behind the Megachurch | There would be no Willow Creek—no small groups, no women in leadership, no passion for service—without Gilbert Bilezikian. (Nov. 6, 2000)
Article continues below
Good News for Witches | Every Halloween, thousands of Wiccans descend on Salem, Massachusetts—and local churches reach out. (Oct. 27, 2000)
The Weigh & the Truth | Christian dieting programs—like Gwen Shamblin's Weigh Down Diet—help believers pray off the pounds. But what deeper messages are they sending about faith and fitness? (August 25, 2000)
Something Old, Something True | With The Story of Us, released on video today, Hollywood offers a rationale for sticking with marriage. (Feb. 14, 2000)
T. D. Jakes Feels Your Pain | Though critics question his theology, this fiery preacher packs arenas with a message of emotional healing. (Feb. 7, 2000)
Eavesdropping: An Open-Door Policy | Is meeting alone with a member of the opposite sex dangerous? Is taking steps against it sexist? (Nov. 8, 1999)
Eternal Ink | A growing movement of Christian tattooists is leaving its mark on both body and soul. (Oct. 4, 1999)
Death, Inc. | What the funeral industry doesn't want you to know. (April 26, 1999)
Whoa, Susannah! | It's great music, but its portrayal of Christian hypocrisy will make you wince. (Oct. 4, 1997)
More Sexuality & Gender article are collected on our website.
Have something to add about this? See something we missed? Share your feedback here.
Our digital archives are a work in progress. Let us know if corrections need to be made.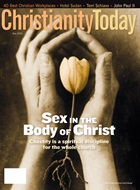 This article is from the May 2005 issue.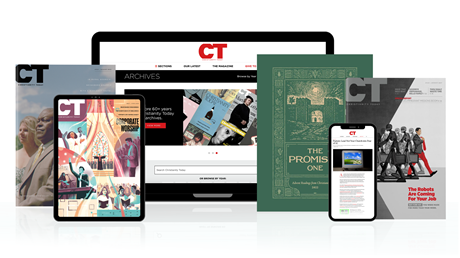 Annual & Monthly subscriptions available.
Print & Digital Issues of CT magazine
Complete access to every article on ChristianityToday.com
Unlimited access to 65+ years of CT's online archives
Member-only special issues
Subscribe
Deeper into Chastity
Deeper into Chastity