| | |
| --- | --- |
| | • |
"We've got to stop the flow of water," Seventh-day Adventist disaster services director Charlene Sargent told the Los Angeles Times two weeks after Hurricane Katrina struck land. She wasn't talking about broken levees, but about the truckloads of donated drinking water. "If you took everything we got this weekend and put it in New Orleans," she said, "it would raise the elevation so it wouldn't flood again."
In the first week after Katrina, U.S. charities raised over $500 million—more than 2.5 times the cost of the Louisiana Purchase, adjusted for inflation. Within three weeks, American giving surpassed $1 billion, and in less than four, it had surpassed the to-date gifts for victims of last year's Asian tsunami. And that was just what got on the books—it doesn't count the Houston families who rushed to the Astrodome offering housing and food, nor the kindhearted Good Samaritans who loaded up whatever they could find and drove as far into Louisiana as they could.
The Katrina donations may herald a new revolution in giving, said The Christian Science Monitor. "People want to participate in a charity walk or hand out sandwiches at a shelter," Stacy Palmer, editor of The Chronicle of Philanthropy, told the paper. "They want to take their involvement way beyond just writing a check."
Organizations report ethnic minorities, young people, and others giving at rates inconceivable a few years ago. And donors are wanting to call the shots, too: World Vision doesn't respond to U.S. disasters, but had so many contributors banging down the door that it raised $4 million for aid and school supplies in less than a month.
The Washington Post personal finance columnist Michelle Singletary wonders if donors are being trained to respond to news crises rather than to develop a long-term spirit of giving. "While it's commendable that so many people are helping Katrina victims, it's better if that generosity becomes ingrained," she said.
No, it's not, says columnist and cartoonist Ted Rall in one of Katrina's most surprising articles, "Charities Are for Suckers." "Generosity feeds into the mindset of the sinister ideologues who argue that government shouldn't help people," he wrote. "It's time to 'starve the beast': private charities used by the government to justify the abdication of its duties to its citizens."
The Boston Globe columnist James Carroll doesn't go that far, but he agrees that "when religiously sponsored good works supply essential needs in place of government responses, something essential to democracy is at stake. … Citizens in a democracy, after all, are the owners of government; therefore government help is a form of self-help."
Others were outraged that the initial government list of aid organizations was, in the words of Bloomberg News, "dominated by religious organizations and exclude[d] many secular and international relief groups." In the San Francisco Chronicle, David L. Kirp accused FEMA of discriminating against nonreligious charities. Some, like The Atlanta Journal-Constitution's Diane Glass, warned of religious groups' "ulterior motive": "They may provide assistance to those in need, but they aren't 'in it' to help so much as to amass obedient followers."
Actually, Katrina showed the value of the much-disparaged "organized religion," said Ray Waddle in The Tennessean. If faith without works is dead, he said, "organized religion is showing America what it means to believe." Indeed, a headline in The New York Times read, "A New Meaning for 'Organized Religion': It Helps the Needy Quickly."
One "first responder" church was Life Christian Church of Orange Beach, Alabama, "We're feeding FEMA. And the police. And the National Guard," along with 4,000 residents of Waveland, Mississippi, Pastor Rick Long told The Independent. In the church's tent city, the British newspaper reported, "the federal authorities are relegated to a tiny corner … where they do little more than process paperwork."
Churches have become first responders because "they're already there," researcher Bryan Jackson told the Times. "They represent a focal point in the community."
But it's not just that they're already there. They're already giving. "It is impossible to doubt that faith and charity go hand in hand," Roy Hattersley wrote in The Guardian. "The only possible conclusion is that faith comes with a packet of moral imperatives that, while they do not condition the attitude of all believers, influence enough of them to make them morally superior to atheists like me. The truth may make us free. But it has not made us as admirable as the average captain in the Salvation Army."
But it's not about imperatives, per se. Christians are used to giving not because they have to (there is no church tax), nor even because there is a need. We give because of who we are: people created in the image of God to give, for giving is an act of love. We were made to give. And one of the beautiful outcomes of Katrina's terrible devastation is that Americans have shared in this blessing, this common grace.
Related Elsewhere:
More Christianity Today coverage of hurricanes Katrina and Rita and their aftermath is at our full coverage area.
This column appeared in the magazine's November 2005 print issue as the eighth entry of "Weblog in Print," CT's effort to duplicate on paper our popular online Weblog feature. Earlier entries include:
Abolishing Abstinence | Telling underage kids not to have sex is surprisingly controversial (Aug. 24, 2005)
Dirty Qur'ans, Dusty Bibles | If Leviticus or Jude suddenly disappeared from Scripture, would we notice? (June 20, 2005)
Who's Driving This Thing? | Everyone is asking who leads the evangelical movement. (Feb. 21, 2005)
Bad Believers, Non-Believers | Do religious labels really mean anything? (Oct. 19, 2004)
Pro-Abortion Madness | The abortion lobby has abandoned its rationales amid pro-life gains. (Aug. 17, 2004)
Grave Images | The photos from Abu Ghraib have reopened debate on the power of pictures.
Misfires in the Tolerance Wars | Separating church and state now means separating belief and action (Feb. 24, 2004)
A Theoblogical Revolution | Billy Graham's vision goes from print to online, then back again. (Jan. 16, 2004; Weblog update: "New Kids on the Blog," Feb. 13, 2004)
Have something to add about this? See something we missed? Share your feedback here.
Our digital archives are a work in progress. Let us know if corrections need to be made.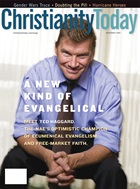 This article is from the November 2005 issue.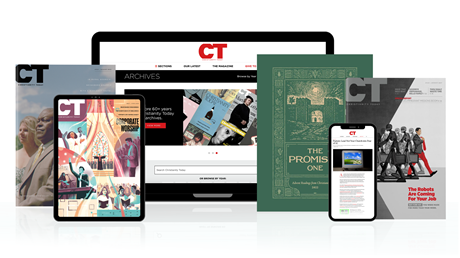 Annual & Monthly subscriptions available.
Print & Digital Issues of CT magazine
Complete access to every article on ChristianityToday.com
Unlimited access to 65+ years of CT's online archives
Member-only special issues
Subscribe
The Katrina Quandary
The Katrina Quandary