| | |
| --- | --- |
| | • |
Tracy Goen, M.D., bush-country veterinarian, Texan, cowboy, and missionary, wearing sunglasses and royal robes fit for Liberace, gulps a travel mug of Nescafé as his pickup trundles along a sandbar road through central Nigeria's bush. Goen's eight-year-old son, Sam, bounces in the truck bed with a generator, two bicycles, three flats of soda, duffel bags, and several hitchhikers.
In Nigeria's Kogi state, Goen practices A-to-Z surgery, handling up to 296 procedures a year—everything from craniotomies to C-sections. Prayer and caffeine fuel his nonstop pace. With his pediatrician wife, Patty, Goen has five children ranging from Elise, 17, to Katie, 4. Their cinderblock home is walking distance from the 60-bed Egbe Hospital. Patients may travel for days to arrive at Egbe for treatment.
But on this Friday morning, it's Fulani King Magaraji's turn to treat this latter-day Livingstone. Goen drives to Okoloke village, where Fulani tribal chiefs will confer a title on this white man sporting ostrich-leather cowboy boots. Goen will become Garukua Fulani Yagba West—king for life and adviser to Magaraji, the highest-ranking Fulani king of Yagbaland, the name of the local region.
Goen is running more than an hour late for his own coronation. The 44-year-old checks his watch and says: "Hey, man, we're early. This is supposed to start at 10, and now it's only 10 after 11." He gulps more coffee.
On arrival, Goen, with his white-flecked beard, hangs out the truck's window greeting people. Everybody knows pullo bodajo, the white Fulani.
In Nigeria, oral storytelling remains a principal means of communication. Local chronicles may spread like wildfire across hundreds of miles of bush country. Six years ago, stories of supernatural healings and miracles emerged from Egbe's wards. According to these accounts, prayers at Egbe Hospital, given "in the name of Jesus," resulted in miraculous healings.
Saved to Serve

The story of the Goens' road to Egbe actually begins at a Louisiana hospital, where they met as teenagers in 1980. As college students, they married in Goen's native Louisiana. Goen, to pay for his wife's medical-school tuition, took out loans and worked jobs like counting stem cells in a research lab.
After med school, Patty joined a pediatric practice and put Tracy through two years of veterinary school before he, too, opted to become a physician. Over the years, the two racked up a crushing student-loan debt of more than $100,000.
When daughter Elise turned five, she told her atheist dad and nominal-Protestant mom that she wanted to attend a school where she could learn about Jesus. Patty started taking Elise to church before enrolling her in the church's school. Then mother and daughter received Christ. A year later, at a 1994 Promise Keepers event, Tracy did, too.
"Once he got saved," Patty says, "we pursued what we were saved to do."
Over time, the Goens sensed God calling them to serve in Africa. The Goens had never met a missionary. Tracy loathed the idea of raising financial support. They learned it would take five years of work to pay off their loans. (Mission agencies avoid sending people with heavy debt overseas.) But, Patty said, once they began seeking where God wanted them to minister, "It was like a boulder rolling downhill."
Tracy traveled to Kenya for a short-term medical mission trip, and when a local Texas newspaper ran a big story on it, churches across the area asked him to speak. People wanted to know how to help get the Goens over to Africa full-time.
Then the Goens heard about a crisis at Egbe Hospital, started by missionaries in 1952. Egbe's doctor had died of sickle cell disease, and the hospital was within two weeks of closing.
A rush of events followed: The Goens applied to the North Carolina-based agency SIM. The agency accepted them, and the couple raised their financial support within six weeks. Project MedSend, an innovative effort to get physicians into overseas ministry, agreed to pay the Goens' student loans while they served in the field. In 1999, they left for Nigeria.
Nigeria is Africa's most populated nation, with 140 million people and 500 people groups. One of those people groups is the Yoruba, a Christian farming people 23 million strong.
Another group is the nomadic Fulani, an illiterate, cattle-revering people numbering 27 million across West Africa and 12 million in Nigeria. The Fulani brought Islam here 1,000 years ago. Mission scholars classify them as unreached. The few Fulani Christians across Africa have faced persecution, even death, for embracing Christ.
In many parts of Africa, pastoral and agricultural tribes often compete for the best land for livestock or farming. Thus, Yoruba farmers and Fulani herders have warred for millennia, burning and killing in a feud that lasts to this day. At Egbe Hospital, most patients are Yoruba. Ailing Fulani usually seek their own traditional healers.
Patty Goen compares the attitude of the Christian Yoruba to Jonah's attitude toward Nineveh: "There was so much animosity, they didn't want the Fulani in heaven." She recalls that early in their hospital ministry a Fulani man sought treatment for his gangrenous foot. It was caked with cow dung that had been applied as a traditional remedy. Tracy Goen directed his Yoruba nurses to clean the foot. But hours later, the foot remained filthy. Goen cleaned it himself.
"You don't understand," a nurse told Tracy. "I found my grandfather chopped into little pieces by a Fulani. How can you ask me to take care of a Fulani?"
"This is what Christ would do," he gently replied.
But it took more than compassion to reach the Fulani.
In the course of using his veterinary training to help treat Fulani cattle, Goen was presented with a malnourished, nine-year-old Fulani boy named Jebel. A viper had bitten the boy, and his grandparents had brought him to Egbe Hospital. He was deathly ill and vomiting blood, so Patty Goen immediately administered the antivenin. Jebel had an allergic reaction, and two days later the boy's heart stopped. They resuscitated him with adrenalin, but then he lapsed into a coma and continued to get worse.
His family spoke no English or Yoruba, and no one at the hospital spoke Fulfulde, the Fulani mother tongue. The grandparents were anxious and mystified, and the Goens had no way to explain to them what was going on.
Unexpectedly, Babangida Abba, a Fulani Christian pastor unknown to the Goens, walked into the pediatric ward. (He said later that the Holy Spirit had sent him to the hospital, which he had never visited before.) Fluent in English and Fulfulde, Abba became the Goens' interpreter. Isa, Jebel's grandfather, said if Jebel survived the viper bite that the Goens and Abba could visit their camp. Within days, Jebel began to recover miraculously.
At a follow-up visit, Abba and Tracy began sharing the Gospel with Isa. Isa pulled Abba aside: "I know this man, Jesus," Isa said. "I have seen him in my dreams." In time, several members of his and other clans professed faith in Christ.
Other amazing medical events occurred. One Fulani family brought in their seemingly brain-dead, pregnant 14-year-old daughter, who had been in labor for 72 hours. The baby was stillborn, and Goen gave the family a grave prognosis for their daughter.
Goen recollects, "They told us: 'We heard this is a Christian hospital, and there's power praying in the name of Jesus. We want you to pray she'll be healed.'"
Goen wasn't hopeful. "I had seen medical miracles, but I had never seen anyone recover from anything like this." He and Abba prayed and went home. The next morning, when Goen leaned over the young girl to examine her with a stethoscope, she slowly raised her hand to touch his hair.
Goen wrote on her chart: "Miraculous recovery."
After that, Fulani began showing up regularly at the hospital. Their leaders invited Goen and Abba to share the gospel message. Goen began showing the Jesus film. Rumor spread that Christ was a Fulani, or at least that he spoke Fulfulde.
Then came another providential encounter. Driving home after the turbaning service for the new Fulani king, Goen and Abba came across a bleeding teenager staggering down the road. The boy's right arm was nearly severed. Goen placed him in the pickup and raced off to Egbe Hospital. After five hours of surgery, he saved the boy's life and his arm.
Then Goen learned that his patient was the son of the new king, Al Haji Bagarbe Magaraji. Magaraji summoned Goen and Abba, blessing them and permitting them to share the message of God's love through Christ to the Fulani.
50 Good Deeds

The Goens' ministry remains multifaceted. Known as "Dr. Mrs. Goen," Patty Goen has developed a ministry of mothering and doctoring that complements her husband's work. But the atmosphere is one most Americans would find withering. She's had three bouts of malaria. Nigeria's dry season means enduring 105-degree temperatures.
Early on, word got around that big things happen when Mama Goen prays. Bello, a Fulani leader, asked Patty to pray when a yearlong drought threatened his livelihood. While Bello was walking home that day, rains fell on his land while Egbe and Okoloke remained parched.
Yet amid miracles, Patty has experienced many heartbreaking unanswered prayers. Mothers would often bring their sick children to her too late. "There was a time when I lost ten babies in two weeks," she says.
Tracy is involved in a number of projects. He brings Yoruba and Fulani together for peace talks, and he conducts cow-vaccination rodeos.
As a result, the Goens have seen much fruit. Intertribal violence has plummeted. Yoruba are reaching out to their Fulani neighbors, even giving the Fulani 132 acres to build the first Fulani school. Egbe-based Christian workers visit Fulani cow camps to present the new, Muslim-sensitive Jesus film in Fulfulde.
Last year, King Magaraji publicly recited 50 of Goen's deeds among the Fulani and proposed honoring Tracy by making him a Fulani king. Goen accepted. Magaraji sent ceremony invitations with Goen's picture to Fulani leaders across Nigeria and West Africa.
Then, on a hot July afternoon in Okoloke, they honored Goen as he sat cross-legged on a mat in his royal robe and hooded cape. Beside him, Patty was formally attired in Fulani beads and colorful headscarf. Fulani have no queens, but they hold Patty in high esteem in her own right.
Surrounding them and their children were hundreds of Fulani and many Yoruba, including a representative of Egbe's Yoruba king and the Yoruba king of Okoloke.
In a ritual act of turbaning, King Magaraji wrapped white netting around a maroon cap on Goen's head. Only kings may wear such a headdress.
Among the international guests was a high Fulani king from Ghana. He came to support the new school that will honor Fulani culture and to help choose a Fulfulde name for 4-year-old Katie Goen. After a full day of debate, the leaders settled on Morri, meaning "born in a family of peace" or "in God's timing."
A few days after the ceremony, the entire Goen family returned to Texas for an extended leave. For now, God's timing means that Tracy will return regularly on short-term mission trips to Egbe to heal Yoruba and Fulani in body and soul.
Journalist Deann Alford is based in Austin, Texas.
Related Elsewhere:
CT earlier profiled Project MedSend, which helped pay the Goen's school bills.
SIM has more articles about its ministry to the Fulani.
Have something to add about this? See something we missed? Share your feedback here.
Our digital archives are a work in progress. Let us know if corrections need to be made.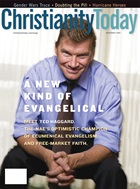 This article is from the November 2005 issue.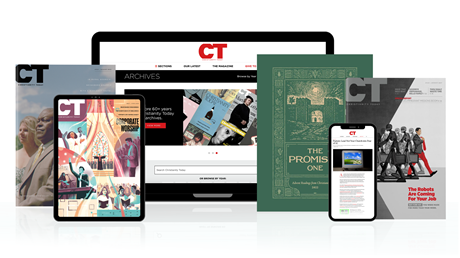 Annual & Monthly subscriptions available.
Print & Digital Issues of CT magazine
Complete access to every article on ChristianityToday.com
Unlimited access to 65+ years of CT's online archives
Member-only special issues
Subscribe
The Missionary King
The Missionary King