| | |
| --- | --- |
| | • |
From the Editors: We regret to inform our readers that, following this on-the-record conversation, Brennan Manning called our office to apologize. He reiterated that he had been "disoriented, confused, and depressed" lately and that certain details he provided were not true. He did not help identify a child from his apartment complex. He did not help an elderly woman get a ride. And while he was the last one to leave his apartment complex, "the truth is that there was nobody around here for me to help," he said in a voice message to Christianity Today. "The essential truth: I lied."
Having returned to Algiers, a bedroom community 15 minutes south of the French Quarter in New Orleans, Brennan Manning—author of the spiritual classic The Ragamuffin Gospel and the recently published The Importance of Being Foolish—is trying to figure out what to do with his hurricane-invaded life. His voice was halting and wheezing as he thought about it on the phone with senior associate editor Agnieszka Tennant.
Before the mandatory evacuation was ordered, you decided to sit out the hurricane. Why?
I stayed through the hurricane because I have no wife, no children, no relatives here, and thought that maybe I could help the small number of people who remained. I sat here from 3 a.m. to 3 p.m. watching the hurricane with awe and wonder at the mind-boggling power of the 95 mile an hour wind. The rain was relentlessly pounding. The following day it was calm. The day after that I walked outside, and I found a lovely neighbor who asked me, "Did you hear the news?" I said no. She said there was a mandatory evacuation of the city because the levees had broken. That gave me a clue to get out of here.
I did see an elderly black woman, somewhere in her 80s, standing on the street corner. I stopped and asked where I could take her. She said, "Please take me to my sister's house." I drove her out there and reassured her of how proud I was of her and what a gift it was to be her neighbor.
My neighborhood is about 90 percent black. What I saw was a whole different image of the African American community, which is usually identified with gangs, murders, and drug dealing. The black community was enormously kind, thoughtful, heroic, reaching out to their neighbors. I saw African American fathers with children, having an enormous concern about their welfare. We still have many children unconnected with their parents. They're flashing on TV the pictures of the children and hoping that they can be identified. I recognized one of them and called the number on the screen to let them know that it's a child from my apartment complex.
The whole issue of staying … I don't mean it to sound heroic. Because I'm not, I'm basically a coward. But I thought maybe I could help somebody who stayed through the hurricane.
Where did you evacuate to?
My sister begged me to go to the Superdome, which would have been a catastrophe because the roof collapsed, the people were transferred to the Astrodome, and now these people are all around the country. Instead, when I asked a cop for directions, he, thank God, told me to go south. So I ended up at the Plantation Inn in Houma.
The mayor, maybe optimistically, presumes that the 500,000 people from New Orleans will return. There will be a lot of construction work here; that's for sure.
What struck you about the displacement that the people of New Orleans have suffered?
I happen to live in an area where, by the sheer grace of God, things are dry, except for the broken tree branches that fell on the road. I have sewage. And a few miles away some children drowned. I don't ask why. I don't ask why there are a million displaced people and 2,400 children still missing, and I have sewage. I just say thank you. The words of the poem ["Bone"] by the Pulitzer Prize winner Mary Oliver make a lot of sense to me.
She said, "truly I know / our part is not knowing, / but looking, and touching, and loving."
You've recently recovered from a bout of asthma and pneumonia. How have you been feeling?
What's really going on is: I'm disoriented; I'm confused; I don't recognize the city anymore. And yet there's a deep inner peace as I spend an hour of prayer in the morning and an hour in the evening. The word I keep hearing inside is, "Peace is my gift to you." And so the peace is inside while my external self deals with disorientation, confusion, anxiety about the city. Will it ever come back? Will it be two, or three, or many years? Should I move? If the airlines stop flying, my ministry's over. I'm not just saying that. We've got such a sparse population now. What will I do with the rest of my life?
You may have to move if you want to continue your ministry.
Yes. And I don't know where to go. There have been several invitations, ranging from my sister in Newark to a community in Kansas City. I have three commitments a month to speak, usually three, four, sometimes five days. Right now I'm 25 minutes from the airport.
So I'm saying what so many displaced people without jobs have said: I don't know what to do. I really don't. It's unnerving, discouraging, and as I've said earlier, disorienting. And here I am—one of the most blessed people in the whole New Orleans community, where many people are without employment and many homes are still under water. They're saying, "I don't know what to do." I'm just a faint echo of their uncertainty. But so far the road to the airport is, clear and I continue traveling to speak and lead retreats.
What keeps you going?
Acts 20 verse 24 is the reason why. I could find a thousand wonderful excuses for not going on the road anymore. In fact, the people at Samford University, where I just spoke, said they were amazed I showed, given what's happened. But it was this mission and this grace and the call I got to preach the gospel of grace. So I keep going on the road.
What is it like to travel so often?
It's a lonely life. There's no sense of anticipation about coming home. This really is not home. It's a place where I change my clothes and wash them.
What is home for you?
Home is John 15:4. The Message puts it: "Make your home in me just as I do in you." In a sense I'm lonely, but I'm not alone. I have a very strong sense of the presence of Jesus walking through this catastrophe not only with me, but also the whole neighborhood and the city.
Related Elsewhere:
More about Brennan Manning is available from his website.
Agnieszka Tennant's profile of Manning explores why evangelicals have embraced the former Franciscan.
Dick Staub interviewed Manning about his book Ruthless Trust: The Ragamuffin's Path to God.
More about Manning's book The Importance of Being Foolish, including an excerpt, is available from HarperCollins.
CT's full Hurricane coverage is available on our site.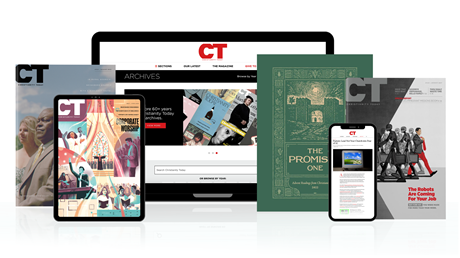 Annual & Monthly subscriptions available.
Print & Digital Issues of CT magazine
Complete access to every article on ChristianityToday.com
Unlimited access to 65+ years of CT's online archives
Member-only special issues
Subscribe
A 'Coward' Who Stayed to Help
A 'Coward' Who Stayed to Help