| | |
| --- | --- |
| | • |
Since the day he discovered what he calls "the whole mystical, historical massiveness of a church that had been around for 2000 years," Chris Armstrong has had a passion for connecting modern Christians with their roots. (See his past articles "When Theology Comes Alive" and "Top Ten Reasons to Read Christian History".) A graduate of Gordon-Conwell Theological Seminary and Duke University, Chris served as the managing editor of Christian History & Biography
for almost three years before taking his historical enthusiasm into the classroom. He is now associate professor of Christian history at Bethel Seminary in Minnesota. Chris will be sharing his passion with us in what we hope will become a regular online feature, "Grateful to the Dead."
Dear folks,
Lately my days have been taken up with preparing a book and a course titled "Patron (and Matron) Saints" for Postmoderns (see my blog, deadchristianssociety.blog.com). The book, course, and blog feature the lives of Gregory the Great, Margery Kempe, John Comenius, John Newton, Charles Simeon, Amanda Berry Smith, Charles M. Sheldon, and Dorothy L. Sayers.
So the question has haunted me: "Why should Christians today read biographies of 'dead Christians' from ages past?"
One particularly forceful answer has hit me from (what some evangelicals might consider) "left field"—the young movement of Emergent Christian thinkers and leaders.
Emergents are folks dissatisfied with the way a lot of evangelicals have been doing church, and they are exploring and suggesting alternatives. From the Emergents' perspective, the church today has become culturally stale and bland—speaking an out-of-touch conservative language to a post-Christian generation of young people who have never darkened the door of a church in their lives.
This generation, say the Emergents, doesn't need to hear the old platitudes of a leftover Christian establishment. They need instead to hear the trumpet call of the gospel—a new song for new people. To really reach them, we must re-tool church for the new realities of a postmodern world. We must re-translate the gospel for a different breed of unbeliever.
Not only that, warn the Emergents, but we can't impose a one-size-fits-all approach on this new evangelistic situation. We need to find new ways to translate and transmit the gospel. New gospel translations. The need is as old as Christianity itself. It crops up in almost every generation, from the first century to this week. Andrew Walls launches his justly acclaimed The Missionary Movement in Christian History (Orbis, 1996) by giving us a thrilling "aerial survey of church history," in which we see Christianity's two-thousand-year odyssey not as a single story neatly tied up with a bow, but as a series of radical, almost cataclysmic cultural translations.
The church, says Walls, translated itself from a Jewish to a Roman "idiom" after the fall of Jerusalem; from Roman to German after the fall of Rome; from Irish to English through the savvy mission of Augustine of Canterbury and Gregory the Great; and so down to today. Today, the indigenous theologians of Africa are facing and addressing questions completely beyond the ken of the Western missionaries who first brought word of Jesus to that continent—and indeed of most Western Christians today. Questions like "can I approach the communion table after sexual intercourse?" "What do we require of a man with several wives who has converted to Christianity, when any wife he divorces will face extreme economic hardship?" And so continues the process of "gospel translation."
Now it seems that all of Walls's historic cultures and a thousand more, and every imaginable "sub-culture" to boot, are swirling, clashing, and mixing in the new American generation—a most disorienting sensation for everyone, but especially for those with no rootage in Christ.
The Emergents seem to me to have it right: No single program or rulebook can possibly speak to the hearts of this diversely gifted, diversely perceptive, and diversely wounded young generation who yearn for spiritual fulfillment yet deeply distrust "organized religion." We need to reassess—to find new models of creative ministries.
What to do in such a time? This is a time for stories. Maybe stories from history, "straight up"—carefully researched and narrated by the scholars who have given their lives to unearthing and interpreting historical evidence and shaping the clearest, most accurate and unbiased story they can out of the shards and shadows of the past. Maybe edifying allegories, plays, and tales of various kinds.
And maybe, too, the life stories of those "dead Christians" who translated the Gospel for their own generations—forcing the church in their times to shake itself out of deep ruts and see the world in new, challenging lights. Maybe these lives can teach us something about how to translate the Gospel for the lost of our own new patchwork, post-Christian generation.
Since a one-size-fits-all approach won't work—there are no "ten steps to saving the post-Christian generation," whatever the megachurch pundits tell us—why not dive into the lives of Christians past and see how they engaged their own cultures?
This is not just some nostalgic sentiment of a crusading historian. OK, I am a crusading historian. But I'm not engaged in some antiquarian pursuit—trying to get people to read history because it is vaguely "inspiring" or because we ought to treat our ancestors as squeaky-clean heroes.
Rather, we need to encounter the people from our own Christian "family history"—wounded, crotchety, and wrongheaded though they sometimes are—because our Christian faith is a historical faith. Jesus was once incarnated in history, as a first-century Jew from Nazareth. Ever since, he has been incarnated again—through his body, the always culturally located (and always sin-tainted) church. The Apostle Paul talked about the hand not saying to the eye, "I don't need you." Well, most of our "body parts" lived long before we were born. We ignore them at our own risk.
Grace and peace to the Tender Twigs and Budding Tips of the Christian family tree—who draw strength from the Root, and now need also to draw strength from the Branches,
Chris Armstrong
Bethel Seminary
Related Elsewhere:
More Christian history, including a list of events that occurred this week in the church's past, is available at ChristianHistory.net. Subscriptions to the quarterly print magazine are also available.
Other CT articles on Emergent include:
Emergent Evangelism | The place of absolute truths in a postmodern world—two views. (Oct. 25, 2004)
The Emergent Mystique | The 'emerging church' movement has generated a lot of excitement but only a handful of congregations. Is it the wave of the future or a passing fancy? (Oct. 22, 2004)
The Virtue of Unoriginality | The old kind of Christian is the best hope for church renewal. (April 04, 2002)
The Postmodern Moment | Are Christians prepared for ministry after modernism's failure? (June 18, 2002)
A Story Darwin Might Love | Brian McLaren's evolutionary interpretation of the faith promises more than it delivers, but what it delivers is good enough. (April 14, 2003)
A Newer Kind of Christian | Brian McLaren's sequel to A New Kind of Christian touches other tenets of faith. (March 26, 2003)
Previous Christian History Corners include:
Article continues below
From Mutual Aid to Global Action | How the Anabaptist emphasis on practical acts of love led a tightly knit enclave to reach out to the world. (Sept. 23, 2005)
The Trailblazer | The first evangelical missionary to India set out to prove that the gospel does not destroy culture but transforms it from within. (Sept. 16, 2005)
Reformation Reoriented | Mark Noll and Carolyn Nystrom evaluate the Catholic/evangelical detente in Is the Reformation Over? (Sept. 2, 2005)
Ministries of Mercy: Mother Teresa | She stirred a generation by touching the untouchables. (Aug. 26, 2005)
Changed Lives: Luther | The daily gift of new life. (Aug. 19, 2005)
Liberating Faith | When Korea threw off Japanese rule in 1945, it was as much a victory for the church as for the nation. (Aug. 12, 2005)
Where Wesley's Followers Went Awry | Three new books by scholars of American Methodism explain why Methodists flourished in the 19th century and faltered in the 20th. (Aug. 05, 2005)
The Man Who Wouldn't Give Up | No matter how great the obstacles, William Carey expected great things and attempted great things. (July 29, 2005)
5 Christian History Books for the Beach | Christian History & Biography staff suggest books for your summer reading list. (July 15, 2005)
When Theology Comes Alive | Living theology: that's what the 17th-century Pietists wanted to see. And so they invented church history. (July 08, 2005)
The Man Behind the Missions | A. T. Pierson who? Dana Robert's biography sheds light on a forgotten ancestor of the modern evangelical missionary movement. (June 10, 2005)
The Secrets of Spurgeon's Preaching | Why would thousands come to hear him speak? (June 03, 2005)
Preaching Augustine | The Christian Classics Ethereal Library came to my rescue in a homiletical emergency. (May 27, 2005)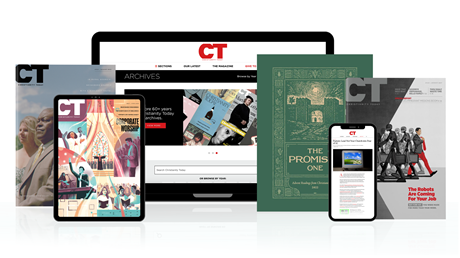 Annual & Monthly subscriptions available.
Print & Digital Issues of CT magazine
Complete access to every article on ChristianityToday.com
Unlimited access to 65+ years of CT's online archives
Member-only special issues
Subscribe
Emergents, Meet Saints!
Emergents, Meet Saints!