In last week's Play Ball column, my colleague Collin Hansen wrote about the "agony of defeat" in the NCAA men's basketball tournament—and in life and our journey of faith.
I thought about Collin's words as I watched UCLA get chomped by Florida's Gators, 73-57, in Monday night's championship game. Afterward, all cameras were on the winners, a joyous blur of orange and blue mayhem.
But what of the Bruins? How were they handling it? CBS cut away from the celebration to the requisite Losing Coach Interview, where UCLA's Ben Howland was gracious, lauding Florida's excellent play rather than making excuses for his team's loss.
And then Howland looked directly into the camera and sent warm greetings to John Wooden, the legendary UCLA coach who watched Monday's game from a hospital bed. (Wooden was treated for diverticulitis and was to be released yesterday.)
I don't know what Howland told his team after the game. Certainly he praised them for a terrific season. But I also wondered what Wooden, now 95, might have said to his players.
Wooden is not only the best coach in college basketball history, winning ten championships, including seven straight, in 27 years at UCLA. He is also the ultimate gentleman. Sports Illustrated columnist Rick Reilly, who can be quite the cynic, calls Wooden "the best man I know."
He was known as "The Wizard of Westwood," and Wooden was indeed a fount of wisdom—a veritable quote machine. So, in wondering what he might have said to a team that had just been trounced, I simply googled "John Wooden quotes"—and got plenty to choose from. Take your pick of these Wooden-isms:
"Success is never final; failure is never fatal. It's courage that counts."
"Sports do not build character. They reveal it."
"Bad times can make you bitter or better."
"If you're not making mistakes, then you're not doing anything. I'm positive that a doer makes mistakes."
Lest you think Wooden was merely a walking Hallmark card of sports-related clichés, think again. A devoted Christian, the coach was far more interested in developing men of integrity than great players.
Just ask Bill Walton, the All-American who led the Bruins to a couple of championships. Walton once showed up with a beard, defying Wooden's rule against facial hair. "It's my right," Walton insisted. Wooden responded, "That's good, Bill. I admire people who have strong beliefs and stick by them. I really do. We're going to miss you."
Walton shaved it off, right on the spot.
Wooden's players developed integrity because their coach epitomized it.
Here's another glimpse into the man's character: On the 21st of every month, he writes a love letter to Nell, his wife of 53 years, and places it on her pillow. There are now 252 letters on Nell's pillow, who died on March 21, 1985. "I'm not afraid to die," says Wooden. "Death is my only chance to be with her again."
Wooden might have shared that story with the losing Bruins on Monday night, just to help keep things in perspective. Or he might have said any of the following—all attributed to him, and all great proverbs we can live by:
"You cannot live a perfect day without doing something for someone who will never be able to repay you."
"I always told my players that our team condition depended on two factors: how hard they worked on the floor during practice, and how well they behaved between practices."
And finally:
"Basketball … is of small importance in comparison to the total life we live. There is only one kind of life that truly wins, and that is the one that places faith in the hands of the Savior. Until that is done, we are on an aimless course that runs in circles and goes nowhere."
The Bruins might've felt like they were running in circles and going nowhere against the Gators on Monday night. But if they've heard and are heeding even a portion of Wooden's good words, they already know what victory is all about.
Mark Moring, managing editor of Christianity Today Movies, played basketball at the University of Virginia. Well, not on the varsity. Or jayvees. OK, it was just intramurals!
Want to know more about Coach Wooden and his faith? Check out these books.
Earlier Play Ball columns include:
There IS Crying in Basketball | If only we all had something so precious to weep about. By Collin Hansen (March 30, 2006)
Pirates vs. Braves | Reforming sports one city at a time. By Mark Galli (March 23, 2006)
Bjorn Again? | It's been a while since tennis legend Bjorn Borg was in the news. Too bad he's back because he's selling his Wimbledon trophies. By Mark Moring (March 16, 2006)
Steroids 'R' Us | It's not just Barry Bonds's heart that is desperately wicked. By Mark Galli (Mar. 9, 2006)
Heavy Medal | At the Olympics, if you don't medal, you certainly must be a loser. By Mark Moring (Feb. 23, 2006)
Opening Ceremony Blues | The Olympics is symbolic, but not of world peace. By Mark Galli (Feb. 16, 2006)
Punches, Smashes, and Bombs | Boxing gives us a window into the violence inherent in all sports. By Mark Galli (Nov. 11, 2006)
Play Ball
From 2005 to 2007, "Play Ball" examined the relationship of sports and faith: sports is important precisely because it is a form of play, that is, a manifestation of the Sabbath. Contributors included Mark Galli, Collin Hansen, Mark Moring, and others.
Previous Play Ball Columns: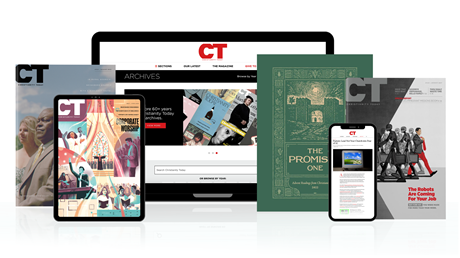 Annual & Monthly subscriptions available.
Print & Digital Issues of CT magazine
Complete access to every article on ChristianityToday.com
Unlimited access to 65+ years of CT's online archives
Member-only special issues
Subscribe
WWJWD?
WWJWD?