Today's Top Five
1. Jim Wallis gives Democratic weekly radio address
Accepting Senate Majority Leader Harry Reid's invitation "was a difficult decision," the Sojourners president wrote on his blog. "I work hard to maintain my independence and non-partisanship, and didn't want to be perceived as supporting one party over the other. But it was an occasion to get our message to millions of people, so I decided to accept."
Wallis's address, touted as the first such weekly radio address by "a non-partisan religious leader," began with a disclaimer: "I want to be clear that I am not speaking for the Democratic Party, but as a person of faith who feels the hunger in America for a new vision of our life together and sees the opportunity to apply our best moral values to the urgent problems we face. I am not an elected official or political partisan, but a religious leader who believes that real solutions must transcend partisan politics."
Wire stories on the address focused on Wallis's calls for action on corruption, Iraq, poverty, the environment, and abortion.
2. Faith-based initiative goes to the Supreme Court—in a way
Hein v. Freedom from Religion Foundation is a case about Bush's faith-based initiative, but, as the First Amendment Center's Tony Mauro points out, it "does not directly test the meaning of the establishment clause itself." Instead, it's a case about standing. Right now, Hein isn't about whether government-sponsored conferences for the faith-based initiative violated the First Amendment, but whether the Freedom from Religion Foundation can bring a suit accusing the conferences of doing so. Mauro explains:
Under the traditional doctrine of standing, you can't challenge a government program you don't like just because your taxes — or some infinitesimal fraction of your taxes — paid for the program.
To reduce litigation against the government for every general grievance, courts have required instead that taxpayers show they have suffered real, specific harm — or will soon — to a legally protected interest from the program they don't like, before they can challenge it in court.
But a Supreme Court ruling 38 years ago made an exception to that high standard when a taxpayer alleges that a government program violates the establishment clause of the First Amendment ("Congress shall make no law respecting an establishment of religion").
The Hein case, which the Supreme Court agreed Friday to consider, "could prompt a review, if not a narrowing, of that exception, which critics say has made it too easy to mount establishment-clause lawsuits against government efforts to accommodate religion," Mauro says. That is very important, he says, "because standing is a threshold issue in every establishment-clause case."
3. Minced oaths
So you've probably already read about Dennis Prager's complaints that Keith Ellison will use a Qur'an instead of a Bible for his ceremonial oath of office when he becomes a U.S. Representative from Minnesota. The American Family Association wants Congress to "pass a law making the Bible the book used in the swearing-in ceremonies of Representatives and Senators." Prager's colleague at Salem Radio Network, Michael Medved, has been critical of Prager's remarks. (Prager and Medved are both Jews.) And hundreds of bloggers are discussing the subject. But if you're going to hit one place, check out The Point, the blog of Prison Fellowship's BreakPoint. Travis McSherley and Roberto Rivera are at odds; the latest post suggests that in the official swearing in (rather than in ceremonial photo ops for family and supporters), no holy book is used. In other words, this story is a non-story. So who's up for debating whether taking an oath of office is itself unbiblical?
4. Pastor pleads guilty to felonies, denies his critics Communion
Here's one of those stories that's so outrageous, it's amazing it's not getting more circulation. Macedonia Baptist Church senior pastor John Henry Walker confessed to nine felony charges last week, including tax evasion, bank fraud, and lying to federal authorities. Then he preached on Sunday. And then, according to The Charlotte Observer, he denied Communion to church members that had been publicly critical of him when his misdeeds were made public.
5. Protest called off after Mark Driscoll apologizes
Mars Hill Church pastor Mark Driscoll has been under a fair bit of scrutiny after writing a Ted Haggard-related blog post on the role of pastors and their wives in avoiding sexual temptation. There was, in fact, a protest planned for Sunday at his Seattle church. But in a meeting with protest organizers and other local church leaders, Driscoll apologized, and the protest was called off.
"My theological convictions, even the most controversial ones, are as unwavering as ever," Driscoll says in a new blog post. "But I also learned that as my platform has grown, so has my responsibility to speak about my convictions in a way that invites other people to experience charity from me, which means inflammatory language and such need to be scaled back. I was also sad and sorry to hear that various things I have said over the years have been received very personally by some people who felt personally attacked."
Quote of the day
"I've got two friends here: a Republican and a Democrat. Why? Because you've got to have two wings to fly."
—Rick Warren, telling attendees at his Saddleback Church AIDS conference that they should listen to both Sen. Sam Brownback (R-Kan.) and Sen. Barack Obama (D-Ill.).
More articles of interest
Wallis gives Democratic radio address | Church and state | Politics & law | Life ethics | Warren and Obama | Qur'an oath | Islam and Christianity | Pope Benedict in Turkey | Malaysia | China | Religious freedom | Christmas tea in N.H. | Christmas | Advent | Church life | Catholicism | Anglicanism | Same-sex marriage | More sexual ethics | Ted Haggard | Los Angeles abuse settlement | More abuse cases | Crime | Money and business | Media & entertainment | Atheism | Books | Art | Travel | History | Spirituality | People | Missions & ministry | Jews for Jesus | Education | Evolution | Evangelicals and Pentecostals | Other stories of interest
Wallis gives Democratic radio address:
The pope without his sting | The challenge for the new Vatican is to tell its truth without telling anyone off (The New York Times)


Pope ends visit of conciliation | Even his critics give praise for the pontiff's outreach to Muslims in Turkey (Los Angeles Times)


Closer to and farther from Europe | As he left Turkey, Pope Benedict XVI said he hoped his visit would bring "civilizations progressively closer." The European Union should listen (Editorial, The New York Times)


Widow turns to High Court for husband's body | The tussle for the body of Rayappan Anthony continues (New Straits Times, Malaysia)


Court revokes order | An order allowing the Selangor Islamic Religious Council (Mais) to claim the body of van driver Rayappan Anthony has been revoked to enable his widow to tell the Syariah High Court her side of the story (The Star, Malaysia)


Malaysia hospital ignites new religious controversy | A Malaysian hospital has ignited fresh religious controversy after it refused to hand over a dead man's body to his widow because she planned to give her husband, a Muslim convert, a Christian burial (Reuters)


Vatican condemns Chinese ordination | The Vatican on Saturday blasted China for ordaining another bishop without papal approval, calling it the latest in a "series of extremely grave acts" that caused Pope Benedict XVI "great sorrow" (Associated Press)


Christ back in town's Christmas | There was no angry mob present at the day-long Chamber of Commerce-sponsored Old-Fashioned Christmas, as some expected, after Valley Gospel Chapel pastor Greg Lull went public earlier this week over the chamber's decision not to sponsor his church's tea, as planned, if it included a religious reading (Union Leader, Manchester, N.H.)


Hillsboro's Christmas conflict unnecessary | So far this season, the biggest brouhaha has occurred in Hillsboro, where the Old Fashioned Christmas Committee initially opted to scrap its annual tea and reading of The Night Before Christmas rather than hold the event in a church that wanted the celebration to include a reading of the biblical story of Christ's birth (Editorial, Concord Monitor, N.H.)


No room for Jesus: Hillsborough kicks him out | If you hold an event called "Old Fashioned Christmas," you might want to see to it that at least a wee portion is actually about Christmas (Editorial, Union Leader, Manchester, N.H.)


Town restores Jesus to nativity scene | Officials in St. Albans, W.Va., have put the infant back into the town's nativity scene after news reports about the omission prompted e-mails from as far away as South Korea (Associated Press)


Earlier: W.Va. city's Xmas scene has no Jesus | The parks superintendent said Jesus was left out because of concerns about the separation of church and state. But Mayor Dick Callaway said it was done for purely technical reasons: "It's not easy to put a light-up representation of a baby in a small manger scene, you know" (Associated Press)


Churches drop 'Baptist' tag | Conscious of image, they drop affiliation (Concord Monitor, N.H.)


Church to be sold in foreclosure auction | A south Arlington church building that has been the subject of a tug of war between congregation members and a Methodist lending foundation is set to be auctioned to the highest bidder today. (Ft. Worth Star-Telegram, Tex.)


Episcopal diocese votes to secede from church | The resolution puts the California diocese in lockstep with more conservative Anglican churches (The New York Times)


Calif. diocese snubs Episcopal Church | In a public rebuke of the Episcopal Church, a conservative diocese voted Saturday to affirm its membership in the worldwide Anglican Communion after distancing itself from the national church over the ordination of gays and women (Associated Press)


Episcopal head responds to diocese vote | Members of a conservative Episcopal diocese who voted to distance themselves from the faith's national denomination received a letter Monday from church leaders lamenting their decision (Associated Press)


Blair calls on Churches to lift condom ban | The Prime Minister risked a confrontation with the Roman Catholic Church yesterday by saying that religious leaders needed to "face up to reality" and drop their ban on condoms if they were to fight Aids effectively (The Telegraph, London)


Prayers in wood | When people see the work of Konstantinos Pylarinos, a Byzantine-style woodcarver, many bow down and thank God (The New York Times)


Three religions share their musical roots | In an age when a discussion of Judaism, Islam and Christianity often refers to strife, a concert at the Tarrytown Music Hall will focus instead on the values and history these religions share (The New York Times)


United, in spirit | Religion is the common link among many of the works in a folk art showcase at the Arts Exchange in White Plains (The New York Times)


In South America, missions of a lost utopia | Where Paraguay, Brazil and Argentina meet, tourists are discovering the haunting remains of a Jesuit social experiment (The New York Times)


Holy water | The Trevi Fountain is the Vatican's answer to our Baroque wishes (The New York Times)


'Church of the Ark' found on West Bank | Archaeologists claimed yesterday to have uncovered one of the world's first churches, built on a site believed to have once housed the Ark of the Covenant (The Telegraph, London)


Evangelicals and Pentecostals:
Related Elsewhere:
Suggest links and stories by sending e-mail to weblog@christianitytoday.com
See our past Weblog updates:
December 1 | November 21
November 17 | 16 | 15 | 13
November 6 | 3 | 2
October 11 | 6 | 5 | 4
September 21 | 15b | 15a | 14
September 6 | 1 | August 29
August 25 | 24 | 23
Weblog
Launched in 1999, Christianity Today's Weblog was not just one of the first religion-oriented weblogs, but one of the first published by a media organization. (Hence its rather bland title.) Mostly compiled by then-online editor Ted Olsen, Weblog rounded up religion news and opinion pieces from publications around the world. As Christianity Today's website grew, it launched other blogs. Olsen took on management responsibilities, and the Weblog feature as such was mothballed. But CT's efforts to round up important news and opinion from around the web continues, especially on our Gleanings feature.
Ted Olsen is Christianity Today's executive editor. He wrote the magazine's Weblog—a collection of news and opinion articles from mainstream news sources around the world—from 1999 to 2006. In 2004, the magazine launched Weblog in Print, which looks for unexpected connections and trends in articles appearing in the mainstream press. The column was later renamed "Tidings" and ran until 2007.
Previous Weblog Columns: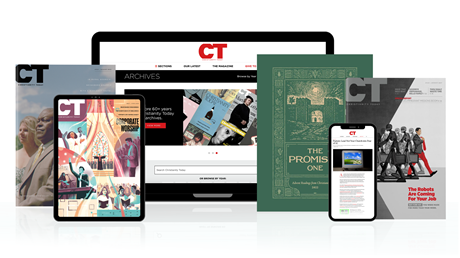 Annual & Monthly subscriptions available.
Print & Digital Issues of CT magazine
Complete access to every article on ChristianityToday.com
Unlimited access to 65+ years of CT's online archives
Member-only special issues
Subscribe
Democrats Hand Weekly Radio Address to Jim Wallis
Democrats Hand Weekly Radio Address to Jim Wallis