true
Should Christians make movies about the challenges facing the church? Should they let people outside the church see these movies?
That's one of the issues dividing Christian critics regarding The Second Chance, a film written and directed by former Christian rock artist Steve Taylor and starring Michael W. Smith and jeff obafemi carr.
"For about a dozen years … Steve Taylor was the most energetic and unpredictable recording artist in contemporary Christian music," says Peter T. Chattaway (Christianity Today Movies). Taylor's movie, he says, "is neither all that energetic nor all that unpredictable. Some Steve Taylor fans will approach The Second Chance with high expectations, but it probably works best if you don't come to it looking for a 'Steve Taylor movie.' The film does offer a critique of church culture, but without the absurdist satire."
Chattaway says the film "could very well spark some interesting and even necessary discussions. It helps that the film is also skillfully made, from the hand-held camerawork to the note-perfect soundtrack (courtesy of Smith, with help from John Mark Painter and others) and the performances; Smitty in particular acquits himself well in his first major acting role. However, bits of dialogue still sound a little church-movie-ish, and the film's tone and theme, overall, are a bit on the tidy side. Those of us who had hoped that Steve Taylor would be for Christians what Napoleon Dynamite's Jared Hess was for Mormons—a filmmaker who broke out of his religious subculture through sheer force of quirk alone—will have to wait and see what he does next. For now, though, this may be a church movie, but it's one of the better ones."
Adam R. Holz (Plugged In) says its message is "right on the money" and it has the potential "to become a catalyst for positive personal and corporate change for those who have ears to hear … [The film] offers a realistic, provocative and unvarnished look at the issues of social, economic and racial disparities within the body of Christ. Raw, unapologetic honesty and grittiness … characterize the film which pulls no punches as it addresses hard subjects those of us in the church are sometimes tempted to brush under the rug."
But other Christian film critics would prefer to keep that subject "under the rug."
Willie Magnum (Christian Spotlight) starts out claiming that the filmmakers fail to "rise above TV series mimicry or movie of the week schmaltz and create a great film. The whole piece thumps along from vignette to vignette, eventually reaching a denouement that is nothing approaching climatic … What really bothers me about this film is that it really amounts to a 'dirty laundry' diatribe against the current mega-church bureaucracy that really, in the end, is an intramural debate and ought not be so scathingly aired in public."
Marc T. Newman (Movie Ministry) says, "While the makers of The Second Chance have some good things to say, they have chosen precisely the wrong venue in which to say them. … Themes of racial reconciliation can make for great film. Glory Road was a good example of a movie of this type. But when movies focus on church politics we cannot expect that many people outside the church will want to see such fare. And even if a few do, will they come away with the right message? Filmmakers who share a Christian worldview need to rethink the best way to use the medium to move the Gospel forward. One hint—it starts with a more compelling and accessible story."
Mainstream critics, meanwhile, are giving it mixed reviews.
Good dogs deserve biscuits for
Eight Below
So, your family enjoyed March of the Penguins. Will you be hurrying out to see the "March of the Sled Dogs" … otherwise known as Eight Below?
The film, inspired by true events, follows three scientists on an expedition in Antarctica who run into trouble and have to leave behind their sled dogs. As the fierce weather threatens to spoil their hopes of survival, the dogs persevere, and their story is winning cheers from dog-loving moviegoers.
Peter T. Chattaway (Christianity Today Movies) says the film "works best when it focuses on the dogs themselves: their trials, their triumphs, even their character arcs. The film is less successful when it focuses on the human characters." He has a few quibbles with it, but concludes that they're insignificant when compared to "the story's value as an age-appropriate lesson in maturity, respect, teamwork and sacrifice."
He also cautions parents that there are a few moments that might be frightening for children. "And there is at least one good scare here that will make even adults jump."
Steven D. Greydanus (Decent Films) likes the dogs, and says the film is "good, but not good enough. … Certainly families could do a lot worse than Eight Below, and the fact that Hollywood is making movies like this at all is still somewhat encouraging. Even so, I hope that this new breed of family-friendly Hollywood fare eventually rises above its current threshold and begins to produce entertainment that is genuinely worth grown‑up viewers' time, whether or not they have kids in tow."
But his fellow Catholic film critic David DiCerto (Catholic News Service) disagrees, saying that "only the most frostbitten cynics will not have a lump in their throats during the heart-tugging, bittersweet climax. As warm as its setting is cold, this action-packed dog tale will leave moviegoers wagging theirs."
Adam R. Holz (Plugged In) cautions parents about "a few mild profanities" and "the ongoing depicted peril of the dogs and a series of intense encounters between the dogs and other Antarctic denizens." But while it's predictable, he says he was surprised by how it "pulled at my heartstrings." He concludes that it's "an engaging, emotional story about hope, friendship and, most of all, never giving up—no matter how cold it gets."
Cliff Vaughn (Ethics Daily) says, "Eight Below makes a good point—'You gotta take chances for the things you care about'—but its story structure and telling filter out too much adventure to make it truly memorable."
Lisa Rice (Crosswalk) says, "The movie is very safe and predictable. … Predictability and willing suspension of disbelief are forgivable, however, if there is an element of overriding tenderness.In the case of Eight Below, there certainly is. A sweet love story and charming comic relief draw the audience to forgive the corny predictability and drawn out sequences of dogs acting like selfless humans."
Mainstream critics rate this Disney adventure rather highly.
Freedomland

: Better or worse than

Crash

?

Freedomland stars Samuel L. Jackson and Julianne Moore, but it's Edie Falco (The Sopranos, Sunshine State) who's winning rave reviews.

Joe Roth's film tells the story of Brenda Martin (Moore) who, after being treated in an emergency room for shock and hysteria, explains to police detective Lorenzo Council (Jackson) about a carjacking ordeal and the disappearance of her son. Karen Collucci (Falco), a community activist, then spearheads a search for the child, but before long the case has provoked a clash of racially-divided cultures.

Todd Hertz (Christianity Today Movies) compares the film's approach to that of Cinderella Man. If that seems like an odd choice, read his review, and you'll see what he means. "This isn't as much a thriller as it is a drama—propelled by the questions of how the characters will find out the truth. And how that truth will affect their world." Hertz praises Falco's performance and the film's surprising emphasis on faith. He says its treatment of racism is "fairly balanced" but somewhat "cliché d," saying that it doesn't stack up to "the superior Crash" from last year.

Christian Hamaker (Crosswalk) disagrees. "Freedomland is everything last year's Crash wanted to be but wasn't. Crackling with racial tension, suspense and two dynamite lead performances, [it] delivers the year's first on-the-money drama." He continues, "Freedomland shows how God can reach out to the lost and the broken, even through conflicted motives and heartbreaking circumstances."

Harry Forbes (Catholic News Service) calls Freedomland "an overheated, not to mention grim, melodrama that doesn't quite work." Despite its "worthy themes," Forbes says the screenplay "is undermined by plot contrivances and a heightened sense of hysteria that seems phony."

Tom Neven and Steven Isaac (Plugged In) say, "At the heart of Freedomland lies one of Lorenzo's more poignant pronouncements: 'God always gives you another chance. God's grace is retroactive.' Maybe it is because the story is so bleak and destructive that Lorenzo's dissertations on faith and God's character resonate so emphatically … but it's also why even seasoned film critics are having a hard time watching." He also notes, "The story does a good job of showing the destructive consequences of selfishness and a single lie."

Mainstream critics do indeed condemn the film, but many of their complaints have nothing do with the film's emphasis on faith. Most of them criticize it as lousy filmmaking.
Skip this
Date Movie
For about thirty bucks—two tickets plus snacks—you can take your date to see Date Movie. Or, for a whole lot less, you can rent all of the movies that it spoofs—much better movies—and pick up tastier snacks at your nearby grocery store.
Date Movie is about the marriage of a formerly-overweight waitress (Alyson Hannigan) to her dream guy (Adam Campbell), and the attempts of the groom's former girlfriend (Sophie Monk) to ruin the event. But the movie itself has been ruined by a sophomoric and intelligence-insulting script full of degrading humor.
David DiCerto (Catholic News Service) warns moviegoers that Date Movie consists of "a nonstop barrage of vulgar and unfunny juvenile sight gags that test the limits of its PG-13 rating."
Marcus Yoars (Plugged In) says, "Laughing at the most memorable scenes from recent romantic comedies is one thing; simply re-enacting those scenes and dousing them with even raunchier sight gags and jokes is just boring and foul."
Mainstream critics are trying to save audiences from the movie, but moviegoers ignored them, making the film No. 2 at the box office last week.
More reviews of recent releases
Curious George: Andrew Coffin (World) says, "Curious George is delightfully age-appropriate and free from strained stabs at hipness. … Where George stumbles, though, is in falling prey to the seemingly unavoidable temptation of modern children's films to smarten-up adolescent protagonists while dumbing-down the adults."
Firewall: Andrew Coffin (World) says, "The film does an adequate job of building suspense out of mini-crises … . But any goodwill these scenes build up quickly dissipates in a ludicrous finale that offers up huge plot holes while systematically checking off apparently essential thriller cliché s (huge, uncalled-for explosions, etc.). There's been much talk about Mr. Ford's age, as though a 64-year-old actor is too old to star in an action film. The problem with Firewall, though, is the plot's worn-out maturity, not Mr. Ford's."
The Pink Panther: Gene Edward Veith (World) says the movie is "sheer, non-stop, slapstick comedy. And Steve Martin, who co-wrote the script, is a master of physical comedy." He goes on to defend the slapstick, and "wordplay, silly voices, and ethnic humor" from the criticism of other reviewers.
But Christie Hudon (Relevant) says, "Slapstick movies have their place, if the plot is unconventional … but a feature length film that is nothing more than a slathering of cliché s fails to excite."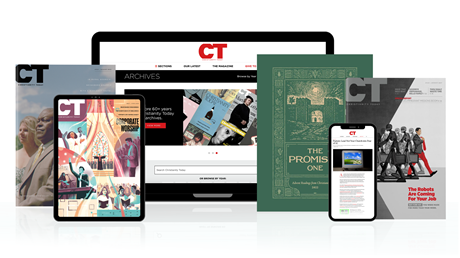 Annual & Monthly subscriptions available.
Print & Digital Issues of CT magazine
Complete access to every article on ChristianityToday.com
Unlimited access to 65+ years of CT's online archives
Member-only special issues
Subscribe
Second Chance, First Movie for Smith, Taylor
Second Chance, First Movie for Smith, Taylor