Church and state:
Religious freedom:
Education:
Bible studies class pushed for schools | Democrats' bill fuels grumbling by GOP (The Atlanta Journal-Constitution)


Moral science text in Christian management school in controversy | Controversy is brewing over a sketch in a moral science textbook of second standard students in Christian management run schools in Kerala, with the Sunni Students Federation (SSF) protesting over it, saying it portrayed Prophet Mohammed and was 'unIslamic' (UNI, India)


Intelligent Design:
Politics:
Abortion:
Abortion battles play out state by state | Lawmakers in two states are proposing broad abortion bans they hope will eventually win approval from a reconfigured, more conservative high court. Legislators elsewhere are seeking to tighten a range of abortion restrictions; one leading liberal advocacy group gave 19 states a failing grade on reproductive rights in a national status report issued Wednesday (Associated Press)


Abortion speech:
Granite City OK's sign limits; abortion-foes protest | With little fanfare, the City Council on Tuesday night voted to restrict signage along parade routes, a move that angered an anti-abortion group targeted by the ordinance (St. Louis Post-Dispatch)


Also: Granite City sign ordinance passes; protesters vow a fight | Abortion opponents will go to court in an effort to get rid of Granite City's new law against displaying large signs alongside parade routes, their attorney said Tuesday (Belleville News-Democrat, Ill.)


Arizona panel backs bill on abortion speech | Plan would force doctors to talk about fetal pain (Associated Press)


Ayotte v. Planned Parenthood (news):
Justices refuse to reject N.H. abortion law | Order lower court to revisit ruling on parental notice (The Boston Globe)


Ayotte v. Planned Parenthood (opinion):
Oregon v. Gonzales:
The assisted-suicide decision | The Supreme Court smacked the Bush administration when it ruled that the Justice Department had gone beyond its authority in trying to undermine an assisted-suicide law in Oregon (Editorial, The New York Times)


Ashcroft's overreaching | Oregon's law is humane and carefully drawn (Editorial, The Courier-Journal, Louisville, Ky.)


The right ruling on assisted suicide | Decision protecting Oregon's law should encourage California lawmakers supporting similar legislation (Editorial, San Jose Mercury News, Ca.)


California stem cells:
State's stem-cell effort criticized in report | Institute spokeswoman calls findings rehash of old complaints (San Jose Mercury News, Ca.)


Stem cell head should quit, group says | Robert Klein II, the campaign chairman who became the head of the state's stem cell agency's board, should step down from that job because of his failed leadership, the Center for Genetics and Society said Wednesday (The Sacramento Bee, Ca.)


Promises to keep | At the heart of California's multibillion-dollar experiment in public stem cell research are two promises. One is that such research will save lives. The other is that the scientists conducting it, and the agency funding it, will be accountable. The first is as magnificent as it is exaggerated; the second is more practical but as yet unfulfilled (Editorial, Los Angeles Times)


Life ethics:
Crime:
South suburb cops convene on gangs, but pastors dubious | Critics say data-pool won't curb murders (Chicago Tribune)


Abuse suits allowed against Joliet diocese | Appeals court sends back 5 men's cases (Chicago Tribune)


Satanic abuse: Town in shock | Shock waves reverberated round the Langley estate this week as residents tried to come to terms with the revelations of the suffering of the parents and children involved in the false allegations of satanic abuse more than 15 years ago (Middleton Guardian, England)


Church life:
Goth church:
Praise be to Goth | Having songs by Depeche Mode and Joy Division blasted through the sacred vault of Clare Chapel may shake a few of the church's older congregation, but for Marcus Ramshaw it is about welcoming an excluded minority (Cambridge Evening News, England)


Earlier: In Goth we trust | Dressing in black and listening to rock music may not seem the usual activities of a church congregation. But at St Edward King and Martyr it is par for the course. The church, in Peas Hill, Cambridge, holds a special service for Cambridge's Goth community known as the Goth Eucharist (Cambridge Evening News, England, Jan. 14)


Vicar preaches the word of goth | Clad in black, heavily painted with pale make-up and dark eyeliner, the goth's way of life is not usually associated with a church service unless, that is, it is being conducted by the Rev Marcus Ramshaw (The Guardian, London)


Catholicism:
Sex and marriage:
Ken Hutcherson's Microsoft boycott:
Human rights: True morality | Has Ken Hutcherson called for boycotts of corporations that pay lousy wages, that deny their workers health care and family leave or risk their workers' lives in unsafe working conditions, that welsh on employee pensions? (Editorial, Seattle Post-Intelligencer)


Flying on a right wing and a prayer | If a theocracy is what Ken Hutcherson wants, he deserves a one-way ticket to Iran (Robert L. Jamieson Jr., Seattle Post-Intelligencer)


Pious peashooter misfires | Over time, I have learned to ignore the in-the-name-of-God antics of the Rev. Ken Hutcherson (Nicole Brodeur, Seattle Times)


Israel and Pat Robertson:
Israelis may let Robertson back into Galilee plan | Israeli Tourism Minister Avraham Hirchson is reviewing his decision to exclude Pat Robertson from an American evangelical group involved in a government-sponsored Christian tourism center in Galilee, a ministry spokesman said Wednesday (The Virginian-Pilot)


A prophet's apology | Robertson, judging by a long history, is bound to play the Holy Fool again, and again, and again (Editorial, The Jackson Citizen-Patriot, Mi.)


The real story: Support for and love of Israel | The real story was not about Pat Robertson, bor was the story about a Palestinian leader who doesn't approve of Christian theology. It was also not about our attempting to secure the Jews' support for a conservative social agenda (Stephen Strang, The Orlando Sentinel)


People:
Rick Warren in the country | According to sources, Warren, who is the leader of Saddleback Church in California, is scheduled to meet top church and government leaders to deliberate on issues that would enable the church and the nation attain holistic development (New Times, Rwanda)


Seiple to lead freedom council | Religious-rights group also honors former Czech leader Vaclav Havel (Richmond Times-Dispatch, Va.)


Greeley defends conservative Christians | "Conservative Christians get a bum rap," Greeley said. "They are the new hate group. It is all right to hate the evangelicals" (Arizona Daily Star)


Media and entertainment:
What a lazy way to argue against God | If you're going to allow a man a microphone for two hours of prime viewing time, it's the duty of the show's producer to ensure that the protagonist's views are scrutinised by his most able critics (Ron Ferguson, The Herald, Glasgow)


End of the Spear:
'Spear' traces deadly mission, tribes' redemption | Far from home, five American missionaries died in brutal fashion - speared and hacked to death by tribesman in the dense jungles of Ecuador (Associated Press)


'End of the Spear' shows missionaries' hubris | The five men were reckless (James Ward, Visalia Times-Delta)


Books:
Does Judaism lack reason? Claim of book draws fire from critics | Having written a book that credits Christianity with nothing less than the success of all Western civilization, Rodney Stark is drawing his share of criticism from reviewers asserting the work is a thinly veiled polemic. But the worst crime committed by the one-time Pulitzer Prize nominee — at least according to one Jewish sociologist — is his representation of Judaism (Forward, Jewish newspaper)


What about your religion? | Blind obedience to any faith can be explosive, author Charles Kimball says (Clarion Ledger, Jackson, Miss.)


Other stories of interest:
Survey finds teens put value on their religion | An interfaith survey of 1,153 teens released yesterday by B'nai Brith reveals nearly 70 percent of all teenagers value religion in their lives and say they would like to connect better with their religion. But 43 percent of them don't know how to do so (The Washington Times)


God in the game | Worship before competition routine for some teams (The Press-Enterprise, Riverside, Ca.)


Dozens dying in Russian cold but believers still take an Epiphany dip | Said to purge the faithful of their sins with the added benefit of hardening their constitution for the year, the ceremony is the old Russian Gregorian calendar's equivalent of Epiphany, which falls on Jan 6 in the West (The Telegraph, London)


Related Elsewhere:
Suggest links and stories by sending e-mail to weblog@christianitytoday.com
See our past Weblog updates:
January 18 | 17
January 13b | 13a | 10
January 6 | 5 | 4
December 28 | 21 | 16 | 14 | 12
December 9 | 7 | 6
December 2b | 2a | November 30
November 23 | 22 | 21
Weblog
Launched in 1999, Christianity Today's Weblog was not just one of the first religion-oriented weblogs, but one of the first published by a media organization. (Hence its rather bland title.) Mostly compiled by then-online editor Ted Olsen, Weblog rounded up religion news and opinion pieces from publications around the world. As Christianity Today's website grew, it launched other blogs. Olsen took on management responsibilities, and the Weblog feature as such was mothballed. But CT's efforts to round up important news and opinion from around the web continues, especially on our Gleanings feature.
Ted Olsen is Christianity Today's executive editor. He wrote the magazine's Weblog—a collection of news and opinion articles from mainstream news sources around the world—from 1999 to 2006. In 2004, the magazine launched Weblog in Print, which looks for unexpected connections and trends in articles appearing in the mainstream press. The column was later renamed "Tidings" and ran until 2007.
Previous Weblog Columns: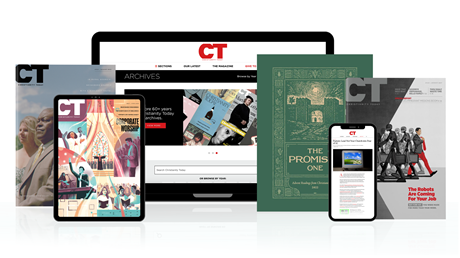 Annual & Monthly subscriptions available.
Print & Digital Issues of CT magazine
Complete access to every article on ChristianityToday.com
Unlimited access to 65+ years of CT's online archives
Member-only special issues
Subscribe
Suit Dropped Against California Missions Funds
Suit Dropped Against California Missions Funds