1. Immaculate Conception insurance
Three British women are going to be pinching their pennies if they have the (un)fortunate surprise of giving birth to the Messiah, the BBC reports.
Uproar from the Catholic church convinced Britishinsurance.com to end an unusual insurance policy—the women, who have each been paying 100 euros a year since 2000, would receive 1,000,000 euros if one of them was to have a virgin birth.
The company matter-of-factly explains: "The people were concerned about having sufficient funds if they immaculately conceived. It was for caring for and bringing up the Christ."
When will Las Vegas start accepting bets on the date of the Second Coming?
2. Bring out your dead
1,000 skeletons were found buried together in one of Rome's oldest catacombs. "Mystery surrounds why so many bodies were neatly piled together in the complex network of underground burial chambers, which stretch for miles under the city," reports the Scotsman.
Raffaella Giuliani, chief inspector of the Vatican's Pontifical Commission for Sacred Archaeology, who is overseeing the dig, said: "What we have discovered is very exciting. Usually, two or three bodies were put into holes dug out of the rock in the catacombs. But we have several rooms filled with skeletons." The skeletons were dressed in fine robes, many of which had gold thread in them, and they were wrapped in sheets and covered with lime.
"This was quite common with early Christian burials, as it was a form of hygiene, and the corpses were also anointed with balsamic spices. Again, this all shows a great amount of dignity and respect given to the dead."
There are several catacombs beneath Rome dating back 2,000 years and they were used as burial places by early Christians. They were also used as secret places of worship as the pagan Romans persecuted Christians, famously feeding them to lions in the Colosseum.
3. Vandalism not an act of Episcopal frustration
Police have ruled out Episcopal backlash against the decisions of the recent General Convention as motivation for the twice attempted burning of two crosses on the property of St. Ambrose Episcopal Church. The bases of the crosses were lit twice in the last week, causing one cross to fall over. The South Florida Sun-Sentinel reports on the religiously astute police department.
Investigators don't think whoever is responsible was motivated by the politics within the religious denomination.
But they noted that the Episcopal House of Deputies, meeting in Ohio, voted down a request Tuesday by international Anglican leaders to temporarily stop electing openly gay bishops. On Wednesday, the Episcopal Church agreed to "exercise restraint by not consenting" to the consecration of openly gay bishops, a move criticized by some as too vague.
Some conservative Episcopalians also are upset that the national church named a woman as presiding bishop. Katharine Jefferts Schori was chosen Sunday.
Wow, those investigators probably know more about Episcopal polity than most Episcopalians!
4. Will pay for parishioners
If you're headed to Chicago and need a little extra spending money, visit the  United Pentecostal Church of Harvey and get 25 bucks. The church "plans to provide the cash to the first 75 people who visit the church for the first time at each of two services, one at 10 a.m. and another at 1 p.m. The only requirements are that the newcomers be 16 or older and that they stay for the entire 90-minute service," writes the Chicago Tribune.
5. The revolution will be blogged
"The election of the Rev. Frank Page as president of the Southern Baptist Convention last week may have been historic in one key way: It marked the first time that a major religious group opted for an upstart candidate on the strength of a technological innovation—the blog," reports The News & Observer in North Carolina. Dissatisfied with the denomination's presidential nominations, bloggers created enough buzz to make Page the newest president.
More Articles
Church life | Missions & ministry | ECUSA | Homosexuality | Catholicism | New D.C. archbishop installed | Politics | People | Media | Crime | More articles of interest
Men gather to tend flame of faith | Promise Keepers to bring message of empowerment and salvation to Pepsi Arena (Albany Times Union)


African cleric breaks the silence on HIV | Stephanie Nolen talks to the man who spurred religious leaders to share their secrets (Globe and Mail, Canada)


Christian marriage seminar lures 960 | Nearly 1,000 people from across the United States will be in Tucson this weekend for an increasingly popular Christian workshop that focuses on strengthening marriage. (Arizona Daily Star)


Africa's Anglicans applaud U.S. move on gay bishops | African bishops on Thursday applauded a decision by the U.S. Episcopal Church to avoid consecrating more openly gay bishops but said liberals must show true repentance if a rift in the Anglican community is to heal. (Reuters)


African Anglicans slam US church as gay row deepens | Africa's Anglican bishops have attacked their U.S. counterparts for failing to condemn homosexuality after they elected a liberal woman leader who supports gay rights. (Reuters)


Our Mother Jesus . . . a sermon by US church's new head | THE Episcopal Church in America descended into chaos last night after leading bishops on both the liberal and conservative wings dissassociated themselves from a last-gasp effort to avert a schism with the worldwide Anglican Communion. (The Times, London)


An agonized vote to try to unify a church | Episcopalians' decision this week to limit gays' role may not be enough to prevent a split. (The Christian Science Monitor)


Battling over bishops | Gender and sexuality trouble in the Episcopal Church. (Editorial, Los Angeles Times)


Episcopal chaos | The General Convention of the Episcopal Church decided this past week not even to vote on a resolution saying Jesus Christ was the "only name by which any person may be saved," but heard the newly elected presiding bishop of the church _ the first woman in that role _ give a sermon using the expression "Mother Jesus." (Jay Ambrose, Scripps Howard News Service)


Ehrlich slammed for firing official | Maryland Gov. Robert L. Ehrlich Jr. is receiving criticism nationally and locally for his decision last week to fire a Metro Board member who said in a public forum that he thinks homosexuals are "persons of sexual deviancy." (Washington Times)


Many gay teens are coming out at earlier ages | Chris Krug had thought she was a lesbian from the time she was 8, but she felt certain after developing a serious crush on her best friend. She was in the fifth grade at the time. (St. Louis Post-Dispatch)


Religion news in brief | The United Church of Christ announced that an assembly of one of its regional units, the United Evangelical Church of Puerto Rico, voted by 75 percent to leave the denomination due to its liberal policies on homosexuality. (Associated Press)


Forgiveness part of papal visit to Auschwitz | These have been rough days for the Pope. It was inevitable that his visit to Auschwitz would stir up complaints from Jewish spokespeople and commentators. No matter what he did or said, they had to criticize. (Andrew Greeley, Albany Times Union)


Pope names Cardinal to no. 2 post | Tarcisio Bertone, Genoa's archbishop, becomes the Vatican's `premier.' He once sought a boycott of `The Da Vinci Code.' (L.A. Times)


Dioceses won't perform background checks | The Roman Catholic dioceses of Los Angeles and Orange County have backed away from a promise to conduct fingerprint background checks on anyone working with children, saying they don't want to lose volunteers who are illegal immigrants. (AP)


Pope deplores Christian exodus | Pope Benedict XVI has said violence is forcing Christians to flee Israel, the Palestinian territories and other countries of the Middle East. (Aljazeera)


The language of prayer | New changes to the Mass will make it closer to the original (Michael P. Foley, The Wall Street Journal)


Serving overseas | Nuns dedicate later life to African ministry (Mankato Free Press, Minn.)


New D.C. archbishop installed:
Wuerl is installed as D.C. archbishop | The ritual is centuries old -- first the "inspection" of the pope's written announcement of the new archbishop, then the seating of the new leader on the throne, and finally the presentation of the symbolic golden staff to the shepherd. (Washington Post)


Archbishop installed amid pomp | Washington opened its arms to Bishop Donald W. Wuerl yesterday, welcoming him in an ornate, incense-filled, three-hour Mass installing him as the city's newest Catholic archbishop. (Washington Times)


Religious left developing new 'spiritual covenant' | After wandering the political desert for nearly 40 years, organizers of a Spiritual Activism conference here said that the religious left is taking tentative steps toward the Promised Land. (Religion News Service)


Survey details 'deep' divide between Muslims, Westerners | A "deep attitudinal divide" exists between Western and Muslim publics, with Muslims in the Middle East, Asia and Africa more critical of Westerners than vice versa, according to a survey released today. (Washington Post)


What would Jesus think? | Randall Balmer, a professor of American religious history at Barnard College and an evangelical, accuses the Christian right of becoming drunk on power and betraying its biblical ideals (The Chronicle of Higher Education)


Evangelical: Religious right has distorted the faith | President Bush and the Republican Party find strong support among evangelical voters. But in his new book, Thy Kingdom Come, author Randall Balmer says that allegiance is misplaced. (NPR)


San Diego will appeal cross ruling | The city plans to petition the U.S. Supreme Court in an attempt to keep a giant cross standing on municipal property, the city attorney said Thursday. (Associated Press)


Cerak taking steps without assistance | Whitney Cerak is starting to walk without assistance, prompting some optimistic members of her church to think she could return to her hometown of Gaylord in time for that city's Alpenfest celebration in mid-July. (The Grand Rapids Press)


Despite life's difficulties, new vicar still devoted | Life is difficult, said Turner, the newly appointed vicar of Faith Lutheran Church, 580 Green St. And, there is only one answer for dealing with the hard times life throws us, he said. (Daily Press, Col.)


The Gospel according to rock | Modesto Performing Arts prepares to spread the music with the moving rock opera 'Jesus Christ Superstar' (Modesto Bee, Calif.)


Voided sale of PBS station to be appealed | An O.C. college district will fight a televangelist firm's challenge to the sale of KOCE-TV. (L.A. Times)


Church's wooden crosses burned twice in one week in Fort Lauderdale | A set of wooden crosses in front of a Fort Lauderdale Episcopal church has been burned by vandals twice in a week, leaving the congregation frustrated and struggling to understand why the symbols are being targeted. (South Florida Sun-Sentinel)


1,000 skeletons found in Rome catacombs | Archaelogists exploring one of Rome's oldest catacombs have discovered more than 1,000 skeletons dressed in elegant togas. (Scotsman, UK)


Land of milk, honey -- and oil? | A Texas Christian wants to take his Zion Oil & Gas public to finance energy exploration in Israel. Will investors hear the call? (BusinessWeek)


Recording artist kicks off Pinebrook Bible Conference's summer season | Pinebrook Bible Conference on Route 191 in Stroud Township begins its 73rd summer conference season with a concert by pianist, composer, and recording artist Don Wyrtzen at 7 p.m. Saturday. (Pocono Record, Pa.)


Related Elsewhere:
Suggest links and stories by sending e-mail to weblog@christianitytoday.com
See our past Weblog updates:
June 22 | 21
June 16 | 15 | 14 | 13b | 13
June 9 | 8 | 7 | 6
June 2b | 2a | May 31
May 26 | 24
May 19 | 18 | 17
May 11 | 10 | 9 | 8
May 5 | 4 | 3
Weblog
Launched in 1999, Christianity Today's Weblog was not just one of the first religion-oriented weblogs, but one of the first published by a media organization. (Hence its rather bland title.) Mostly compiled by then-online editor Ted Olsen, Weblog rounded up religion news and opinion pieces from publications around the world. As Christianity Today's website grew, it launched other blogs. Olsen took on management responsibilities, and the Weblog feature as such was mothballed. But CT's efforts to round up important news and opinion from around the web continues, especially on our Gleanings feature.
Ted Olsen is Christianity Today's executive editor. He wrote the magazine's Weblog—a collection of news and opinion articles from mainstream news sources around the world—from 1999 to 2006. In 2004, the magazine launched Weblog in Print, which looks for unexpected connections and trends in articles appearing in the mainstream press. The column was later renamed "Tidings" and ran until 2007.
Previous Weblog Columns: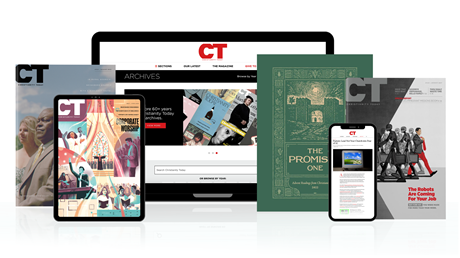 Annual & Monthly subscriptions available.
Print & Digital Issues of CT magazine
Complete access to every article on ChristianityToday.com
Unlimited access to 65+ years of CT's online archives
Member-only special issues
Subscribe
Insuring a Virgin Birth
Insuring a Virgin Birth