Today's Top Five
1. Nazareth riots after church attack
A Jewish man with a reported history of mental illness was arrested along with his Christian wife and daughter after he set off fireworks in Nazareth's Basilica of the Annunciation. The church was crowded with Lent pilgrims, and the attack and subsequent response from police forces set off a riot. Local Arabs claimed the attack proves that Israel does not take action against violent Jews. Roman Catholic Archbishop of Jerusalem Michel Sabah "said that the person who tried to perform the terrible deed was born and bred on racist views and wild incitement against Christians in particular and Arabs in general," reports Haaretz. One imagines that there will be more coverage on this over the weekend.
2. Orthodox Church in America leaders say no to 1990s audit, but yes to more recent ones
The Washington Post headline says "Orthodox Leaders Reject Call for Audit," but the church's Holy Synod actually approved outside audits for 2004 and 2005. It's just that it won't audit its finances for the late 1990s, which is when the church's former treasurer says funds were diverted "to cover credit card debts and pay sexual blackmail." The synod also said it would "adopt a set of 'best practices' for financial management."
3. Missouri resolution would make Christianity official "majority" religion
Missouri's House Concurrent Resolution No. 13 declares that "our forefathers of this great nation of the United States recognized a Christian God and used the principles afforded to us by Him as the founding principles of our nation" and that "we the majority also wish to exercise our constitutional right to acknowledge our Creator and give thanks for the many gifts provided by Him. … As elected officials [we] recognize that a Greater Power exists above and beyond the institutions of mankind." The Anti-Defamation League and other groups are trying to stop the resolution from passing, but Alternet's Joshua Holland says it's a trap: "People who write bills like this aren't trying to make law. Their intent is to further the Right's narrative that Christians are a persecuted minority under siege. They want to guarantee that the good folks at the Anti-Defamation League, the ACLU, and Americans United fight to have their silly legislation overturned, proving that those civil rights groups have an anti-Christian agenda (and perhaps even a direct association with Satan)."
4. Death penalty foe has day in court
North Carolina's Jim French says the state's death penalty is offensive to Christians, since the last meal given to inmates Thursday nights before early Friday morning executions is similar to the Last Supper. In related news, when North Carolina Christians were informed that the state's procedure offensively mocked one of the holiest moments in their religion, they did not riot in the streets and issue death threats against government officials.
5. Time says assassination report illuminates Benedict XVI's challenge
Yesterday's Italian report about the Soviet Union's involvement in the 1981 assassination attempt on Pope John Paul II will add to his "legacy as being right up there with Reagan and Gorbachev as the decisive players in the end of the Cold War," says Time's Jeff Israel. But that's a reminder that Benedict XVI faces a bigger challenge than John Paul II's Communism. "Not only does Pope Benedict XVI not have first-hand experience 'behind the lines' in a Muslim society, like John Paul's background in Krakow, but the reach of his words may be inherently limited. Rather than facing a godless society's attack on the freedom to believe, Islamic terrorism presents a warped interpretation of a competing faith. … Like his predecessor, the preacher's message is clear. Only this time, one wonders if it will ever reach beyond the choir."
Quote of the day:
"There are a lot of second-, third-, and fourth-century gospels attributed to various apostles. We don't really assume they give us any first-century information."
James M. Robinson, editor of The Nag Hammadi Library and other Gnostic texts, on The Gospel of Judas. The Associated Press says Robinson, author of the forthcoming book The Secrets of Judas, expects the imminent release of a translation of the third- or fourth-century Gospel of Judas manuscript "will be a dud."
More articles
Basilica of the Annunciation attacked | War and violence | Life ethics | South Dakota abortion ban | Sexual ethics | Gay adoption battle in Mass | Politics | Immigration | Ten Commandments in Ky. | Church and state | Religious freedom | Missions & ministry | Church life | Lent | Catholicism | Theology | Science | Books | Entertainment and media | Money & business
Basilica of the Annunciation attacked:
Jew throws firecrackers inside Nazareth church | A Jewish man accompanied by his Christian wife and their daughter detonated fireworks inside the Basilica of the Annunciation in the northern Israeli Arab city of Nazareth on Friday evening, triggering riots that led to the wounding of five police officers, witnesses said (Haaretz)


Israeli Arab MKs fume over Nazareth church attack | Church officials: Suspect 'born, bred on racist views' (Haaretz)


Thousands riot in Nazareth | A Jewish man and two women entered the Church of the Annunciation in Nazareth on Friday evening and began throwing firecrackers taken out of a baby carriage that they brought with them (The Jerusalem Post)


Fireworks are thrown into Israel church | A distraught Israeli couple, joined by another woman, entered one of Christianity's holiest sites Friday and set off explosions, police said, sparking a large riot in Nazareth (Associated Press)


While facing death, embrace life, funeral director writes | There was something puzzling about Thomas Lynch, America's wise old man of death, hanging out with students at Albion College on Ash Wednesday (David Crumm, Detroit Free Press)


S.D. conservatives seek Roe v. Wade fight | South Dakota is suddenly in the vanguard of the movement to overturn Roe v. Wade. But in truth, it was a role that was decades in the making (Associated Press)


A challenge to 'Roe'? | If South Dakota's bill proves legally inconsequential, it is still troubling that a state legislature would pass such a categorical ban—and that the idea appears to be gaining steam elsewhere (Editorial, The Washington Post)


Extreme politics in S. Dakota | It is dismaying that Hunt and his colleagues would compel a woman to continue a pregnancy conceived under terrible circumstances. (Scot Lehigh, The Boston Globe)


Church losing its clout in Boston | Resignations of Catholic Charities board members over adoption policies for same-sex couples show how its influence has eroded (Los Angeles Times)


In break from Romney, Healey raps gay adoption exclusion | Candidate says agencies cannot discriminate (The Boston Globe)


Children and the church | The governor was wrong this week even to suggest the possibility that state law might be changed so that Catholic Charities could refuse to place children with qualified parents who are gay. (Editorial, The Boston Globe)


Clergy dismiss proposed illegal-alien law | Local clergymen whose churches help illegal aliens say they would disobey a proposed law that they say would require them to verify the legal status of their clients (The Washington Times)


Senate: Display religious texts | Commandments would return to Capitol grounds (The Courier-Journal, Louisville, Ky.)


Bill would limit courts on 3 fronts | Commandments: 'Historic display' would be allowed (Lexington Herald-Leader, Ky.)


Ky. Senate vote is one for history | Bill would OK posting of Ten Commandments (The Kentucky Enquirer)


MPs concerned over attack on Christians in Rajashtan | The Government Friday reiterated its commitment to protect the minorities as Lok Sabha MPs expressed their concern over some recent incidents of attack on churches and Christian institutions in Rajasthan (IANS, India)


Chaldean patriarch: "No Christian wants to leave Iraq for good" | The Patriarch Emmanuel III Delly admits the country's plight is "miserable", but says emigration affects Muslims much more: many Christians choose to stay to become peace-builders (AsiaNews.it, Catholic site)


Bush praises India's tolerance | President Bush, declaring "I believe in Almighty God," yesterday praised India's religious leaders for recognizing the importance of discussing respectfully the differences among their faiths to promote peace (The Washington Times)


Put religious freedom on agenda in Pakistan | The Musharraf government has done little to combat Islamic extremists within Pakistan who promote violence and discrimination against religious minorities (Michael Cromartie and Elizabeth H. Prodromou, The Philadelphia Inquirer)


Lent:
Some additions to the menu | Why it's okay to eat certain rodents during Lent (John J. Miller, The Wall Street Journal)


Make Lent a time for improvement | Everybody wants to have a comeback, a fresh start, a karmic mulligan. Lent reminds us that such grace happens. (Cathleen Falsani, Chicago Sun-Times)


Expert doubts 'Gospel of Judas' revelation | An expert on ancient Egyptian texts is predicting that the "Gospel of Judas" — a manuscript from early Christian times that's nearing release amid widespread interest from scholars — will be a dud in terms of learning anything new about Judas (Associated Press)


Icon or idol? It's a test of faith | Split is being played out in new ways because of immigration (San Antonio Express-News)


Ex-minister walks atheist path | A retiree encourages USF students to look inward, not to the heavens, for answers and says we should all be concerned about the religious right (St. Petersburg Times, Fla.)


Geneticists trace original organism | Geneticists have drawn up the most accurate tree of life yet and pinpointed what they believe to be the organism from which all other life on Earth evolved (The Guardian, London)


Chimpanzees reveal their human side as good Samaritans | The first evidence that being a good Samaritan is not a uniquely human trait, as most scientists thought, has been published (The Telegraph, London)


Also: Do as you would be done by | Lending assistance to relatives fits easily into evolutionary theory. Behaving in similar fashion with regard to unrelated individuals is harder to explain but undoubtedly occurs (Science)


Purpose-driven spirituality | How deep does Rick Warren go? (Thomas Baker, Commonweal)


Lessons on fatherhood | Betsy Hart reviews To Own a Dragon: Reflections on Growing Up Without a Father, by Donald Miller and John MacMurray (Scripps Howard News Service)


Henry Morris dies at 87 | 1961 book is credited with reviving the creationism movement (Los Angeles Times)


What would Jesus play? | Christian video game companies seek greater share of market with faith-based titles (San Bernardino Sun, Ca.)


Art firm alleges misconduct by lawyers | Thomas Kinkade Co., owned by the self-described "Painter of Light," on Thursday filed a lawsuit accusing opposing lawyers in a case brought by former gallery owners of illegally eavesdropping during arbitration hearings last year (Los Angeles Times)


Faith on the job | More employees wanting to practice their beliefs in the workplace (Elkhart Truth, Ind.)


Related Elsewhere:
Weblog
Launched in 1999, Christianity Today's Weblog was not just one of the first religion-oriented weblogs, but one of the first published by a media organization. (Hence its rather bland title.) Mostly compiled by then-online editor Ted Olsen, Weblog rounded up religion news and opinion pieces from publications around the world. As Christianity Today's website grew, it launched other blogs. Olsen took on management responsibilities, and the Weblog feature as such was mothballed. But CT's efforts to round up important news and opinion from around the web continues, especially on our Gleanings feature.
Ted Olsen is Christianity Today's executive editor. He wrote the magazine's Weblog—a collection of news and opinion articles from mainstream news sources around the world—from 1999 to 2006. In 2004, the magazine launched Weblog in Print, which looks for unexpected connections and trends in articles appearing in the mainstream press. The column was later renamed "Tidings" and ran until 2007.
Previous Weblog Columns: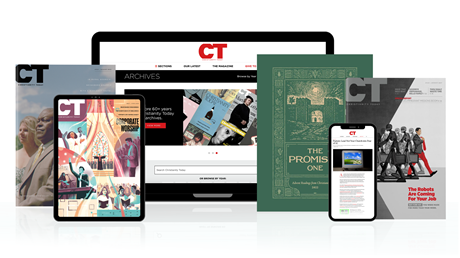 Annual & Monthly subscriptions available.
Print & Digital Issues of CT magazine
Complete access to every article on ChristianityToday.com
Unlimited access to 65+ years of CT's online archives
Member-only special issues
Subscribe
Read These Next
Trending

American Christians Should Stand with Israel under Attack

While we pray for peace, we need moral clarity about this war.

From the Magazine

I Studied Christianity with the Hope of Debunking It

A decade later, I became a Christian.

Editor's Pick

Don't Miss These African Christmas Hits

Jam out this season to highlife, Afrobeats, jazz, a cappella, R & B, rap, dance, and hip-hop artists from Nigeria, South Africa, and more.
Firecrackers at Basilica of the Annunciation Spark Riot
Firecrackers at Basilica of the Annunciation Spark Riot