true
Sounds like … twenty-seven of Wes King's insightful and heartfelt songs adapted to a diverse array of pop, rock, and folk styles by Phil Keaggy, Derek Webb, Paul Colman, downhere, Kim Hill, and a lot of up-and-coming artists
At a glance … this impressive tribute reminds us of King's strengths as a songwriter and successfully adapts his music to a wider range of styles while also exposing us to plenty of fresh talent, making this album a delight through and through
Most familiar with the music of Wes King probably assumed that he, like many Christian singer/songwriters, had faded into obscurity after a music career that lasted a little over ten years. With a wife and three sons, he seemed to be settling into the slower-paced career of a middle-aged adult contemporary artist writing songs for others (e.g. Michael W. Smith's award-winning "This Is Your Time"). Yet considering how loved he is within the industry and that he's just turned 40, one can't help but wonder where he's been since 2001's What Matters Most.
After getting dropped by Word, King was prepared to continue as an independent artist. Then a couple of years later, he was diagnosed with lymphoma, and the prognosis was not good. But after some demanding treatment, King seems to be on the road to recovery, though he's been left with a mountain of medical bills. The CCM community rallied to his side, pulling together to create a tribute project from which all proceeds will go to King and his family.
Spearheaded by Craig Mason, former A&R director at Word and current head of Indieforce.com, Life Is Precious: A Wes King Tribute recalls the 1996 Mark Heard tribute Orphans of God in scope, intent, and excellence. Early on, Mason had announced that several prominent names would be attached to this double-disc album, but their labels and management didn't grant permission to participate, seeking other ways to benefit King instead. Consequently, the project's only significant weakness is its lack of marquee value, yet that's also a strength since the artists involved demonstrate the kind of creative freedom found only on indie projects these days.
Guitarist extraordinaire Phil Keaggy, a longtime friend of King's and co-collaborator for 1997's Invention, bring his fingerwork throughout this project, but it's also great to hear his voice again, singing "Getting Used to the Darkness" with his usual flair for McCartney and Clapton. His niece-in-law Cheri Keaggy also makes a welcome return, performing a delightfully rhythmic and more laid-back rendition of the title track. Because King started out playing in Kim Hill's band, it's fitting she in turn offers a stirring electric guitar-driven cover of "By His Wounds," excellently produced by Jason Germain of downhere. That Canadian band contributes its own track, impressively transforming the soft acoustic ballad "Excavate" into heavier rock that still provides thoughtful reflection on the earthly legacy we leave behind.
But the artist that's most likely to surprise and impress in light of his most recent output is Paul Colman. His confident vocal soars over superb production and interesting (perhaps Australian) percussion for "What Matters Most," a classic case where a song and artist are simply meant for each other. Colman also performs a nifty cover of "Holy Ghost" that recalls the bluesy stadium rock of Bruce Springsteen or Gary Glitter. Similarly well matched are Derek Webb with his alt-folk interpretation of "I Believe," Scott Krippayne's stripped down piano/vocal performance of "Lazarus," and The Kry, who infuse "Hold On" with modern Beatle-esque rock.
The rest is comprised of up-and-coming independent artists, bringing variety and diversity to a project that could have easily sounded too homogenous. It also exposes the listener to plenty of fresh talent, more than can be recounted here. The NewFire Trio ("Magnificent Defeat") and Dan Meyers ("Remember") most resemble the acoustic AC that King was known for. Miranda Dodson ("That's Love") and Luminous ("The Robe") sound more like the alt-rock of Evanescence or Plumb. The Silent echoes U2's "Numb" with their mesmerizing electronic-laden version of "Motivation," Goodbye Audio gives "Since I Was a Kid" an exciting modern rock facelift, and Nichole Nordeman couldn't have done much better than Shelly Moore Band's thoughtful pop cover of "Do You Tremble." Though the second disc suffers slightly from being weighed down with too many unfamiliar names and lesser production, every track succeeds to some extent.
Let that serve as testimony to the quality of King's songwriting—the album's unifying thread amid the sonic diversity. Though King has no true hits collection, this project is in many ways more effective. Like Steven Curtis Chapman, King has a knack for forthright and heartfelt expressions of faith that remain thoughtful and distinct. This collection has reminded me how much I've missed this man's work without even realizing it—thank God he's still around to keep writing. The only thing that's worked against him in the past is a tendency to play it safe with routine acoustic pop arrangements. Life Is Precious proves that his songs are strong enough for life outside of his musical comfort zone, and that is perhaps the greatest tribute of all to his craft.
You'll find Life Is Precious at www.wesking.com, which offers information on Wes King and the artists involved, as well as MP3 samples of all the tracks. All proceeds go to Wes King and his family.
Browse All Music Reviews By: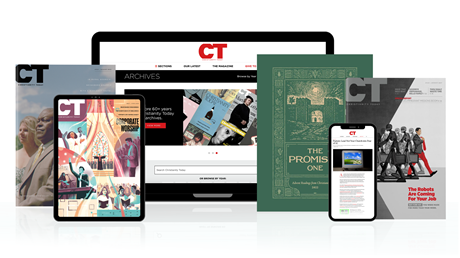 Annual & Monthly subscriptions available.
Print & Digital Issues of CT magazine
Complete access to every article on ChristianityToday.com
Unlimited access to 65+ years of CT's online archives
Member-only special issues
Subscribe
Life Is Precious: A Wes King Tribute
Life Is Precious: A Wes King Tribute