In the early years of World War II, Britain was in its darkest hour. It stood alone, facing the "cold fury and might" of the Nazi war machine, as Winston Churchill put it. If Britain fell, Churchill said in a May 1940 radio address, the world would "sink into the abyss of a new dark age."
Hope was in short supply, God was absent from most people's daily lives, and the church was seen as irrelevant. The war was going badly, and "death was becoming a daily companion for many," writes Justin Phillips in C.S. Lewis in a Time of War.
Into this moment stepped C. S. Lewis. In his "deep booming voice" Lewis showed that God still had something to say, even in the darkest circumstances, writes Phillips in his book (first published in 2002).
In 1941, when he began giving fifteen-minute broadcast talks on BBC radio, Lewis was relatively unknown. Within four years, he would become "the most widely celebrated Christian apologist on both sides of the Atlantic," writes Phillips. The radio talks were later published as Mere Christianity.
How did this happen? Phillips, a BBC journalist who died at 49 just after completing the first draft of the book, gives much of the credit to James Welch, the BBC's director of religious programming during the war. When Welch started, BBC religious broadcasting was limited to spiritual talks by vicars and live coverage of Sunday worship. Most church leaders, Phillips says, believed that radio was beneath them. When Welch arranged for then-archbishop of Canterbury Cosmo Lang to address the nation at the beginning of the war, he hoped Lang would bring a message of hope. Instead, as Welch's assistant Eric Fenn put it, Lang's message was "completely vapid and totally irrelevant."
It appeared that in the face of the war, even the church had given up hope. But Welch and Fenn wanted the gospel to be a "compelling force in changing lives." "They had not time for 'cozy Christianity,'" Phillips writes. "In C. S. Lewis, they detected a soul mate."
Phillips details how, with bombs falling on London daily, Welch and Fenn recruited Lewis and taught him the demanding craft of writing for radio. Every word had to count and had to be crystal clear. There was no "turning back the page" in radio. In the process, they transformed Lewis from a naturally talented writer into a legendary communicator.
Lewis made an inauspicious debut on August 6, 1941, at 7:45 in the evening. It was a less than ideal time slot, as it followed a 15-minute broadcast of news in Norwegian, which meant most of the British audience would have switched off. Still, the first talk, "Right and Wrong: A clue to the meaning of the universe" pleased the BBC, and soon Lewis was moved to a better time slot, one that drew as many as a million listeners.
By all accounts, Lewis captivated his audience. Phillips recounts a story from RAF officer John Lawler. Lawler was in a bar during one of the broadcasts. Someone nearby ordered a drink, and the barman was about to hand it over when Lewis came on the air.
"Suddenly everyone just froze listening to this extraordinary voice," Lawler said. At the end of the 15 minute talk, "there was the barman with his arm still up there and the other man still waiting for his drink."
Besides offering a behind the scenes look at a critical time in Lewis's development as a writer, Phillips catches some of Lewis's personality. He had a rocky relationship with BBC higher-ups, and at times chafed at the last-minute schedule changes demanded in radio. "If you know the address of any reliable firm of assassins, nose-slitters, garrotters, and poisoners, I should be grateful to have it," Lewis wrote Welch after one particularly grating incident.
Phillips also offers a tribute to James Welch. In a time of world-wide crisis, Welch never forgot his mission as a Christian to communicate God's love to the world.
"Welch felt strongly that the divisions of war did not diminish the relevance of the Word of God or its direction," Phillips writes. "If anything, it made the gospel more important than ever. Christ's offer of forgiveness to all who turn to him in repentance and faith is universal. The claim of Christ to be the route to God himself—the Way, the Truth, and the Life—applied in all times and all places. It applied equally to men and to women of all nationalities. Germany might be the enemy, but the Christian gospel had equally to speak to Germans as to the English. Religious broadcasting 'has to speak the Word of God, who is Lord, Judge, and Father of all men, of Germans equally with British, of Japanese equally with Americans. For religious broadcasting is, fundamentally, the broadcasting of truth about God and the truth given by God.'"
Related Elsewhere:
Also posted today is:
Sidebar
What C.S. Lewis Sounded Like | One of his BBC talks and a few other recordings are available online.
C.S. Lewis in a Time of War is available from Christianbook.com and other book retailers.
Our full-coverage of C. S. Lewis, including our December 2005 cover story, is available on our website.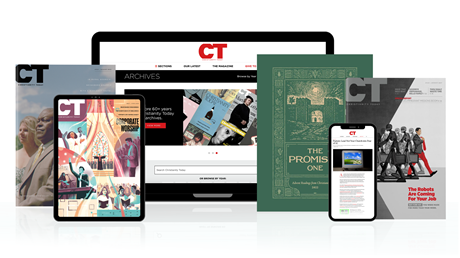 Annual & Monthly subscriptions available.
Print & Digital Issues of CT magazine
Complete access to every article on ChristianityToday.com
Unlimited access to 65+ years of CT's online archives
Member-only special issues
Subscribe
Mere Christianity Goes to War
Mere Christianity Goes to War