Today's Top Five
1. Mistaken identity at April Taylor crash
Breaking news out of Indiana today: one student declared dead in the April 26 van crash that killed four Taylor University students was misidentified with one of the students injured and in a coma. The family of  Laura VanRyn, who had been declared injured, announced on their weblog today that the girl in the hospital bed is actually Whitney Cerak. "Over the past couple of days, as Whitney had been becoming more aware of her surroundings, she'd been saying and doing some things that made us question whether or not she was Laura," the family explained. The Indianapolis Star has details on what is a situation that will certainly be a continuing focus of prayer for many.
2. Aid agencies send assistance to Indonesia after earthquake
Is it news that aid agencies are aiding, or just business as usual? The question is irrelevant to the agencies and to the folks in Java after Saturday's 6.3 earthquake that has left at least 6,234 dead and more than 30,000 injured. "News" or not, they need help. Among the agencies responding: World Vision, Samaritan's Purse, World Relief, the Salvation Army, and Compassion International. These agencies were also among the responders to the Christmas 2004 tsunami.
3. In East Timor, the only safe place is in church
"Machete-wielding youths battled in East Timor's capital Wednesday amid burning and looting as more foreign troops bolstered a force struggling to stop the unrest that has destabilized the country," says the latest Associated Press report. "More than 100,000 residents of Dili have fled their homes to escape the violence, an aid official said." Where many of them have fled, apparently, is to local churches, where priests have put on their best white robes to show that they are members of the clergy. "We must be identifiable — otherwise they will be hacking and burning them alive," the Rev. Lalo Lebron told The New York Times. "Yesterday we were in a part of the city where people from the east were inside—women and children—and outside people from the west were saying, 'Kill them, burn them.'"
4. NYT op-ed: It's not heroes vs. villains in Darfur
In today's The New York Times op-ed page, University of Texas professor Alan J. Kuperman reminds readers that humanitarianism might seem easy, but it rarely is—even amid Darfur's genocide:
Sudan's government last month agreed to a peace accord pledging to disarm Arab janjaweed militias and resettle displaced civilians. By contrast, Darfur's black rebels, who are touted by the wristband crowd as freedom fighters, rejected the deal because it did not give them full regional control. Put simply, the rebels were willing to let genocide continue against their own people rather than compromise their demand for power. …
Seemingly bizarre, this rejection of peace by factions claiming to seek it is actually revelatory. It helps explain why violence originally broke out in Darfur, how the Save Darfur movement unintentionally poured fuel on the fire, and what can be done to stanch genocidal violence in Sudan and elsewhere.
5. Every seat shall stand, every tongue confess …
The Catholic blog world was obsessing over the "anti-kneeling edict" at St. Mary's by the Sea even before the Los Angeles Times picked the story up on Sunday. Now there have been a few more posts. Weblog is happy to sit this fight out without commentary.
Quote of the day
"There is no way on earth Robertson leg presses 2,000 pounds. That would mean a 76-year-old man broke the all-time Florida State University leg press record by 665 pounds over Dan Kendra."
CBS Sportsline columnist Clay Travis, questioning Pat Robertson's claim. CBN officials insist that his one-ton leg press had several witnesses.
More articles
International violence | International religious freedom | Church, state, and religious liberty | Education | Politics | South Dakota abortion ban | Life ethics | AIDS | Homosexuality | More on sex, marriage, and family | Abuse | Boston's Caritas woes | Crime | Enron | Finnish cathedral set ablaze | TV sale illegal, says judge | Media and entertainment | Pat Robertson's leg press | People | Pope at Auschwitz | Pope in Poland | Church life | Churches and money | Immigration, race, and churches | Missions & ministry | Spirituality | Da Vinci Code | Books | Other stories of interest
Timorese flock to churches | Thousands of traumatised East Timorese have flocked to morning church services in and around Dili as Australian-led international peace enforcers continue to arrive in the country (AAP, Australia)


In East Timor, refugees born of chaos, carnage and fear | Priests in white robes attempt to rescue and protect residents (The New York Times)


East Timor spirals into gang warfare | East Timor's president said he was assuming emergency powers over national security Tuesday after machete-wielding mobs torched homes and ransacked buildings in the capital and desperate residents scuffled over scarce food (Associated Press)


Strategic victimhood in Sudan | Darfur was never the simplistic morality tale purveyed by the news media and humanitarian organizations (Alan J. Kuperman, The New York Times)


Christians flee the east in wake of Bush's 'crusade' | George W. Bush wanted to turn Iraq into a laboratory for the new Middle East. Instead, Christians in neighboring countries fear the contagion of the uncontrollable forces that a superficial democratization has unleashed (Pierre Rousselin, Le Figaro, Paris, via Watching America)


International religious freedom:
Church, state, and religious liberty:
Figures for church subsidies inaccurate | Swedish Radio News reports that several religious denominations here have turned in inaccurate membership statistics, as the basis for government subsidies (Radio Sweden)


Bible club lawsuit roils school | Collision between those who want public schools to be havens from society's most contentious debates and those who want the right to express faith-inspired views, even if those views may offend others (The Philadelphia Inquirer)


Federal court upholds Pennsylvania home schooling regulation | In several consolidated cases, parents challenged provisions that require them to document that their children have met requirements on days of attendance and hours of instruction in certain required subjects (Religion Clause)


Students stage unity rally as KKK protests | Incensed by Klan's message, they stand up for diversity (Lexington Herald-Leader, Ky.)


Tyranny of the Christian Right | The largest and most powerful mass movement in the nation -- evangelical Christianity -- has set out to destroy secular society (Michelle Goldberg, AlterNet)


Home abortions 'hit record high' | A record 10,000 women had an abortion at home last year, the British Pregnancy Advisory Service has said (BBC)


Curate condemns club foot terminations | The row over designer babies reignited yesterday when a Church of England curate condemned the aborting of fetuses with club foot (The Telegraph, London)


Disorder doesn't mean doomed | Alternative views of Down syndrome (The Boston Globe)


AIDS:
Bush's talk and results on AIDS | The Bush administration's critics should give credit where it's due. And when it comes to the global AIDS crisis, it is due -- big-time (Sebastian Mallaby, The Washington Post)


A plague of orphans and lonely grandmothers | AIDS has slipped back in our consciousness because once more the primary victims are marginalized people — this time, Africans (Nicholas D. Kristof, The New York Times)


At 12, a mother of two | Southern Africa is becoming the land of orphans, kids like Nomzamo Ngubeni, a fifth grader who is now the head of her household (Nicholas D. Kristof, The New York Times)


More on sex, marriage, and family:
Ousted chief 'didn't listen' | Haddad allegedly ignored warnings (The Boston Globe)


The woman who forced the Caritas shake-up | Drinan took on church in harassment case (The Boston Globe)


Crime(U.S.):
Crime (non-U.S.):
Deacon among four slain, pastor wounded | A family attending the funeral service of a relative slain a month ago, was traumatised even further yesterday when a younger brother of the deceased was murdered by gunmen as the service was being held (Jamaica Gleaner)


Enron jurors: We prayed, too | A daily invocation gave the diverse group confidence and unity (Houston Chronicle)


Ken Lay still isn't listening | Enron's whistle-blower responds to the verdict (Sherron Watkins, Time)


Law broken in KOCE sale, judge rules | Judge says college district violated its own rules by accepting non-cash bid, lowering price (Daily Pilot, Newport Beach, Ca.)


KOCE sale ruled invalid | A court again questions the deal with a local foundation, instead of a Christian broadcaster. The future is unclear (Los Angeles Times)


State court strikes down sale of KOCE-TV | Decision throws into doubt future of O.C.'s PBS station (The Orange County Register)


Baseball's Rockies seek revival on two levels | Behind the scenes, they quietly have become an organization guided by Christianity — open to other religious beliefs but embracing a Christian-based code of conduct they believe will bring them focus and success (USA Today)


The reality check | Five men spent six weeks in a monastery for a reality TV show. Two years on, have the lessons they learnt endured? (The Times, London)


Bishop James O. Mote, 84, dies; led revolt against Episcopal Church | Bishop James O. Mote of the Anglican Catholic Church helped start a revolt in the Episcopal Church after it voted to ordain women in the late 1970's (The New York Times)


TV preacher aims at the multitudes | Florida's late-night televangelist Bill Keller preaches fire and brimstone. Now he plans to deliver his message to a national TV audience (The Miami Herald)


Pope Benedict's Auschwitz prayer | On the final stop of his trip to his predecessor's homeland, the German Pope visited the notorious death camp and offered a heartfelt meditation on the Holocaust (Time)


A German pope confronts the Nazi past at Auschwitz | Pope Benedict XVI called the visit "particularly difficult and troubling for a Christian, for a pope from Germany" (The New York Times)


John Paul to sainthood, but his words in Poland implied that sainthood is likely (The New York Times)


German-born pope laments Holocaust crimes | Pope Benedict XVI visited the Auschwitz concentration camp as "a son of the German people" Sunday and asked God why he remained silent during the "unprecedented mass crimes" of the Holocaust (Associated Press)


Auschwitz speech seen as moving but incomplete | Some faulted him for not clearly mentioning anti-Semitism, others for saying Germany was taken over by criminals in the 1930s, as if Adolf Hitler had not had any popular support (Reuters)


Pope visits Nazi death camp | The German Benedict calls the trip 'difficult.' He meets survivors of the regime's atrocities (Los Angeles Times)


At Auschwitz, Pope invokes a 'heartfelt cry' | In poignant visit, pontiff prays in German at Nazi death camp (The Washington Post)


Pope, following criticism, condemns anti-Semitism | Pope Benedict, speaking after some Jewish groups complained that his recent speech at the Auschwitz former Nazi concentration camp was not strong enough, on Wednesday explicitly condemned anti-Semitism (Reuters)


The Holocaust wasn't Christian | Pope Benedict obscured the truth in his Auschwitz address by ignoring anti-Semitism and the Catholic Church's failures (Daniel Jonah Goldhagen, Los Angeles Times)


Business finds its sacred side | Church program teaches ethics of making money (The Boston Globe)


Today, homeownership is next to godliness | Churches serving minority communities are helping people who, though financially capable of buying a home, are unsure of how to go about it (The New York Times)


Where does church money go? | With expensive mission trips, sprawling campuses and dozens of sports and eclectic ministries, megachurches have been accused by some of lapsing into a materialistic suburban faith -- wasting collections on frills and grand complexes rather than concentrating on preaching the unadorned message of Christ (The Bakersfield Californian)


Immigration, race, and churches:
Some life insurers play by different rules | State laws allow unilateral, retroactive changes in policies issued by fraternal societies (The Wall Street Journal)


Rosslyn priest quits over Da Vinci Code hype | The priest of Rosslyn Chapel has resigned amid widespread speculation that he is no longer prepared to tolerate the worldwide hype generated by The Da Vinci Code (The Scotsman)


Kenya churches threaten theatres on 'Da Vinci Code' | Speaking at Dedan Kimathi Grounds, where they concluded the demo with prayers "to condemn and bind" the movie, religious leaders vowed to mobilise their followers to destroy theatres which will screen the controversial movie (The East African Standard, Kenya)


Call to storm cinemas height of intolerance | The militant stand taken by some Christian clerics against the screening of the Da Vinci Code is baffling and disturbing. (Editorial, Kenya Times)


Getty to display religious icons from Mt. Sinai | A Byzantine monastery will loan 53 objects for a fall showing called 'the experience of a lifetime' by one organizer (USA Today)


Holocaust victim names in Mormon database | Jewish leaders in a dispute with The Church of Jesus Christ of Latter-day Saints over the practice of posthumous baptisms say there is new evidence that names of Jewish Holocaust victims continue to show up in the church's vast genealogical database (Associated Press)


Owners of Christian oriented B&Bs practise hospitality | Diane Gourluck says that having a Christian background helps her create a welcoming environment for guests at her bed & breakfast establishment in Winnipeg (Canadian Press)


Top scientist gives up on creationists | Steve Jones, a leading British scientist, said yesterday that he had given up trying to persuade creationists that Darwin's theory is correct after repeatedly being misrepresented and, he said, branded a liar (The Guardian, London)


Related Elsewhere:
Suggest links and stories by sending e-mail to weblog@christianitytoday.com
See our past Weblog updates:
May 26 | 24
May 19 | 18 | 17
May 11 | 10 | 9 | 8
May 5 | 4 | 3
April 28 | 27b | 27a | 19
April 12 | 11 | 7
March 31 | 30 | 28
March 24 | 24 | 23 | 21
Weblog
Launched in 1999, Christianity Today's Weblog was not just one of the first religion-oriented weblogs, but one of the first published by a media organization. (Hence its rather bland title.) Mostly compiled by then-online editor Ted Olsen, Weblog rounded up religion news and opinion pieces from publications around the world. As Christianity Today's website grew, it launched other blogs. Olsen took on management responsibilities, and the Weblog feature as such was mothballed. But CT's efforts to round up important news and opinion from around the web continues, especially on our Gleanings feature.
Ted Olsen is Christianity Today's executive editor. He wrote the magazine's Weblog—a collection of news and opinion articles from mainstream news sources around the world—from 1999 to 2006. In 2004, the magazine launched Weblog in Print, which looks for unexpected connections and trends in articles appearing in the mainstream press. The column was later renamed "Tidings" and ran until 2007.
Previous Weblog Columns: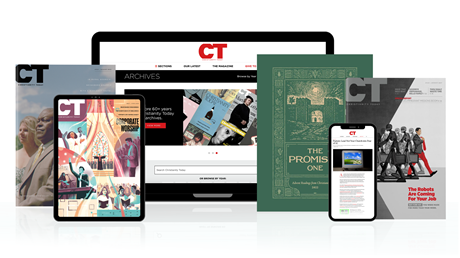 Annual & Monthly subscriptions available.
Print & Digital Issues of CT magazine
Complete access to every article on ChristianityToday.com
Unlimited access to 65+ years of CT's online archives
Member-only special issues
Subscribe
Wrong Girl Declared Dead in Taylor U. Crash a Month Ago
Wrong Girl Declared Dead in Taylor U. Crash a Month Ago