"That was Harry Reid," says Samuel Rodriguez, folding his flip phone as he leaves a strip-mall chain restaurant. It is an April day, and Congress is warring over immigration. "They are really courting us. You should have heard the way Nancy Pelosi was talking."
Rodriguez is a young 36 with longish hair and a neat black goatee. Fast-talking, articulate, utterly bilingual, he exudes confidence. Rodriguez is a "brilliant thinker and an authentic man of God," according to National Association of Evangelicals (NAE) president Ted Haggard. "He is the Karl Rove of Hispanic-Anglo evangelical strategy."
Consulting with the Senate minority leader, however, is new territory. With immigration topping the news, Rodriguez has become a go-to guy. He started the National Hispanic Christian Leadership Conference (NHCLC) six years ago to be a voice for Hispanic evangelicals. Suddenly, everybody in Washington—media and politicians—wants to talk to him.
Rodriguez should be happy with his new prominence, but he doesn't look entirely happy. "Immigration puts us at odds with our white evangelical brothers," he says. He has spent years building alliances, and now he is unsure whether they will last. Rodriguez knows what happened with civil rights. To this day, many African American Christians distrust white evangelicals even though they share views on school prayer, abortion, and gay marriage. Hispanic evangelicals might similarly resist alliances with those they perceive as blind to their core concerns. That is the last thing Samuel Rodriguez wants.
At a Washington press conference in April, Rodriguez and a coalition of Christian leaders issued a statement in favor of "comprehensive immigration reform"—bolstering border security while providing a path to citizenship for some immigrants living in the United States. Many evangelical groups went missing, though Focus on the Family and the NAE (through Richard Cizik, the association's Washington representative) came to give moral support. Instead, Ted Kennedy showed up.
"We need to know from white evangelical leaders," Rodriguez was quoted saying in The Washington Post, "why did they not support comprehensive immigration reform, why they came down in favor exclusively of enforcement without any mention of the compassionate side, without any mention of the Christian moral imperatives?
"So down the road, when the white evangelical community calls us and says, 'We want to partner with you on marriage, we want to partner on family issues,' my first question will be: 'Where were you when 12 million of our brothers and sisters were about to be deported and 12 million families disenfranchised?'"
Rodriguez would far prefer to have evangelical politicians, rather than Kennedy, line up behind him for photo-ops. It pains him to seem to threaten retaliation. But he's only offering a dose of reality. Immigration is a family issue for Hispanics. That illegal immigrant is, for them, beloved Uncle Carlos, a hard-working family man and deacon at the church. It's hard to build alliances with people who want to put Uncle Carlos in jail.
Rodriguez emphasizes that he's not defending violations of the law. He is all for border control and immigration enforcement. He feels, however, that the argument has become anti-immigrant and anti-Hispanic. "I'm very disappointed. We need dialogue on why white evangelicals are so threatened by people who are so fundamentally in accord with their values."
Talk about "illegals" particularly grates. "What they do is illegal, but to call them 'illegals' is against the Bible. How can a human being be illegal? That's the very way abortion is justified."
On the other hand, Rodriguez is taking heat from some Hispanic church leaders who think he's bent over too far to appease Anglos. NHCLC board member Angel Nunez, pastor of Bilingual Christian Church of Baltimore, explains: "There are people who are saying, 'Why should you sit at the table to eat with somebody who is a racist?' Some groups in the Latino community feel betrayed, and they say, 'We don't need them.'" But Rodriguez remains the man in the middle.
American Dream
Rodriguez is a first-generation American, born to Puerto Rican parents who came to America for work. His father found the American dream at a Mack truck factory in Bethlehem, Pennsylvania. He subsequently lost his job—and the family home—when Samuel Jr. was 10. But Rodriguez's parents worked hard and emphasized school and church. The family found other jobs and thrived.
Rodriguez's grandparents also immigrated, living for a time in Samuel's home. An Assemblies of God leader in Puerto Rico, Rodriguez's grandfather took the Good Samaritan parable literally. He often brought homeless people home and, when challenged, loudly recited the parable.
Rodriguez Jr. learned his first words of English in kindergarten. He caught on fast, did well in school, and graduated from Kutztown University of Pennsylvania, subsequently earning an m.a. in educational leadership at Lehigh University.
Education was important, but ministry topped everything. When Rodriguez was 14, a visiting evangelist stopped his message midstream and asked if there was a young man in the congregation named Samuel. When Rodriguez raised his hand, the evangelist said he had a message from God: Samuel would be a prominent leader of his people.
By 16, he was preaching to youth rallies and conventions. Before 17, he was spending every weekend speaking in churches across America. "I offered a different model from the typical reformed drug addict who spoke to youth," Rodriguez says. He was a good student, born and raised in the church, lacking a history of iniquity.
By the time he turned 18, the Assemblies of God had appointed Rodriguez to oversee Hispanic youth ministry in his region of more than 300 churches. In college, Rodriguez began to talk with charismatic and Pentecostal church leaders about creating a nationwide voice for the Hispanic evangelical church. He knew it was a vital, growing force, but who outside the subculture knew it that way?
In 1996, he and some friends began to organize state congresses for Hispanic evangelicals. Some of the annual assemblies grew to be the largest Hispanic gatherings in their state. They urged Hispanic churches to take leadership in their communities—to register to vote, to reach out and form alliances with like-minded evangelicals. "Hispanics have decided we're not going to isolate," Rodriguez says. "Our way of healing is through collaboration and mutual respect."
In the meantime, Rodriguez and his wife, Eva, had taken on a small church in New York City. It grew quickly but endured an ugly split. Just 30, Rodriguez resigned and soon found himself with a much bigger job, one that has taken all his energy the past six years: president of the NHCLC.
Hope of the Founders
Hispanic immigrants, Rodriguez says, instinctively view the church as a home and a refuge. For generations, that refuge has been the Catholic church, but now evangelical churches qualify, too. Though 74 percent of foreign-born Hispanics consider themselves Roman Catholic, many realign once they reach the United States. Immigrants find that Hispanic pastors understand their dilemmas.
Evangelical Hispanics, often Pentecostal or charismatic, tend to be aggressively evangelistic. "If you are a Hispanic immigrant to America, you're going to get hit by the evangelical message," Rodriguez says. "Somebody at work, somebody in your neighborhood will talk to you."
The NHCLC aims to represent this low-profile evangelical community. Rodriguez has built on a foundation of Hispanic networking laid in the 1990s by Jesse Miranda, founding president of the National Alliance of Evangelical Ministries (amen: Alianza de Ministerios Evangélicos Nacionales). Of course, not all Hispanic evangelicals support the NHCLC's work. But the organization is trying hard to draw others in. A board was formed: one representative from each state, plus a representative from each denomination or network that takes up membership. Rodriguez was chosen as president, and an office was set up in Sacramento.
In addition to annual state congresses in all 50 states and Puerto Rico, NHCLC organizes task forces and roundtable forums on key national issues. They seek alliances with other national organizations, including the NAE. "We don't want to be ethnocentric," Rodriguez says. "We want to work within the evangelical church." He believes Hispanic evangelicals will lead their community into the American mainstream.
In that respect the immigration controversy could be a godsend. "We want to facilitate a dialogue. We are an oracle of truth, shouting, 'Don't fear the Hispanics, they share your values!' If I were one of the Founding Fathers hearing about a brown-skinned people who would come to settle in America with a strong Judeo-Christian worldview, with a Calvinistic work ethic, law-abiding peaceable citizens with a love for America, for family, for church, I would surely embrace them. Our elevator speech is, 'We will preserve the Judeo-Christian ethos of the Founding Fathers.'"
Give and Take
Rodriguez says that Hispanic street demonstrations suggest that political apathy has ended. "Hispanic Americans have never had a viable civil-rights movement," he says. "This is it—the catalyst for the mobilization of the Hispanic community in America."
Felix Posos, chair of the NHCLC board, says, "Hispanic evangelicals are not out there on the street raising banners. They are silent. But they are voters." A political and social agenda is increasingly evident, as the Pentecostal message widens from personal piety to community transformation. Evangelical pastors see themselves as leaders for the whole community.
"I think Sam is destined to be a national figure," says former ServiceMaster executive Richard Armstrong, who serves with Rodriguez on the board of Gordon-Conwell Theological Seminary. "People are attracted to him. He's a deeply spiritual man."
When asked whether he expects Hispanic evangelicals to influence the wider church, Rodriguez says, "Yes, yes, yes! We're the fastest growing!" He has a classic evangelical confidence growing partly out of sheer numerical vitality. He also believes Hispanics offer a unique perspective. "In the culture wars, Hispanics are on the values side. But social justice is more a part of our ethos [than for other evangelicals]," he explains. "We're attuned to poverty, homelessness, AIDS. We have a more complete vision of the gospel."
That's not a complaint; it's a vision Rodriguez seeks to share. He holds out the palm of his hand. "From day one we made a commitment. None of this." He nods toward his open palm. "No paternalism. No junior partners. We never ask for help. We always say, 'How can we help you?' Man, we need to change the mindset that our white brothers will take care of us. We're committed to helping the white evangelical church, the African American evangelical church, the broad evangelical church. We are committed to give more than we take. That's the only way there can be equity and mutual respect.
"I love our people," Rodriguez says, "and 'our people' is not the Hispanic people. I love the church so much."
Tim Stafford is a senior writer for CT.
Related Elsewhere:
Have something to add about this? See something we missed? Share your feedback here.
Our digital archives are a work in progress. Let us know if corrections need to be made.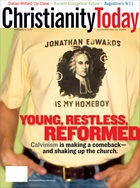 This article is from the September 2006 issue.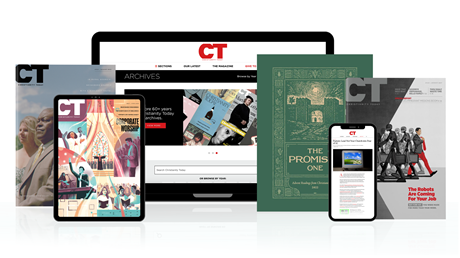 Subscribe to Christianity Today and get access to this article plus 65+ years of archives.
Home delivery of CT magazine
Complete access to articles on ChristianityToday.com
Over 120 years of magazine archives plus full access to all of CT's online archives
Subscribe Now
The Call of Samuel
The Call of Samuel